Stories
Graduate studies at CMU
Research, practica, and flexibility within CMU's graduate programs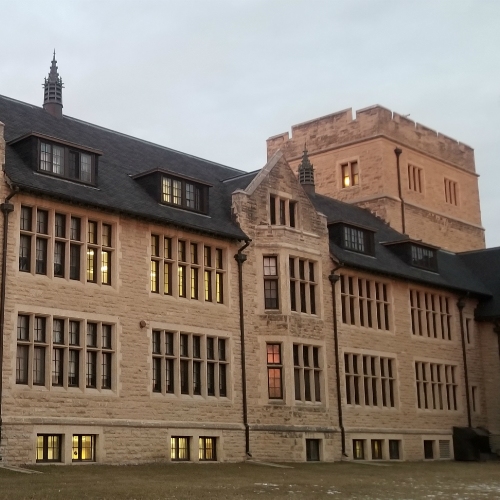 What makes graduate studies programs unique at CMU? Valerie Smith, Associate Registrar for Graduate Studies, says that "being rooted in the Anabaptist tradition, we specialize in peacebuilding and reconciliation-oriented programs, even in the ways we teach business. There is plenty of space for diversity within the programs, creating conversations that cross disciplinary boundaries. Dialogue is one of our greatest strengths."
Offering three graduate studies programs, a Master of Business Administration (MBA), Graduate School of Theology and Ministry (GSTM), and a Master of Arts in Peacebuilding and Collaborative Development (MA-PCD), students are given the flexibility to shape their degrees around their interests with the guidance of supervisors, including thesis writing, practicum placements, and business start-ups. Now eligible to offer one Canada Graduate Scholarship (SSHRC) each year to a researching student, CMU is working hard to develop funding for relevant and important research contributions.
Oanh Bui, a current MBA student, decided to study business at CMU not only because of the affordable tuition fees but because the program matched perfectly with her interest in a future career in non-profit business planning. "I am from Vietnam" shares Bui, "It is exciting to study abroad, to learn from other cultures, but also to work in a collaborative program whose leadership focuses on the common good."
Studying in the MA-PCDprogram, Evy Klassen explains that the flexibility of the program, especially during pandemic times, has enabled her to study from British Columbia. For Klassen, courses such as "Reconciling Stories: Indigenous Laws and Lands" and "Models for Conflict Transformation" have inspired her to develop a possible practicum project in her province. Regarding the MA-PCDprogram, Smith explains that "The school of peacebuilding draws in an incredibly diverse group of people, many of whom have travelled half-way across the world. The range of the people in the program is astonishing. With skilled instructors, this makes for a unique and powerful classroom experience."
Originally from Southern Ontario, Kim Rempel moved to Winnipeg to complete a Master of Divinity within the GSTM program at CMU. Her research interests, ranging from embodiment, trauma, death and dying, dementia, suffering, abuse, and feminist perspectives, all contribute to her chaplaincy work in long-term care. Rempel comments that "I am able to meet some of my academic goals through the work that I am already doing in long-term care, specifically by focusing on the way that dementia affects end-of-life experiences and spiritual care."
While alumni of the graduate school have continued to complete doctoral work in their field or to launch small businesses, others have entered chaplaincy, ministry, and spiritual care. For more information about graduate studies at CMU, contact Valerie Smith at vsmith:@:cmu.ca.
Print This Article