Student Profiles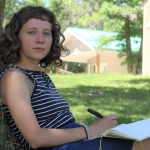 Posted in Student Profiles • Thursday, September 12, 2019 @ 8:45 AM
When Nadya Langelotz decided to direct a summer camp, she thought it would require putting on hold one of her biggest passions: writing.
It was while working at the end of last semester in CMU's printing press, located in one of CMU's castle-like towers, that the fifth-year English major lamented to her friend that she wouldn't have time to write during the busy schedule of camp. When her friend suggested doing it as a practicum at camp, Langelotz doubted it would work. How could writing and camp go together?
Posted in Student Profiles • Monday, April 11, 2016 @ 9:06 AM
When it comes to peace work in the Philippines, Darnell Barkman is on the front lines.
Barkman and his wife, Christina, are Mennonite Church Canada Witness Workers, giving pastoral leadership to PeaceChurch Philippines, an Anabaptist church they helped plant in Metro Manila.
Posted in Student Profiles • Tuesday, February 10, 2015 @ 9:32 PM
John Fox and Rupert Ross are used to seeing each other in the courtroom, not the classroom.
When Ross worked as the Assistant Crown Attorney for the District of Kenora, Fox encountered him during numerous bail hearings after being arrested for a variety of crimes, including assault and weapons charges.
Posted in Student Profiles • Friday, January 16, 2015 @ 9:42 AM
The Canadian School of Peacebuilding (CSOP) has been a welcoming place for student Debra Wilson, who has returned to CSOP for a second time.
Describing herself as a person of many labels, including feminist, Muslim, Catholic and black-American, Wilson says she initially "didn't think it [CSOP] was a place where she belonged." After contacting CSOP, she says she "kept waiting for someone to say 'don't come,' but that wasn't what happened at all."
Posted in Student Profiles • Thursday, December 13, 2012 @ 4:53 PM
Natalie Vander Zaag (OT'11) started at Canadian Mennonite University as a participant in CMU's Outtatown French Africa program and stayed to study at CMU with a major in social sciences.
Vander Zaag had always been interested in psychology, but it was her work at an Aboriginal drop-in centre in Winnipeg's North End that helped turn that interest into a true passion. "I am so interested in how the human brain works and the methods people use to heal. My work at the drop-in centre has made me even more passionate about healing and therapy," says Vander Zaag.