News & Releases
Posted in Video • Thursday, December 12, 2019 @ 3:38 PM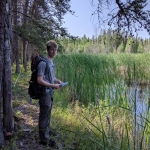 Posted in Stories • Thursday, December 12, 2019 @ 11:59 AM
Graham Peters is completing his fourth and final year of a Bachelor of Arts in Environmental Studies. He arrived on campus in the first year of CMU's expanded Biology program and, though he was not yet sure what he wanted to do, he quickly began to rediscover and expand his love of ecology. This led to a major in Environmental Studies, and a practicum focused on conservation ecology.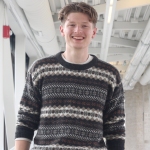 Posted in Student Profiles • Wednesday, December 11, 2019 @ 9:20 AM
There's a reason every time you see Nathan Dueck, he looks like he has somewhere to be. It's because he does. Dueck is on the Youth Advisory Council of Winnipeg's Mayor, Brian Bowman; he is a student representative on Mennonite Central Committee Manitoba's Board of Directors; and he is Vice President Advocacy on Canadian Mennonite University's (CMU) Student Council, through which he sits on CMU's Board of Governors, Senate, and Academic and Program Council, as well as its Sexual Violence Prevention Committee.
Posted in Audio • Sunday, December 1, 2019 @ 12:00 AM
Theme: The Advent Season
Speaker: Dr. Paul Doerksen
Posted in Stories • Thursday, November 21, 2019 @ 3:18 PM
by Beth Downey, CMU Writer
War-zone reporter and novelist turned climate researcher J. M. Ledgard recently told the New Yorker that, faced with a mess like the one humanity has made, "the only possible thing to do, is to go in an imaginative direction. Imagination at scale is our only recourse."1
Print This Page