Stories
Creation care as career: spotlight on alumni farmers (part 1 of 4)
A series engaging stories from alumni families building small-scale agriculture into their livelihoods, and why they chose to do it.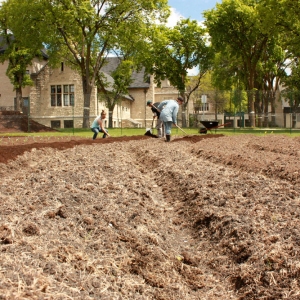 The CMU Farm: sowing a movement
Why more and more CMU alumni are including small-scale agriculture in their life-paths, during and after school.
This year the CMU Farm celebrates its 10th anniversary season. And while the challenges of COVID-19 have reshaped things for the farm, from celebration plans to daily operations of their CSA project, Autumn's work is largely unaltered: harvest season proceeds apace, and the steward Metanoia Farmers' collective are already forming their plans for next season.
Over the course of one transformative decade, this project has radically impacted CMU's campus, culture, and student body. The farm now takes up a full acre on the northwest side of CMU's Shaftesbury campus, and 14 acres in Neubergthal, MB. The farm has been a hub for practicum placements, a field for academic and spiritual exploration among both students and faculty, and a living venue for electric community connections across race, class, and creed.
Following CMU's official Climate Smart certification this past April, the Metanoia Farmers Worker Cooperative is now partnering with graduate student Justin Eisinga, who is working to develop and integrate a new composting system on campus; not only will the project radically reduce food-waste on campus and support the farm, it will also teach students and staff about alternative waste management strategies. According to recent studies in carbon sequestration, the potential could extend even farther.
The CMU Farm was conceived and co-founded by CMU's Kenton Lobe, Teaching Assistant Professor in Development and Environmental Studies. His teaching, mentorship, and pioneering practical example have 'seeded' through the student body those perspectives, skills, passions, and principles that the farm now cultivates in practice—year after changing year.
The scope of Lobe's influence—and that of the farm (now an institution much bigger than himself)—is made manifest as much in CMU's alumni scattered across Canada as it is on campus. Over the last 10 years, more and more students have chosen to include small-scale agriculture in their long-term plans after graduation.
The phenomenon transcends the usual year or two of tree-planting or WWOOFing abroad; increasingly, grads with degrees as various as English, Physics, International Development Studies and beyond are finding vocation in the earth below their feet.
This series will engage stories from recent CMU alumni like who, together with their families, are building land-work into their livelihoods over the long haul, exploring why they have chosen this work and how their studies and spiritual formation at CMU shaped those choices. Stay tuned!
Read the rest of the spotlight on alumni farmers series...
Part 2 | Part 3 | Part 4
Print This Article