Stories
Baritone Nathan Dyck winner of 15th annual Verna Mae Janzen Music Competition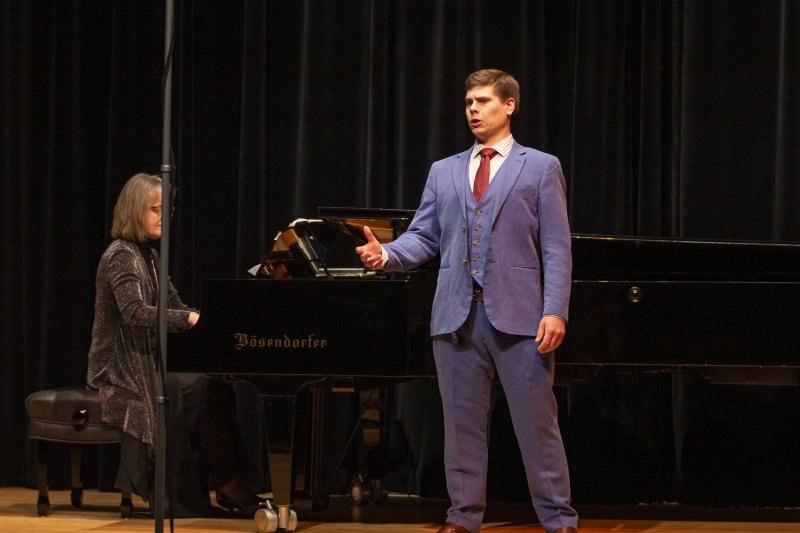 Despite uncertainty and the changing circumstances of campus life under COVID-19, competitors in this year's Verna Mae Janzen Music Competition kept their focus.
Singing to a closed auditorium of adjudicators only instead of the usual community audience, seven finalists gave it their all: Michelle Fast (soprano), Georgeanne Van Helden (piano), Katy Unruh (soprano), Anna Schwartz (piano), Nathan Dyck (baritone), Anne Kelm (piano), and Johanna Klassen (soprano).
In the end, Dyck, Kelm, and Schwartz ascended the podium in that order. Dyck received first place honour for his exemplary presentation of three pieces: "The Roadside Fire" by Ralph Vaugh Williams (1872-1958), "Cancion al arbol del olvido," by Alberto Ginastera (1916-1983), and "Votre toast, je peut vous le rendre," from Georges Bizet's Carmen (1875).
2020 Verna Mae Janzen Music Competition winners (l-r): Anna Schwartz (third place), Anne Kelm (second place), and Nathan Dyck (first place)
"It was very gratifying to compete against so many other excellent musicians. Any one of them could easily have taken first place. I had not expected this year to close the way it currently is, but I'm grateful that we were able to go through with the contest," Dyck says.
Nathan Dyck is in his final year of study at CMU. He is a choir director, guitarist, and avid chorister. He recently played the part of Judas/John the Baptist in CMU's Music Theatre and Opera Workshop production of Godspell, directed by David Klassen. Following graduation, he plans to pursue a career in radio with Golden West and hopes to be as involved in local music making as possible.
Print This Article