News Releases
Canadian Mennonite University celebrates Class of 2019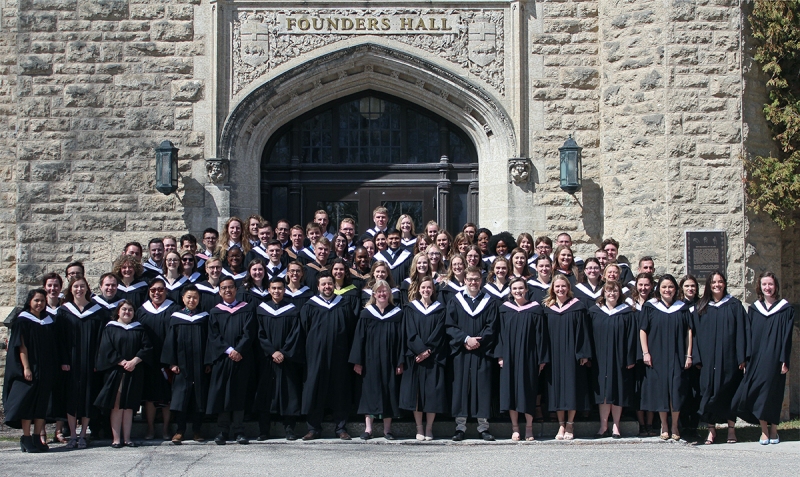 Another academic year came to a close as Canadian Mennonite University recognized the accomplishments of 96 graduates on Saturday, April 27, 2019.
CMU President Dr. Cheryl Pauls conferred 78 undergraduate degrees, 15 master's degrees, and three undergraduate certificates at the convocation service held at Portage Avenue Church.
"Through this ceremony we give public witness to our trust in you as gifted agents of service, leadership, and reconciliation in all that encompasses life, church, and society," Pauls said in her opening remarks to the graduands.
The Class of 2019 included the first-ever graduate of CMU's Bachelor of Science program, Taysa Dueck. Two students, Erin Froese and Sara Wolowich, became the first students to graduate with Environmental Studies majors.
Pauls awarded President's Medals to Erin Froese (BA, Four-Year, Environmental Studies) and Mackenzie Nicolle (BA, Four-Year, Social Science), in recognition of their qualities of scholarship, leadership, and service.
Tegan Willick (BA, Four-Year, Psychology) delivered the valedictory address, based on this year's graduation verse from Philippians 4:9: "Whatever you have learned or received or heard from me, or seen in me—put that into practice. And the God of peace will be with you."
Willick said that at CMU, she and her peers were taught not only course material, but also how to care for the world. When learning how to face the world's seemingly endless problems felt overwhelming, she turned to community to find hope. "No one can care about everything all the time, but a community that cares is capable of sustaining empathy," she said.
She referred to the event hosted at CMU in March, where over 700 people gathered in support of Bill C-262 and the adoption and implementation of the United Nations Declaration on the Rights of Indigenous Peoples into Canadian law.
"Our grad verse asks us to put into practice that which we have learned, received, heard or thought. If what we have learned is the care and hope demonstrated that day, then we truly have everything we need to see us through what lies ahead."
Another significant milestone this year was the first graduation of an Albanian student from CMU. Masimo Picaku (BA, Four-Year, Business and Organizational Administration) was one of the first two students to come to CMU from the Lezha Academic Centre in Albania in 2014. Five years later, 22 students from that school have since attended CMU.
In honour of this occasion, Klementina Shahini, Executive Director and Principal of Lezha Academic Centre, delivered the graduation address. She drew from Acts 20:32-35, which is about working to support oneself and others and ends with Jesus' words, "It is more blessed to give than to receive."
She shared her life story, which has been filled with hardship, but through which she has seen God's miracles. Despite the immense challenges of living under communism and spending seven years in a labour camp, Shahini was still able to fulfill her dream of opening a Christian school, which now has 165 students.
These difficult times taught her powerful lessons, which she passed along to the graduates before her. "My dreams were crushed, but not my life. It was at this point that I focused on the journey, not just the destination and I discovered that the journey is the destination."
"When you come to a new season of your life, like you are facing today... make decisions to serve others and you'll have a life worth living. You and I have only one life to give for the Glory of God, so be sure to give your life for something that counts."
Earlier in the day, CMU held its annual Baccalaureate Service, where a handful of graduates reflected on their time at CMU.
Marta Bunnett (BA, Four-Year (Honours), Interdisciplinary Studies – Theological Ecology) shared about her studies in an interdisciplinary degree.
"[My degree] is a way of saying that the lessons I have received from people in farmhouse kitchens, from the halls of academia, and even from the persistence and frustrating resilience of quack grass roots in red river clay soil, are all important to my education. They have all given me glimpses of what it means to love the world."
Vitor Jara Leite (BA, Three-Year, Business and Organizational Administration) reflected on how CMU has been a support to him since he and his wife came to Canada from Brazil. Through the birth of their two children, the death of his parents last year, and starting a new job, the CMU staff and faculty were a great support.
"CMU is like my second home. Here, I learned how to learn again... I'm graduating today, and I'm already missing this special place."
Hannah Derksen (BA, Four-Year, Arts and Science) explained that classes like Molecular and Cellular Laboratory Methods and Quantitative Research Methods in Ecology had her mutating yeasts to study genes and waist-deep in the river, examining its diverse life.
"While learning about how the world around me works from a molecular to an ecological level, CMU cultivated my love of the exploration. Because of my time at CMU, I feel confident that I'm graduating having grown as an individual and am leaving with my own ideas of the world I live in."
Kenji Dyck (BA, Four-Year, Communications and Media) spoke about developing a curiosity for how stories can express the transcendent, a profound emotional transformation, especially when stories today often produce feelings of despair.
"Over the last four years at CMU, I like to think I spent my time learning how to tell stories that are profound, confrontational, and ultimately, hopeful."
About CMU
A Christian university in the Anabaptist tradition, CMU's Shaftesbury campus offers undergraduate degrees in arts, business, humanities, music, sciences, and social sciences, and graduate degrees in Theology and Ministry, Business Administration, Peacebuilding and Collaborative Development. CMU has 1,600 students, including those enrolled in degree programs at its Shaftesbury Campus and Menno Simons College Campus. CMU is a member of Universities Canada.
For information about CMU, visit cmu.ca.
For additional information, please contact:
Kevin Kilbrei, Director of Communications & Marketing
kkilbrei@cmu.ca; 204-487-3300 ext. 621
Canadian Mennonite University
500 Shaftesbury Blvd., Winnipeg, MB R3P 2N2
Print This Article