News Releases
Celebrated Canadian pianist to give concert at Canadian Mennonite University
Concert marks inaugural performance on rare Bösendorfer piano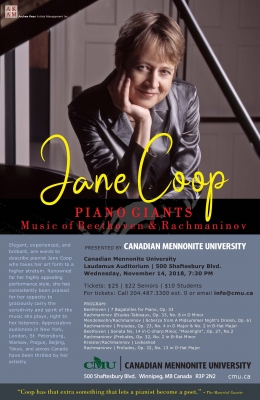 Jane Coop, one of Canada's most respected and cherished pianists, will present an exciting program of Beethoven and Rachmaninoff on Canadian Mennonite University's newly acquired Bösendorfer Imperial concert grand piano.
The concert is at 7:30 PM on Wednesday, November 14 in the Laudamus Auditorium at CMU, 500 Shaftesbury Blvd.
Ms. Coop selected this particular instrument from the Bösendorfer factory in Vienna, Austria decades ago for the late Bosendorfer technician, Tom Hathaway, and made several recordings on it in the 1980s. Mr. Hathaway's wife, Victoria, gifted the instrument to CMU in honour of the retirement of her brother-in-law, long-time CMU Music Professor Dietrich Bartel.
According to CMU president and pianist Dr. Cheryl Pauls, "This Bösendorfer Imperial is a treasure of a piano. It's a huge instrument with a most delicate and exquisite sonic capacity. It teaches you how to listen with greater depth, and makes you a better player as you respond to its timbral palette. CMU is honoured that Jane Coop is coming to Winnipeg for this inaugural concert." Dr. Pauls adds, "I studied piano with Jane during my doctoral studies at the University of British Columbia, so the honour of her coming is personal as much as on behalf of CMU and Winnipeg more broadly."
Ms. Coop will also give a public master class with CMU students on November 13.
For concert tickets or further information, call: 204.487.3300 ext. 0, or email info@cmu.ca.
About CMU
A Christian university in the Anabaptist tradition, CMU's Shaftesbury campus offers undergraduate degrees in arts, business, humanities, music, sciences, and social sciences, and graduate degrees in Theology and Ministry, Business Administration, Peacebuilding and Collaborative Development. CMU has 1,600 students, including those enrolled in degree programs at its Shaftesbury Campus and Menno Simons College Campus. CMU is a member of Universities Canada.
For information about CMU, visit cmu.ca.
For additional information, please contact:
Kevin Kilbrei, Director of Communications & Marketing
kkilbrei@cmu.ca; 204-487-3300 ext. 621
Canadian Mennonite University
500 Shaftesbury Blvd., Winnipeg, MB R3P 2N2
Print This Article