Student Profiles
Posted in Student Profiles • Tuesday, February 10, 2015 @ 9:32 PM
John Fox and Rupert Ross are used to seeing each other in the courtroom, not the classroom.
When Ross worked as the Assistant Crown Attorney for the District of Kenora, Fox encountered him during numerous bail hearings after being arrested for a variety of crimes, including assault and weapons charges.
Posted in Student Profiles • Friday, January 16, 2015 @ 9:42 AM
The Canadian School of Peacebuilding (CSOP) has been a welcoming place for student Debra Wilson, who has returned to CSOP for a second time.
Describing herself as a person of many labels, including feminist, Muslim, Catholic and black-American, Wilson says she initially "didn't think it [CSOP] was a place where she belonged." After contacting CSOP, she says she "kept waiting for someone to say 'don't come,' but that wasn't what happened at all."
Posted in Student Profiles • Thursday, December 13, 2012 @ 4:53 PM
Natalie Vander Zaag (OT'11) started at Canadian Mennonite University as a participant in CMU's Outtatown French Africa program and stayed to study at CMU with a major in social sciences.
Vander Zaag had always been interested in psychology, but it was her work at an Aboriginal drop-in centre in Winnipeg's North End that helped turn that interest into a true passion. "I am so interested in how the human brain works and the methods people use to heal. My work at the drop-in centre has made me even more passionate about healing and therapy," says Vander Zaag.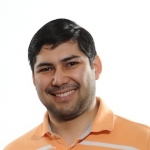 Posted in Student Profiles • Thursday, December 13, 2012 @ 4:16 PM
The decision to study at Canadian Mennonite University required a leap of faith for graduate student Jose Moraga and his family, who came to Winnipeg from their home in Santiago, Chile.
"Continuing my studies outside of my country has been a very important step in my spiritual journey. I chose to study at CMU because I identify with the University's focus on service, leadership, and reconciliation, its program flexibility, and its theology with a strong emphasis on justice and peace," says Moraga.
Posted in Student Profiles • Thursday, December 13, 2012 @ 3:38 PM
A love of basketball brought CMU student and athlete Kathleen McCullough to CMU – and it's what continues to motivate and challenge this student who is in her third year both at the school and on the team.
"Our team is like an extended family to me," says McCullough, who is working towards her Bachelor of Arts degree in Social Sciences and Counselling. "As the year progresses, each player develops, both personally and in our athletic ability. My coach really puts the players first and has helped push me to my optimal performance."
« Newer Posts // Older Posts »
Print This Article