Student Profiles
CMU student perseveres, receives one of four national scholarships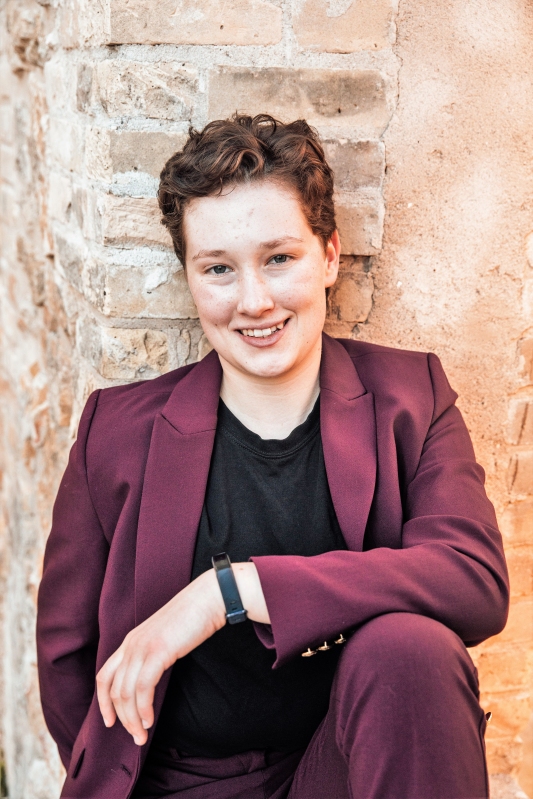 If you looked at photos from CMU student Tai Linklater's childhood, you'd see countless shots of her holding different reptiles, unable to control the excitement on her face. Her dream career was to be a herpetologist, studying reptiles and amphibians. Until she found out it required calculus.
That's because Linklater has Specific Learning Disorder, a disability that in her case manifests itself in trouble with visual spatial awareness and extreme difficulties with mathematics.
Linklater, 19, is one of only four students across Canada to receive the 2021 Mattinson Scholarship for Students with Disabilities. The national scholarship is available to full-time undergraduate students with physical, sensory, mental, and learning disabilities, who exemplify academic strength, community involvement, volunteer experience, and good references.
She is in her second year at CMU, majoring in Environmental Studies and minoring in Biblical and Theological Studies. She is co-director of the school's Peace and Sustainability Committee and a co-mechanic at the student-run bike hub, Sanctoral Cycle.
Linklater was diagnosed with Specific Learning Disorder the summer before starting university, although she had long since suspected she was dealing with a bigger issue than just a difficult school subject. Growing up in Altona, MB and attending W.C. Miller Collegiate, she studied hard and excelled in academics. But she always struggled to get good grades in math, a dissonance that caused her significant anxiety.
"I remember a specific time in high school when I was expressing to someone how frustrated I was with math and how it doesn't matter what I do I just can't catch on, and I remember this person saying to me, 'Well just try harder!'" Linklater says.
But she was already trying her hardest. She wrote the full three hours allotted for her grade 10 pre-calculus exam, but when the time was up, she still had 13 pages left. The many correct answers showed that Linklater understood the concepts, her brain just took notably longer to process the information and hadn't had enough time.
Her teachers noticed, and directed her towards the school psychologist and created adaptations for her. "Before I had to work three times harder than my peers to get somewhat on the same level as them, now with adaptations I just get to be on the same level as them."
Linklater's challenging journey also taught her valuable skills. "I have learned the value of hard work," she says. "If I didn't have this learning disability, I would not know how to put in an immense amount of effort to get the outcome that I want."
Linklater first had to apply to be nominated by CMU in order to be considered for the Mattinson Scholarship along with the other candidates from the 96 post-secondary institution members of Universities Canada that could each nominate one student. "It is a great achievement for Tai to be chosen for this scholarship," says Sarah Klassen Bartel, CMU's Financial and Student Services Advisor.
Sandra Loeppky, Coordinator of International Student and Accessibility Programs at CMU, said it was very difficult to decide between the several wonderful applicants from CMU. "We selected Tai for her outstanding academic work and her commitment to being involved both at CMU and in her home community. Tai is a CMU athlete, coach in her home community of Altona, involved in student leadership... This is a person who is preparing for a life of mentoring and community involvement."
"It is vitally important for CMU to continue to remove barriers for our students," she continues. "We have a responsibility to work at this from all aspects of our campus. As an academic institution, we think primarily about the students and the classroom environment. However, the financial barriers to education have an enormous impact on a person's ability to access the classroom. This is one of the reasons that scholarships are so important."
For Linklater, it is a validating experience. Since her learning disability isn't physical and was hardly reflected in her grades, it went undiagnosed for a long time and she struggled silently. "I sometimes wonder if my adaptations are valid for me because I was able to succeed without them." She has to constantly remind herself that the disability is not just poor grades, but the extra time, effort, stress and tears that go on behind the scenes.
By learning how her brain functions and how to work with her strengths and limitations, Linklater has found a way to keep pursuing her dream career. Through CMU's Environmental Studies program (which doesn't require calculus), she hopes to work with reptiles and amphibians in a career in conservation.
Print This Article