Student Profiles
Wittenberg Radio hosts push the boundaries of traditional podcasting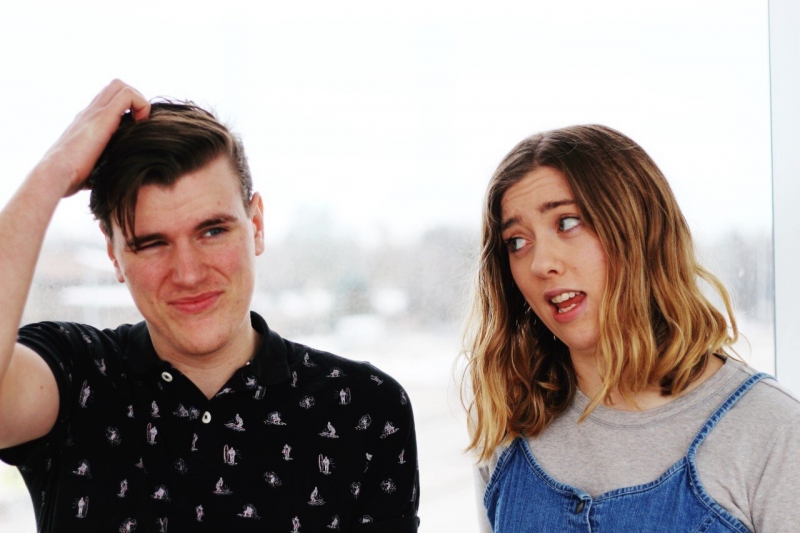 You can't find it on traditional radio airwaves, but broadcasting humbly, once a month from the studio space on Canadian Mennonite University's (CMU) campus, the hosts of Wittenberg Radio treat their listeners to content they call "by students, for students."
Hosts Chloe Friesen and Daniel McIntyre-Ridd are Communications and Media majors who have been writing, editing, and producing the historically audio-only podcast Wittenberg Radio roughly every month since fall 2019. Each episode is between 30-40 minutes long and, according to the program's website, "focuses on a variety of topics that relate to CMU students."
Wittenberg Radio was launched in the winter of 2013 as a class project in Participatory Local Development, an International Development Studies course. Since then, it has grown to become its own independent programming and the roles of host/producer are passed down whenever the host departs.
When she and McIntyre-Ridd were offered the torch from their predecessor, Friesen says that they knew it would be an exciting opportunity. "It felt like something that would suit us well, and we would have fun with," says Friesen.
Taking helm just before the COVID-19 pandemic hit meant the duo had to be resourceful and creative in the type of content they were creating. The pair say that traditionally, Wittenberg Radio would cover CMU issues, such as parking problems or social injustices on campus. McIntyre-Ridd says the lack of students on campus meant a decline in these types of conversations happening around CMU.
"Everybody was at home; everybody was just trying to figure out how to do life. So, Wittenberg became a connection for people and said, 'you still go to CMU; we are still a community. Here is something that can keep you engaged," says Friesen.
The Wittenberg crew looked to new creative outlets and experimented with new mediums.
They spent their energies modernizing their influence online by focusing on Instagram and YouTube to repost podcast episodes and upload content that has a greater focus on entertainment. "It's not necessarily that those [platforms] didn't exist, but [we've] utilized them more for the current era," says McIntyre-Ridd.
Friesen and McIntyre-Ridd like to keep their social media work wacky and charming. Some of their ventures have been recording themselves skating on CMUs outdoor rink or, to varying degrees of success, attempting to interview the Canadian Geese that reside on campus.
Friesen says the hard work is paying off: "A while back we had a potential visiting student come [to campus], and they said 'hey, I recognize you—you did a video about geese!" Although she must wrestle with her legacy as a 'goose reporter,' the project was one of the most responsive pieces of media they have done.
Absurdity aside, Wittenberg Radio continues to expand.
On account of the pandemic shut down community gatherings such as sports or worship services, it threatened Communications and Media courses like Live Audio and Videostreaming. The course instructor Darryl Neustaedter Barg approached Friesen and McIntyre-Ridd and created a new format for Wittenberg radio.
Wittenberg Radio Television (WRTV) was born to provide students with quality experience recording live events. Friesen and McIntyre-Ridd say the talk show-inspired WRTV was thematically fluid and allowed them to experiment. "It was a very different feel because it wasn't a podcast or a skit to do with the podcast, "says McIntyre-Ridd. "Having the support to be creative and try out new mediums has been really fun," says Friesen.
David Balzer, Associate Professor of Communications and Media, says that Friesen and McIntyre-Ridd give unique energy to Wittenberg Radio. "By authentically bringing their personalities to the table, they create a disarming space for guests to share and explore ideas and convictions," says Balzer.
As a former broadcaster himself, Balzer understands the importance of experiential learning. "The show definitely provides an opportunity for Communications and Media students and lots of others to enhance their skills. The best way to 'find your voice' is to use it! Wittenberg Radio is actually super fertile ground to have real and important conversations and to hone skills at the same time," says Balzer.
As both Friesen and McIntyre-Ridd near their final semester at CMU, the time has come to let the next generation of eager broadcasters take command of the Wittenberg Radio control panel. "People who are in the Communications program are already so well suited to run [Wittenberg Radio]—it's an excellent extension of the that," says Friesen.
At the time of publication, Wittenberg Radio has close to 150 episodes, including constant updates to its Instagram and YouTube accounts. Past episodes of Wittenberg Radio can be found here.
Print This Article