Stories
Blazers volleyball coach inducted into the North American Indigenous Athletes Hall of Fame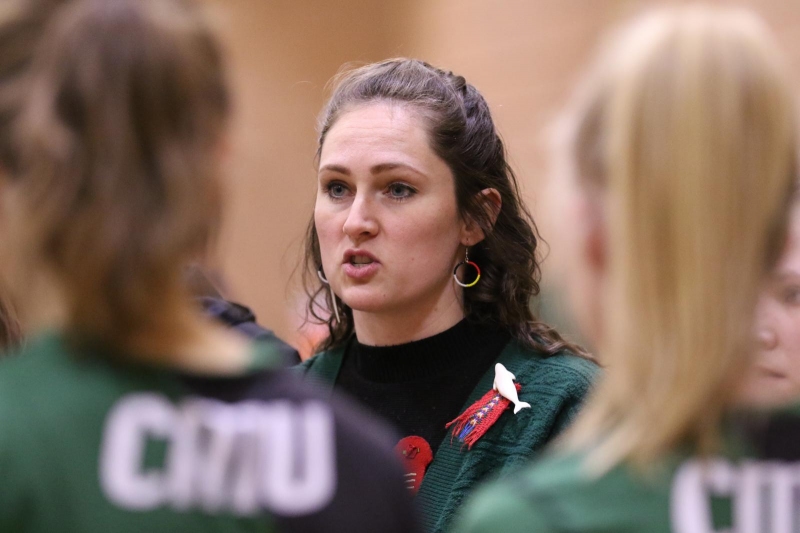 Jayme Menzies, head coach of Canadian Mennonite University's (CMU) Women's Volleyball team, has been inducted into the North American Indigenous Athletes Hall of Fame.
Menzies is a decorated and celebrated individual within Manitoba sports. She is recognized for her achievements as both athlete and coach, as well as her outstanding leadership both on and off the court.
Her unwavering dedication to inclusivity, promoting and celebrating Indigenous talent, and providing safe spaces for youth to grow as individuals has set a new precedent for how Manitoba should use sport as a vehicle for social change.
"I think what [this recognition] means to me is being able to be an example for younger Indigenous girls, women, gender diverse folks," says Menzies. "It's no secret that a lot of sports awards historically and currently go to men and non-Indigenous men. So, I think what means the most to me is the representation in sports that this shows."
Menzies has repeatedly represented Manitoba as a coach, including coaching the team to a gold medal win at the 2017 Canada Games. Menzies has also been the head coach of the North American Indigenous Games provincial volleyball team since 2013.
In 2021, she received Sport Manitoba's Peter Williamson Memorial (Train to Compete/Train to Win) Award and the Indigenous Female Coach of the Decade Award. She sits as the President of Volleyball Manitoba's board of directors and is the Metis-chair of Manitoba Aboriginal Sports and Recreation Council's board.
She is also a certified facilitator for the National Aboriginal Coaching Module, which offers tactics to apply traditional teachings and address racism in sports contexts.
Closer to home, Menzies coached the CMU Blazers to a league championship victory in 2020.
"I am so grateful that Jayme invests her time at CMU and that our student-athletes can learn and grow with her guidance," says Cara Isaak, Director of Athletics at CMU. "Our program and her athletes specifically also benefit from the strong relationships she has in the sports community by allowing us to work with and learn from amazing athletes and coaches."
Menzies says all her hard work goes to supporting young athletes in Manitoba. "I do really like competition, winning, and elite sport, but that is just one piece of the pie," says Menzies. "I like how [sport] is a place to explore a whole human being." Every athlete has a story, and it's the role of a coach to see not just an athlete but the whole person. Menzies says that means the emotional, cultural, and spiritual, as well as the physical.
She says that sports are a vulnerable environment for anybody, and "every single voice on the team ought to have space to be heard." Menzies views her coaching role as a guiding facilitator on a team of individual decision-makers and other facilitators.
Isaak says Menzies approach to coaching is refreshing, saying, "she knows how to prioritize student-athlete mental health, how to help student-athletes balance academics and athletics, and how to ensure all team members know their value to the team."
Menzies' drive to make sports a safe and supportive environment for young athletes led her to co-found Agoojin Volleyball, a club for young female and two-spirit Indigenous athletes across Manitoba. The program seeks to remove the hurdles of elite sports and create a fun, safe, and culturally relevant environment.
"The program created a way for me to train and mentor other Indigenous women and girls to become coaches," says Menzies. "[At Agoojin], we try to remove the invisible barriers to sports for Indigenous youth; it's also about presenting and celebrating Indigenous youth in non-Indigenous spaces."
She says she has witnessed many problems in the male-dominated industry through her 20 years of coaching and hopes we can take those lessons and apply them to uplifting and encouraging young, diverse talent.
Menzies says all leagues, universities, and clubs still endorse colonial policies and oppression, making spaces that are unwelcoming for Indigenous athletes and youth and turning athletes away from a potentially invaluable experience. "People need to feel reflected or represented in their spaces; otherwise, they feel like they are not understood," says Menzies. "There is a lot of work that needs to be done toward reconciliation."
Menzies continues to use sports as a platform for advocacy and hopes that through her work, she can bring larger, lasting change to sports institutions.
Isaak says Menzies integrity and creativity have made her well-loved by the CMU community. "I am so grateful that Jayme invests her time at CMU and that our student-athletes can learn and grow with her guidance," says Isaak.
Print This Article