Stories
Business students' project yields invaluable workplace experience at a critical time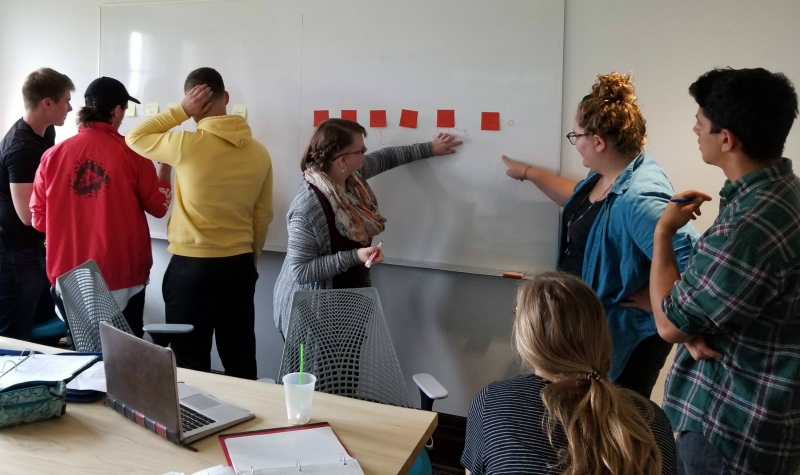 "My favourite part of being a student in the Redekop School of Business is opportunity like this, where we can apply what we're learning. This is something I can carry with me long after CMU."
Toward the end of the 2020 winter semester, just ahead of the global COVID-19 pandemic, senior students in CMU's BA Business program were working with member companies in CMU's associated Centre for Resilience, as part of their term project for BUSI-4020: Business and Organizational Policy.
The project was designed to give students applied workplace experience, and to provide host companies with valuable documentation and policy development work that they could use after the students left.
Neither Janelle Neufeld or Simon Leihkauf, students in the course, nor Lisa Thompson of Brand Revival and Design (BRD), could have anticipated the value this partnership would provide moving into a time of profound economic disruption. The three were first introduced in February.
"We spent the first half of the semester honing our skills by analyzing business case-studies with the understanding that these skills would be put into practice with a currently-operating business in the second half of the term. Later, our group was assigned to BRD and tasked with formulating a business plan that would serve as an asset for the company after we left. In this case, Lisa's goal was to take this document to the bank as she sought a loan to help her expand her business," Neufeld reflects.
Thompson, owner and CEO of BRD, says the results of this collaboration will be valuable to her on numerous fronts going forward:
"I'm a fairly new business owner, and I didn't have this report or all these thoughts in one document anywhere before this. One of the great things working with the students forced me to do was take time to think about the things they were asking and reflect carefully on what I am actually doing. As a new business owner, you don't get to slow down very often to do that really careful internal examination. I would absolutely participate in a program like this again, and recommend it to other businesses."
Leihkauf and Neufeld both describe applied communication and problem-solving as the major takeaways from this project, explaining that there are struggles you cannot foresee and solutions you cannot practise in a classroom case-study.
Neufeld: "A big take-away for me was the value of humble communication. Often in business there is this notion that it's unacceptable to show weakness or admit when you don't know something but building a business plan requires knowing that business inside and out. We had done as much external research as we could before our first meeting with Lisa, and there was still so much we couldn't possibly know. It was only through asking her questions and working collaboratively with her that we were able to accomplish this huge task."
Leihkauf: "I think my favourite part of the project was the final presentation and hearing Lisa's feedback on our work. Writing a business plan for a real company is great practice, but the most valuable lessons were in Lisa's comments at the end of it all. I think the thing that will stick with me is that it's important to get feedback from stakeholders throughout the duration of a project. Business environments often require us to make quick decisions with the information we have at the time, but I see a lot of value in improving a report over time as better information becomes available."
Neufeld in particular says she can see the boost that participation in this project will give to her job search after graduation.
"My favourite part of being a student in the Redekop School of Business is opportunity like this, where we can apply what we're learning. Opportunities like this have helped me discover my specific passion for management consulting and given me valuable real-world business experience that will be invaluable to my resumé. Projects like this also give me confidence in my abilities to tackle similar challenges as I encounter them in the future. This is something I can carry with me long after I move from CMU into the world of work."
To learn more about the Redekop School of Business, click here, or contact Mattea Nickel, Admissions Counsellor, if interested in studying business at CMU. To learn more about the Centre for Resilience, click here.
Print This Article