Stories
CMU choir continues to connect during cancelled tour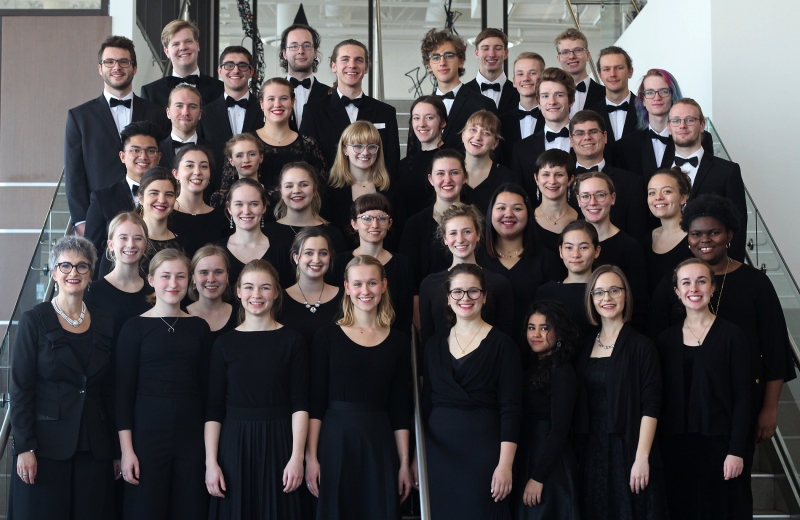 From April 27 to May 4, the Canadian Mennonite University (CMU) Singers were to spend a week singing and travelling across the country, all the way from Manitoba to British Columbia. Unfortunately, the choir tour had to be cancelled—one of the many casualties of the COVID-19 pandemic.
But that didn't stop the choir from connecting. Instead of boarding a bus every morning, the singers were greeted daily by a new email from Dr. Janet Brenneman, Associate Professor of Music and conductor of the CMU Singers.
Brenneman wanted to maintain the important bond a choir forms, especially during a tour, so she created the CMU Singers (non)TOUR, a virtual version of their would-be journey.
"I enjoyed finding a way to stay connected with the students in a week where we would normally be in an intensive situation of living and singing together," she says. "Tour is about learning who we are together as a group and how our studies at CMU shape us in the ways in which we live among each other outside the walls of CMU...our students are amazing and exemplary humans and I am privileged and humbled to learn from them every year. "
Brenneman's notes took the students through each day's itinerary—facts about their destinations, the choral engagements at which they would have been singing, the landscapes they would've seen through the bus windows, and the people they would have met. She also included personal reflections and encouraged her students to share their own thoughts and updates on how they were doing.
She says she heard back from several choir members over the week. "It seems that choir was fulfilling a real need for musical, emotional, and social connection for them during their academic studies at CMU. When that was so abruptly taken from them, it was a huge loss," she says.
Miriam Carpenter
One chorister that followed along on the virtual choir tour was Miriam Carpenter, a CMU student from Ottawa going into her fourth year of a Bachelor of Music Therapy. "Although it was difficult to read the emails and lament about the beautiful locations I could have been visiting on the day of receiving the email, I did appreciate learning about the different cities and communities...and the incredible people Janet knew from these locations who all inspired and would have blessed us on our journey," she says.
As is often the case, sadness arises from missing something that is deeply loved. "I just can't seem to summarize my love for choir tours!" says Carpenter, who participated in the CMU Singers' tour to the three prairie provinces in 2019.
"What I love most about choir tour is the long hours spent with everyone on the tour bus. Sitting with friends and making new friends with students I would not usually have the opportunity to meet is something I really cherish," she says. "I personally think that it changes the choral experience because you have the chance to bond with your choir in an extremely vulnerable and open way... Choir tours demand relationship and community in the best sense."
Other than being an opportunity to build meaningful relationships, Brenneman says choir tour is a time when she and the ensemble learn a lot as a team and improve their skills. "Tour is the time when we really put our learning to the test. It gives us an opportunity to share our repertoire with a vast audience and to really refine our understanding as we perform the music."
"Tour is also about connecting with the constituency. It is our way of giving back to the communities and the individuals that support us through our mission that is CMU," Brenneman says. "We appreciate the opportunity to be with our constituency in their church homes and in their physical homes—a rare insight into the community that prays for us, sends us their students, and supports us financially."
Brenneman shared links in her emails to worship services from churches they would have visited and school concerts they would have sung in. Some churches, like Langley Mennonite Fellowship, featured the CMU Singers in their virtual worship services.
"Although we were unable to share our music physically with these congregations, I was comforted knowing that our offerings of music and song were still able to ring clear through video and the virtual love that we shared during this pandemic," Carpenter says.
Brenneman is looking forward to seeing many of her CMU Singers again in September.
Print This Article