Stories
CMU's Anna Schwartz wins Canada Music Week's Student Composer Competition for Manitoba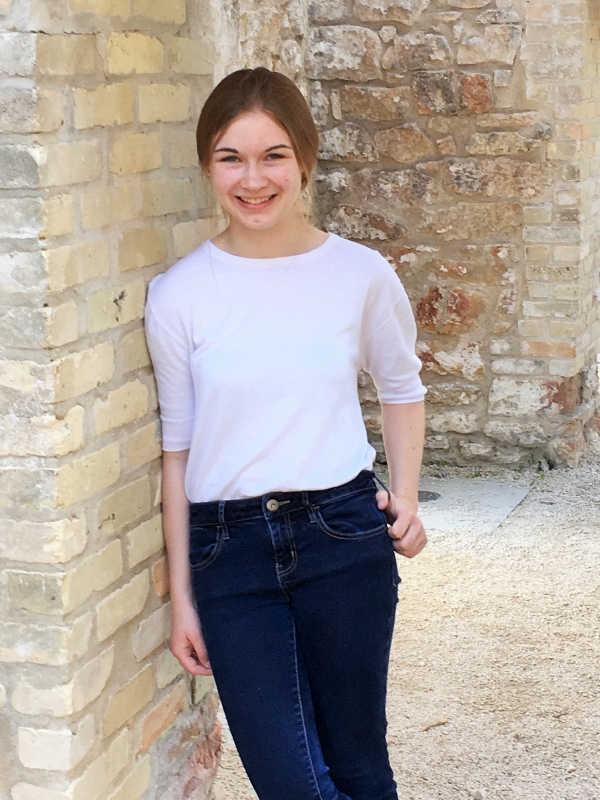 Anna Schwartz is drinking in the opportunities CMU's vibrant musical community provides. Following her provincial win last month, her original work "Prairie Sunrise" now goes to compete at the national level.
CMU's Anna Schwartz has taken first place at the provincial level of this year's Canada Music Week Student Composer Competition, hosted by the Manitoba Registered Music Teachers' Association. Schwartz's original composition for orchestra, "Prairie Sunrise," earned $200 in prize money and will now go on to be entered in the nation-wide summer competition. Schwartz also entered an original piece for choir that garnered honourable mention.
The Fort Frances native, now entering her third year of a Bachelor of Music with concentrations in Piano Performance and Comprehensive study, says she drew her inspiration from the sprawling Manitoba landscape that stole her heart on arrival.
"When I first moved to Manitoba two years ago, I was completely awed by the prairies. In Northwestern Ontario, there's no such thing as a 'horizon.' We have a lot of trees, rocks, and bugs, so seeing the prairies stretch for miles with nothing blocking the sunrise has an almost surreal sense about it for me, and I wanted to try and capture that through music. I've always loved the musical openings of old Westerns and ballets that depict the vast prairies under a warm sun; I'd never attempted a piece for full orchestra before, but I wanted to try for something similar."
As a part of her studies, Schwartz has been taking Individual Applied Music Studies (IAMS) in Composition under CMU's Adjunct Professor of Music, Neil Weisensel, with whom she also completed her Music Theory requirements in first-year.
"Eventually I locked onto the idea of an overture-style piece, much like the opening of a movie, and from there the big pieces of the music fell into place. After that, it was a lot of taking the piece to Neil to discuss the fine details of composing: how each instrument needs to look on the page, where different bits of information in context of the whole score, things like that."
IAMS are private individual lessons available to both music and non-music students interested in cultivating applied music skills in almost any instrument. Voice, piano, and guitar are popular choices, but many students don't realize that composition is also an option. This may be due partly to limited availability in recent years, but Weisensel's addition to the faculty in 2019 changed that dramatically.
"Studying under Neil I've learned so much about the process of writing big compositions, and receiving guidance from such a well-known composer was so valuable in terms of understanding what being a composer actually looks like. I also think that getting to experience a lot of orchestral playing first-hand through CMU's music program added to my inspiration to try and write for one. Through choir collaborations with the Winnipeg Symphony Orchestra (WSO), performing myself with CMU's Mennonite Community Orchestra, and seeing other more advanced composition students write for large ensembles, I gained a huge amount of experience just by listening. I was amazed by what other students and composers could do!"
Interdisciplinary study, fostering students' ability to think and collaborate across disciplines, is a core tenet of education at CMU. To learn more about how CMU can foster your love of music, no matter your degree, visit cmu.ca/music.
Print This Article