Stories
CMU honours Senator Mary Jane McCallum with 2021 PAX Award
Distinguished senator recognized for service, leadership, and reconciliation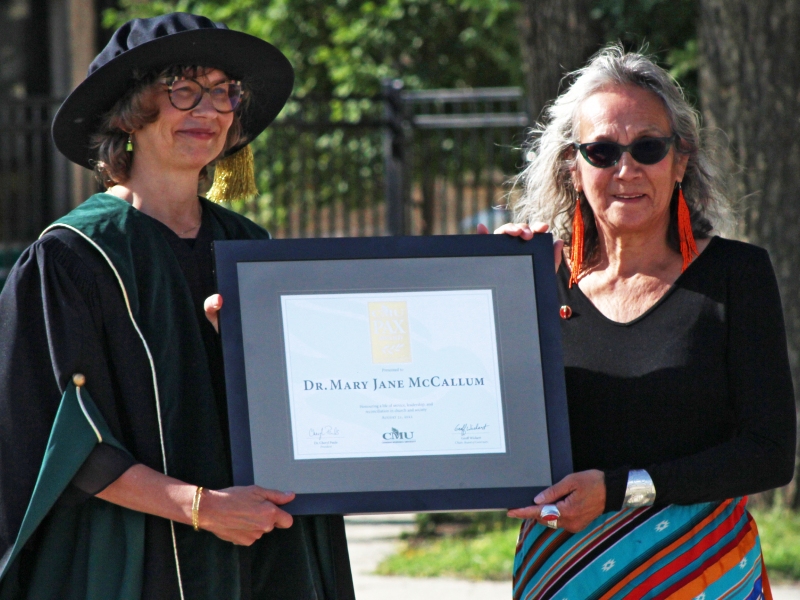 CMU President Dr. Cheryl Pauls presented the 2021 CMU PAX Award to Senator Dr. Mary Jane McCallum on Saturday, August 21 at CMU's convocation ceremony, where McCallum also delivered the graduation address.
This is the sixth year that CMU has presented the PAX Award, a distinction created to honour people who lead exemplary lives of service, leadership, and reconciliation in society.
"She is a dentist, a former residential school student, a Canadian senator, a speaker of English and Cree, a thoughtful, deep listener, and a person of profound insight, grace, and courage," Pauls said of McCallum. "Her willingness to accept the PAX Award is an honour to CMU."
The award includes a $2,000 honorarium to a charity of the recipient's choosing. McCallum chose the Mama Bear Clan of North Point Douglas Women's Centre in Winnipeg.
"I accept the award not as the individual Mary Jane, but as the collective," McCallum began. "In Indigenous ways of being, we believe that our lives have been shaped by every single person that we have met. So, when I take on public roles, it's the collective Mary Jane who has been shaped and nurtured by Indigenous and non-Indigenous people in Canada, and I thank everyone for what they have contributed to my growth."
A citizen of Barren Lands First Nation in Brochet, Manitoba, McCallum attended Guy Hill Residential School in The Pas, MB for 11 years. She went on to become a tireless advocate for social justice who has worked for decades to bring health care, specifically dental care, to northern Indigenous communities across Manitoba.
McCallum was the first Indigenous woman dentist in Canada. She holds a Doctor of Dental Medicine from the University of Manitoba and has worked as a dental therapist, professor, and manager of many community health programs. She retired from dentistry in April 2021 but remains a non-practicing member of the Manitoba Dental Association.
McCallum also shares her personal experience as a former residential school student through workshops and presentations. She was appointed to the Senate of Canada in 2017, representing Manitoba in the Upper Chamber. In 2021, she became the chancellor of Brandon University.
"Her attentiveness to social determinants of health is giving shape to Canadian policy and sensibilities, as is her call to honouring what is sacred amongst all of us," said Pauls. "For her no transformation or change is impossible and everything good depends on taking the time to hear stories and to build trust.
In 2016 and 2017, McCallum took courses at CMU's Canadian School of Peacebuilding on trauma and healing, as well as Indigenous legal traditions and human rights. She said the courses enabled her to shed some of the victimhood she had from her residential school experience as a child, and gave her additional tools to bring to her work.
"She embodies a hope-filled imagination that is calling out nothing less than a reconstitution of the entirety of the education, justice, political, healthcare, child and family institutions in the country, and along the way the very roots of honoured relationships, ways people think, reconciliation, and the spiritual presence in all living things," said Pauls. "I consider the time I have spent with her to be amongst the greatest blessings of my life."
Watch the presentation of the 2021 CMU PAX Award to Dr. Mary Jane McCallum at 52:23
Print This Article