Stories
Canadian Mennonite University celebrates Class of 2021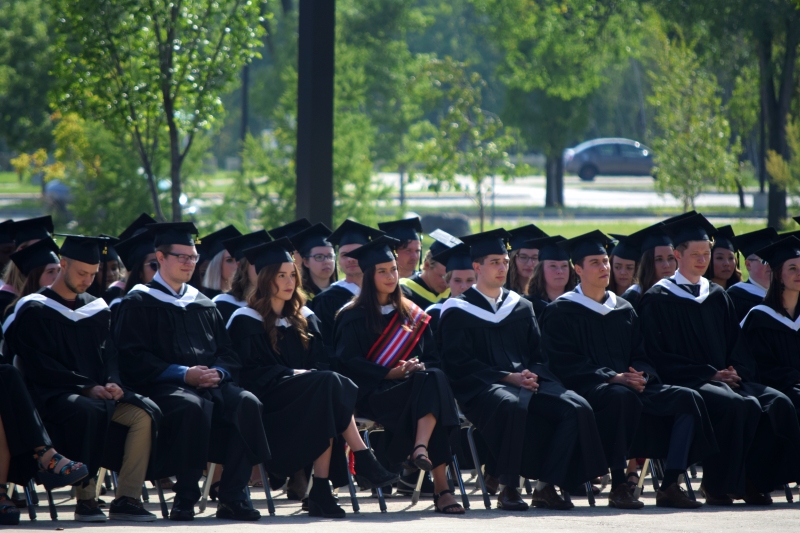 After a year of mingling on Zoom and many online classes, the CMU community gathered in-person on August 21 to celebrate the Class of 2021. At an outdoor convocation ceremony on CMU's grounds, CMU President Dr. Cheryl Pauls conferred 68 undergraduate degrees, 20 master's degrees, and three certificates.
"This afternoon we celebrate 91 beloved graduands, and give public witness of our trust in you. God's gifts of wisdom and insight are embodied in your character, your skills, and the vocation of your thinking and doing," said Pauls in her opening remarks.
This is the second year CMU has hosted an outdoor convocation, but the first graduating class to do its entire final year during the pandemic. They are leaving the university diversely prepared; several students graduated with interdisciplinary majors, like social theology, narrative studies, and thanatology (the study of death), along with many grads in traditional majors.
2021 President's Medal Recipients
Jadyn Lennea (left) and Isaac Schlegel (right)
with CMU President Cheryl Pauls
Pauls awarded President's Medals to Jadyn Lennea (BSc, Four-Year, Biology) and Isaac Schlegel (BA, Four-Year (Honours), Relational Theology), in recognition of their qualities of scholarship, leadership, and service.
This year's graduation scripture verse was Song of Solomon 2:11: Winter is over, the rain is gone. It's time to sing.
"Thank you for the blessing of the verse you have selected," Pauls addressed the graduands. "You call us to be attentive to times of clearing and to the seasons when rains, drought, and illness dissipate. You invite us to places of joy and a future with hope, as they arrive ever anew."
Kari Miller (BA, Four-Year, Thanatology) delivered the valedictory address. She began by making space for the losses she and her peers faced throughout their degrees. The death of two classmates, COVID-19's effects, the Outtatown program's closure, the climate crisis, and still more.
"I recognize the sorrows our graduating class has had to bear, not because I want to rain on our celebration, but rather because it would seem wrong not to. Our class has journeyed through many griefs, and only when we make space and acknowledge the sorrow can we begin to see the new life and new hope that arises from the darkness and realize a sense of resiliency and strength that is present among us."
Miller shared a story of lighting lanterns with friends at night and sending them into the sky, saying they experienced many "lantern moments" during their degrees too. "We have learned in the past few years how to be people who hold the tension between life and death, between hope and despair, light and darkness," she said.
Dr. Mary Jane McCallum, Canadian senator and chancellor of Brandon University, received the 2021 CMU PAX Award and delivered the graduation address. McCallum was the first Indigenous woman dentist in Canada and a former residential school student.
When McCallum took a course at CMU's Canadian School of Peacebuilding in 2017, she witnessed everyone's different journeys to get there. Each person had a story they brought with them and obstacles they had to overcome; brush they had to clear and marshes through which they had to walk. Like those students, each person in this graduating class has walked down their own path, McCallum said.
"This graduating class is unique. We are here to congratulate and honour the grads. They carry with them their sacred bundles." A sacred bundle holds each person's special talents, values, morals, and the teachings they will come to understand. We are all teachers, students, healers, wounded, she said. "What will you do with your sacred bundle, and how will you use it?" she asked the gathering.
Two graduates shared reflections from their time at CMU. Pamela Obonde (MA, Peacebuilding and Collaborative Development) spoke about the seemingly impossible journey to reach her degree: Moving from Kenya to Canada, returning to classes after two decades of field work, and the death of her mother. Yet she summarized her experience with the scripture verse Luke 1:45: "Blessed is she who has believed that the Lord would fulfill his promises to her." God's faithfulness, the power of women, and the support of her community—both at CMU and back home—got her through. "I am stronger than I thought I was, I have learned to embrace the changing seasons of life and I have purpose to keep hope alive," she said.
Isaac Schlegel (BA, Four-Year (Honours), Relational Theology), shared his story of studying Biblical Greek at CMU. Translating passages of scripture around a table with his peers, Schlegel discovered no shocking revelations or concrete answers, but found that studying Greek was "letting me see the beauty and confusion as ever from a new angle." He concluded, "Study, I discovered at CMU, is not a means to control the mystery of our world but a practice of engaging with it. The same God lies in these alphas and omegas that I meet in Sunday worship and in every part of ordinary life, and for this I am grateful."
The words of a musical tribute, composed by Elaine Hagenberg and sung by a small choral ensemble of students and graduands, reflected the character of the CMU community and blessed the graduates' journeys onward: "May you always remember when the shadows fall—you do not walk alone."
Print This Article