News Releases
Theology for a Climate Emergency: CMU to host public lecture by Rev'd Dr. David Widdicombe
Winnipeg?s own David Widdicombe, CMU?s Gordon Zerbe, and special guest Steve Bell grapple with the question: what must the church hope, work, and prepare for, now that climate change is here?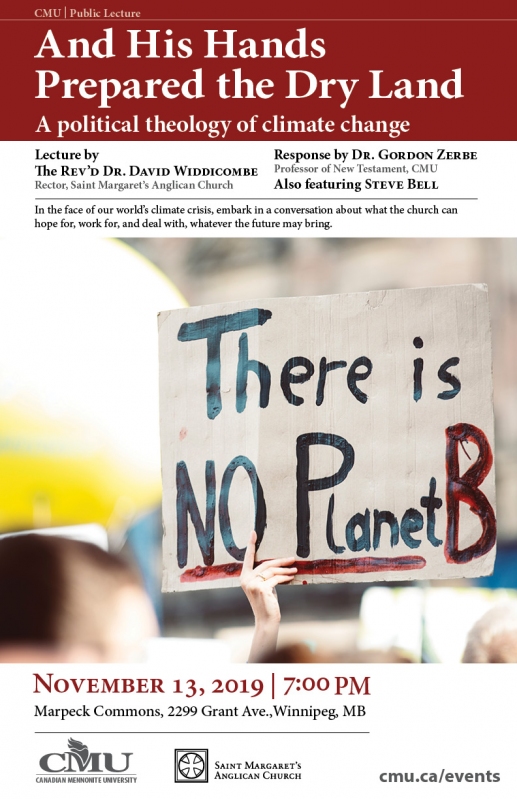 What theological tools do we really have, for thinking about a climate crisis? What responsibilities do individual churches have amidst the current emergency? What historical Christian perspectives might we be able to retrieve, in order to resist certain dominant scientific or technological assumptions of our time?
These are the seminal questions in Rev'd Dr. David Widdicombe's upcoming lecture "And His Hands Prepared the Dry Land: A Political Theology of Climate Change." Scheduled for Wednesday, November 13 at 7:00 PM, the lecture will be held at Marpeck Commons (2299 Grant Ave.) and feature a dedicated academic response from CMU's Professor of New Testament, Gordon Zerbe, to fuel discussion. Celebrated local musician and activist, Steve Bell, will also feature.
Widdicombe is rector of St Margaret's Anglican Church in Winnipeg, home of the esteemed Slater-Maguire lectures. His material in "And His Hands Prepared the Dry Land" draws on scholarship by three key figures: Canadian political philosopher George Grant; UK environmental ethicist Michael Northcott; and American critic, farmer, and man of letters, Wendell Berry. He writes:
"By faith we ask...with Northcott's help, what God has to do with the climate; how we should think about and understand the climate in light of the death and resurrection of Christ. In hope, especially as allied with the cardinal virtues of prudence and courage, we must ask with Berry's help, what we can hope for, work for, and expect to have to deal with in the future, whatever it may turn out to be. And through love, we must ask how we shall live together, survive together, as churches and neighbourhoods, whatever the future may bring, because we will need each other... Climate change is here. Whether catastrophic or not, climate change is here."
This event is free and open to the public, with a Q&A session to follow. The lecture will be livestreamed. For more information, or to access the stream, visit cmu.ca/events.
About CMU
A Christian university in the Anabaptist tradition, CMU's Shaftesbury campus offers undergraduate degrees in arts, business, humanities, music, sciences, and social sciences, and graduate degrees in Theology and Ministry, Business Administration, Peacebuilding and Collaborative Development. CMU has 1,600 students, including those enrolled in degree programs at its Shaftesbury Campus and Menno Simons College Campus. CMU is a member of Universities Canada.
For information about CMU, visit cmu.ca.
Kevin Kilbrei, Director of Communications & Marketing
kkilbrei@cmu.ca; 204.487.3300 ext. 621
Canadian Mennonite University
500 Shaftesbury Blvd., Winnipeg, MB R3P 2N2
Print This Article