News Releases
Fall 2020 academic and campus plan
CMU confirms plan for in-person courses and campus usage for students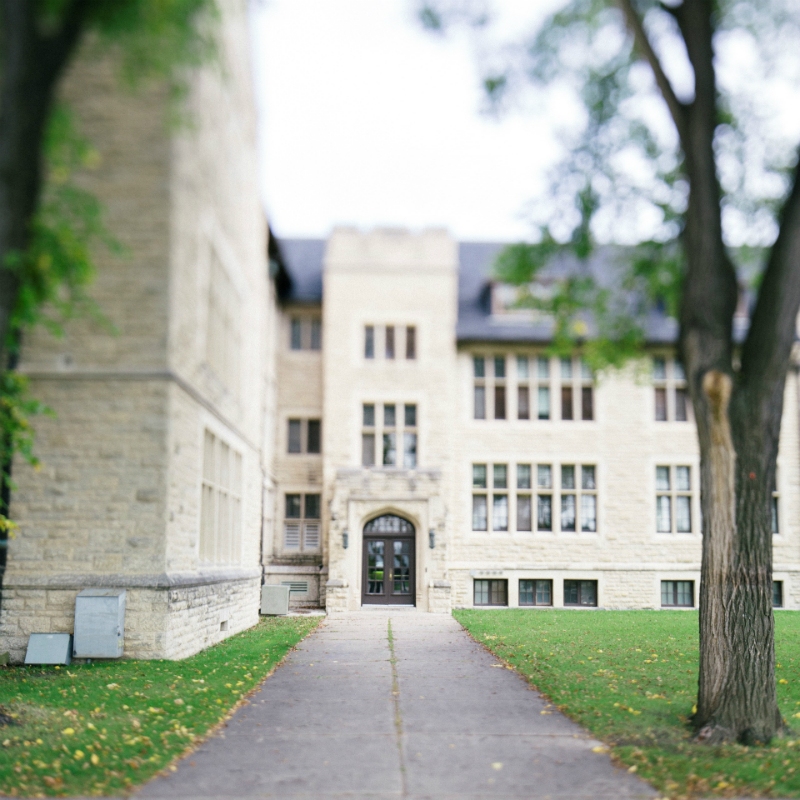 CMU is pleased to confirm that the university will provide on-campus living and in-person classes beginning Fall 2020. CMU is the only fully accredited Manitoba university to do so. All in-person courses will be augmented with hybrid, online learning tools.
Principles for Fall 2020 program delivery and campus life
Prioritize health, safety, and community-building to support a high-quality student learning experience
Ensure community safety as a shared responsibility among all students, faculty, and staff
Prioritize student experience by limiting public access to the CMU campus and enhanced forms of student engagement
Adhere to Manitoba Health guidelines to appropriately accommodate program delivery and on-campus safety
Protocols for students to be on campus
Be symptom-free
Self-quarantine as required by Manitoba Health
Complete training on procedures and protocols for being on campus
Practise diligent hygiene
Maintain physical distancing
Wear non-medical masks where requested
Respect guidelines for social interaction in dormitories, apartments, lounges, and study spaces
Care for self, peers, and the wider learning community
Education programming: in-person and online learning
CMU will hold on-campus, in-person classes in fall and winter terms 2020-21, with hybrid extensions available through online tools. Hybrid courses include both in-class work (in-person: seminar, discussion, workshop, lecture; and online: synchronous video and pre-recorded lecture materials), and out-of-class work (assignments to be completed, singularly, or in groups).
Hybrid classes allow CMU to pivot fully online should public health guidelines dictate the closure of the university campus.
Within a flexible hybrid learning model, students are responsible to be present in class throughout the year, unless they are unable to attend for reasons listed below.
Being sick or having COVID-19 symptoms
Being immuno-compromised or otherwise at greater health risk
Living with a family member who is at greater risk
Facing discomfort related to pandemic risks
Learning online given unable to come from another country
Students for whom any of these situations apply require accommodations for online-only attendance. These students must complete an online form. Further details regarding attendance and accommodations are included in the "Return to Campus Manual" for students.
Protocols for life on campus
A Return to Campus Manual will be available online by August 17.
All students will receive mandatory training on procedures and protocols for the safe return to campus including:

Cleaning practices
Physical distancing requirements
Campus traffic flow protocols

Hand sanitization and hygiene stations will be located throughout the campus.
Classrooms, labs, dining hall, lounges, and study spaces will ensure appropriate physical distancing.
Clear signage will safely direct campus movement.
The North Side 'castle,' Great Hall, South Side, MHC Gallery, CMU Library, and the Marpeck Commons Mezzanine, are available to CMU students only.
Apart from guided interaction and tours by the Enrolment Department, and limited athletic team competition in the Loewen Athletic Centre, the public will have access only to folio café and CommonWord Book and Resource Centre from 11:00 AM – 3:00 PM, Monday to Friday only.
Access to all CMU buildings, including the library and residences will be by prox card only.
Residence life
CMU is committed to the health, safety, and wellness of all Residence Students.
Dormitory rooms and apartments are open for students for the 2020-21 year.
Dormitory students will be assigned single rooms.
Frequent sanitation of high-touch areas and bathrooms, clear signage, reduced occupancy in lounges, and a robust quarantine plan for those who are symptomatic are in place.
Meal plans for both dormitory and apartment students include takeout options and scheduled sittings for meals in the dining hall.
Students living in dormitories and apartments are permitted to access each other's rooms, with appropriate restrictions given space sizes in dormitory rooms, apartments, and lounges.
Commuter students have full access to the entire campus, except for dormitory rooms and residence lounges.
As of July 15, a 14-day self-isolation period is required by Manitoba Health for persons coming from international and Eastern-Canada locations. The scope of this requirement may change—students are asked to monitor Manitoba Health guidelines. CMU will provide self-isolation accommodations for 14 days free of charge, including meal service, for dorm students who otherwise have no places to self-isolate with family or friend options in Winnipeg.
Health, wellness, and community life
CMU is committed to the health, wellness, and thriving of all members of its entire learning community and will provide robust opportunities for wellness promotion.
Student supports and services will be available both in-person and virtually.
Spiritual formation will occur weekly and will include in-person and livestreamed chapel services and fellowship groups.
New recreation, wellness, and art opportunities will provide exciting health promotion, while remaining physically distant. From visual arts to yoga to dance to running to cycling to cross-country skiing, we look forward to staying healthy with you.
Increased counselling services will be available, both in safe in-person sessions and online.
Varsity athletics will resume following Manitoba Public Health directives and games on campus will occur without spectators, with the exception of soccer.
Who to contact for more information
Student Life-related inquiries: cperonto:@:cmu.ca
Enrolment-related inquiries: admissions:@:cmu.ca
Print This Article