News Releases
Peacebuilding school launches 12th year after successful 2019 session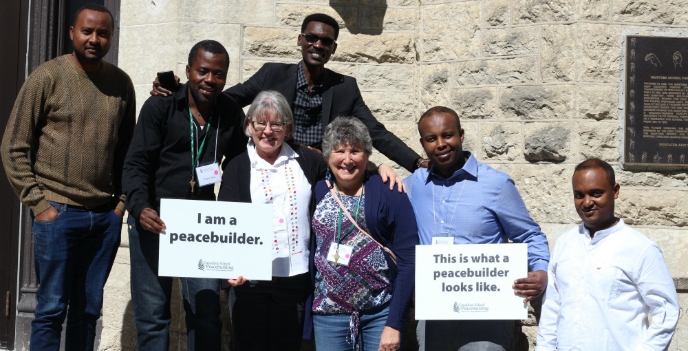 In the political climate of our world today, a commitment to peacebuilding is more critical than ever. This summer, Canadian Mennonite University (CMU) welcomed 108 students and nine faculty from around the world to the Canadian School of Peacebuilding (CSOP) held on June 10-21.
CSOP is CMU's annual summer peace and justice institute, which offers two weeks of five-day intensive courses related to peace, justice, and conflict resolution taught by renowned international and local instructors.
Peacebuilders of all faiths and identity groups from across Canada, the United States, Congo, Egypt, Liberia, Pakistan, Philippines, and elsewhere travelled to Winnipeg to network and engage in inspiring learning. Twenty-three international students from 16 different countries participated in the first week's courses.
"CSOP creates a richly diverse environment for learning," says Wendy Kroeker, Academic Director of CSOP. "Participants build great networks as they meet others from all over the world who experience similar contexts and challenges."
Over and over again, participants expressed their appreciation for how the program brings people together. As one student put it, "I thought I was coming to a Mennonite university... but I found myself at the United Nations. So great!"
The 2019 session offered seven courses representing academic areas like Business, Psychology, Music, Biblical and Theological Studies, International Development Studies, and more. Courses explored trauma and resilience, the theology of struggle, non-violent activism and resilience, human-centred design, making peace through music, Indigenous perspectives on salvation and justice, and putting peace skills into practice.
Instructors included Emily Welty, member of the 2017 Nobel Peace Prize winning International Campaign to Abolish Nuclear Weapons, and Svanibor Pettan, an internationally renowned lecturer, researcher, and chair of the ethnomusicology program at the University of Ljubljana, Slovenia.
"This year's participants expressed gratitude for their instructors, the experiences they brought to the theoretical, and the opportunities for life changing growth they provided," Kroeker says. "The instructors commented on the amazing engagement from participants and what a joy it is to teach at CSOP."
With another successful year behind them, the CSOP team has now turned its energy to preparing for the school's 12th year, which will run from June 8-12 and 15-19, 2020. Registration is now open at csop.cmu.ca.
The first session will feature three courses: "Indigenous Politics, Land, and Globalization," led by Rauna Kuokkanen; "Leading in an Age of Polarization," by David Brubaker; and "Active Bystander Training," by Joy Meeker.
The second session will offer another three courses: "Does Religion Cause Violence?," led by William Cavanaugh; "Dreaming of Kanata and Canada: Indigenous Graphic Novels and Reconciliation," by Niigaanwewidam James Sinclair; and "Trauma, Healing, and Reconciliation," by Kelly Bernardin-Dvorak.
"Peacebuilding is the need of the hour; it must be taught in schools and colleges," wrote a participant on their program evaluation. "You are doing a great favour to the future generations."
Through its Shaftesbury campus and its Menno Simons College campus at the University of Winnipeg, CMU offers one of the most comprehensive undergraduate programs in peace and conflict studies in the world.
About CMU
A Christian university in the Anabaptist tradition, CMU's Shaftesbury campus offers undergraduate degrees in arts, business, humanities, music, sciences, and social sciences, and graduate degrees in Theology and Ministry, Business Administration, Peacebuilding and Collaborative Development. CMU has 1,600 students, including those enrolled in degree programs at its Shaftesbury Campus and Menno Simons College Campus. CMU is a member of Universities Canada.
For information about CMU, visit cmu.ca.
Kevin Kilbrei, Director of Communications & Marketing
kkilbrei@cmu.ca; 204.487.3300 ext. 621
Canadian Mennonite University
500 Shaftesbury Blvd., Winnipeg, MB R3P 2N2
Print This Article