News Releases
CMU announces increase in fall 2019 Enrolment
Fall enrolment shows 3% increase in undergraduate and graduate degree programs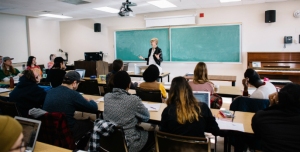 Preliminary fall enrolment at Canadian Mennonite University (CMU) indicate an overall 3% increase in CMU students in undergraduate and graduate degree programs. This increase reflects both headcount and full-time equivalent (FTE) course registrations.
Anticipated full year FTE registrations for 2019/20 is 955 FTE, for all CMU programs. This includes 670 FTE through CMU's main campus on Shaftesbury Blvd., and an enrolment of 285 FTE at Menno Simons College (CMU's downtown program centre).
"Students are drawn to CMU's high quality academic programs, relationships with mentoring faculty, and the University's comprehensive practicum program. This combination equips students effectively for their vocations and for positive impact in the community," said CMU President Cheryl Pauls.
Seventy-three percent of CMU students are from Manitoba, evenly split between Winnipeg and other communities, while 13% are from other regions of Canada. Seven percent of students are Indigenous, while international students comprise 14% of the student population, representing 31 countries and 5 continents. Final enrolment numbers will be confirmed in the upcoming weeks as registrations continue to be processed.
About CMU
A Christian university in the Anabaptist tradition, CMU's Shaftesbury campus offers undergraduate degrees in arts, business, humanities, music, sciences, and social sciences, and graduate degrees in Theology and Ministry, Business Administration, Peacebuilding and Collaborative Development. CMU has 1,600 students, including those enrolled in degree programs at its Shaftesbury Campus and Menno Simons College Campus. CMU is a member of Universities Canada.
For information about CMU, visit cmu.ca.
Kevin Kilbrei, Director of Communications & Marketing
kkilbrei@cmu.ca; 204.487.3300 ext. 621
Canadian Mennonite University
500 Shaftesbury Blvd., Winnipeg, MB R3P 2N2
Print This Article