News Releases
Naawi-Oodena: A Town Hall Conversation
CMU to host panel discussion with new neighbours, largest urban Indigenous economic zone in Canada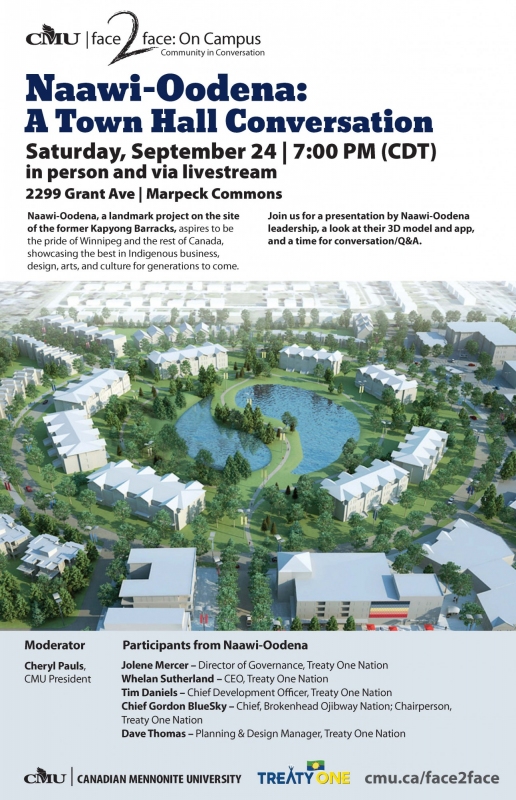 Something new and exciting is developing in the neighbourhood very close to Canadian Mennonite University (CMU). The area will soon be home to the largest, strategically located urban Indigenous economic zone in Canada and the biggest multi-use project in modern Winnipeg history.
The public is invited to gather and learn more at the university's upcoming Face2Face event, "Naawi-Oodena: A Town Hall Conversation" on Saturday, September 24 at 7:00 PM.
The in-person event will take place at CMU's Marpeck Commons (2299 Grant Ave.) and be livestreamed at cmu.ca/face2face. Admission is free and all are welcome.
Naawi-Oodena is a landmark project being built on the site of the former Canadian Forces base, Kapyong Barracks, less than three kilometres east of CMU's Shaftesbury campus. It will contain many features, including housing, businesses, parks and green spaces, recreational facilities, cultural centres, and more.
The development has the potential to shape urban growth, generate significant economic investment, and connect communities. It aspires to be a vibrant community, showcasing the best in Indigenous business, design, arts, and culture for generations to come. The property's name, Naawi-Oodena, means "centre of the heart and community" in the Anishinaabe language.
"There needs to be a place for us and there needs to be a place for our people," Brokenhead Ojibway Nation Chief Gordon BlueSky said. "Through creation of these urban economic development zones—or 'urban reserves' as they are formally called—we look forward to uniting as one with neighbouring communities for the betterment of all."
A panel of five Treaty One Nation members and Naawi-Oodena leadership will speak about the project and present their 3D model and app.
The panel will feature:
Jolene Mercer, Director of Governance, Treaty One Nation;
Whelan Sutherland, Chief Executive Officer, Treaty One Nation;
Tim Daniels, Chief Development Officer, Treaty One Nation;
Chief Gordon BlueSky, Chief of Brokenhead Ojibway Nation and Chairperson, Treaty One Nation; and
Dave Thomas, Planning and Design Manager, Treaty One Nation.
In 2015, CMU hosted a Face2Face event exploring the possibility of an urban reserve at the empty Kapyong Barracks. Together with a panel of Indigenous leaders, the community envisioned what the space could be, expressed their concerns, asked questions, and discussed what it means to be good neighbours.
"We are heartened to see great interest in the Naawi-Oodena project within CMU, in surrounding neighbourhoods, around the city, and across the country, said CMU Vice-President External, Sandy Koop Harder. "We are grateful for the opportunity on September 24 to celebrate the longstanding dream and far-sighted leadership of Treaty One visionaries who have been working hard to bring this idea to life for many years."
CMU President Cheryl Pauls will moderate the 90-minute event, which will include opportunities for comments and questions from the audience.
Started in 2013, Face2Face is a series of conversations organized by CMU, designed to engage the community on a wide variety of current events and issues at the intersection of faith and life. Previous events have explored polarization, marijuana legalization, and reconciliation. For more on the conversation series, visit cmu.ca/face2face.
For more information, contact:
Kevin Kilbrei
Director of Communications & Marketing
Canadian Mennonite University
500 Shaftesbury Blvd., Winnipeg, MB R3P 2N2
kkilbrei

:

@

:

cmu.ca
204.487.3300 ext. 621
Vic Savino
Director of Communications
Treaty One Nation
103-1075 Portage Ave., Winnipeg, MB R3G 0R8
vsavino

:

@

:

treaty1.ca
204.783.3110
Print This Article