News Releases
Lectures reveal Mennonite contributions to Dutch society in 16th-17th centuries
University of New Brunswick professor to deliver 2023 John and Margaret Friesen Lectures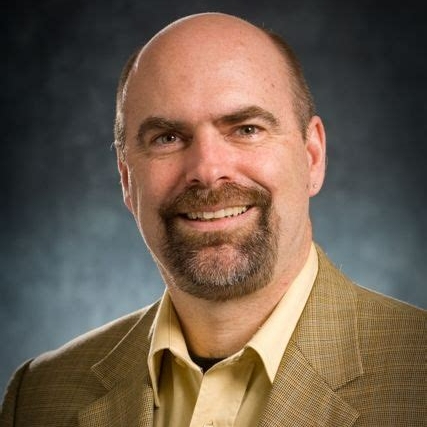 Dr. Gary K. Waite will be challenging stereotypes of Mennonites throughout history at the 2023 John and Margaret Friesen Lectures at Canadian Mennonite University (CMU).
Waite is Professor Emeritus in the Department of History at the University of New Brunswick in Fredericton. He will give two lectures addressing "The Neglected Role of Dutch Mennonite Innovators in the Scientific Revolution and Early Enlightenment" on Thursday, March 9.
Lecture 1: "Mennonites as Social and Technological Innovators in the Sixteenth-Century Netherlands"
11:00 AM at the Mennonite Heritage Centre Gallery (610 Shaftesbury Blvd.) and via livestream
Lecture 2: "Mennonites as Innovators of Philosophical Thought in the Dutch Golden Age"
7:00 PM in Marpeck Commons (2299 Grant Ave.) and via livestream
"I am truly excited to be delivering the Friesen Lectures at CMU this year," Waite says. "While not a Mennonite myself, I have been immersed in the history of Anabaptism and Mennonites for some four decades, and I am deeply honoured to be among the list of those who have previously delivered these lectures."
He will explore the contributions of Dutch Mennonites to Dutch society in the 16th and 17th centuries, a time when Mennonites were prosperous. They contributed to technological advancement, such as windmill technology and submarine engineering, and philosophical thought, like promoting religious toleration and forming ideas that lay the groundwork for notable philosophers like Descartes and Spinoza.
Waite will be examining "Dutch Mennonites, not just as recipients or passive participants in society or as separated from society, but rather as active agents in it," says Paul Doerksen, Associate Professor of Theology and Anabaptist Studies at CMU. "It is a great privilege to have Dr. Waite here. He has a very accomplished body of work contributing to Mennonites studies."
Waite is the author of numerous books, including his most well-known, Eradicating the Devil's Minions: Anabaptists and Witches in Reformation Europe (University of Toronto Press, 2009). His academic work focuses on the history of religion in the early modern era, for which he has studied Anabaptists extensively.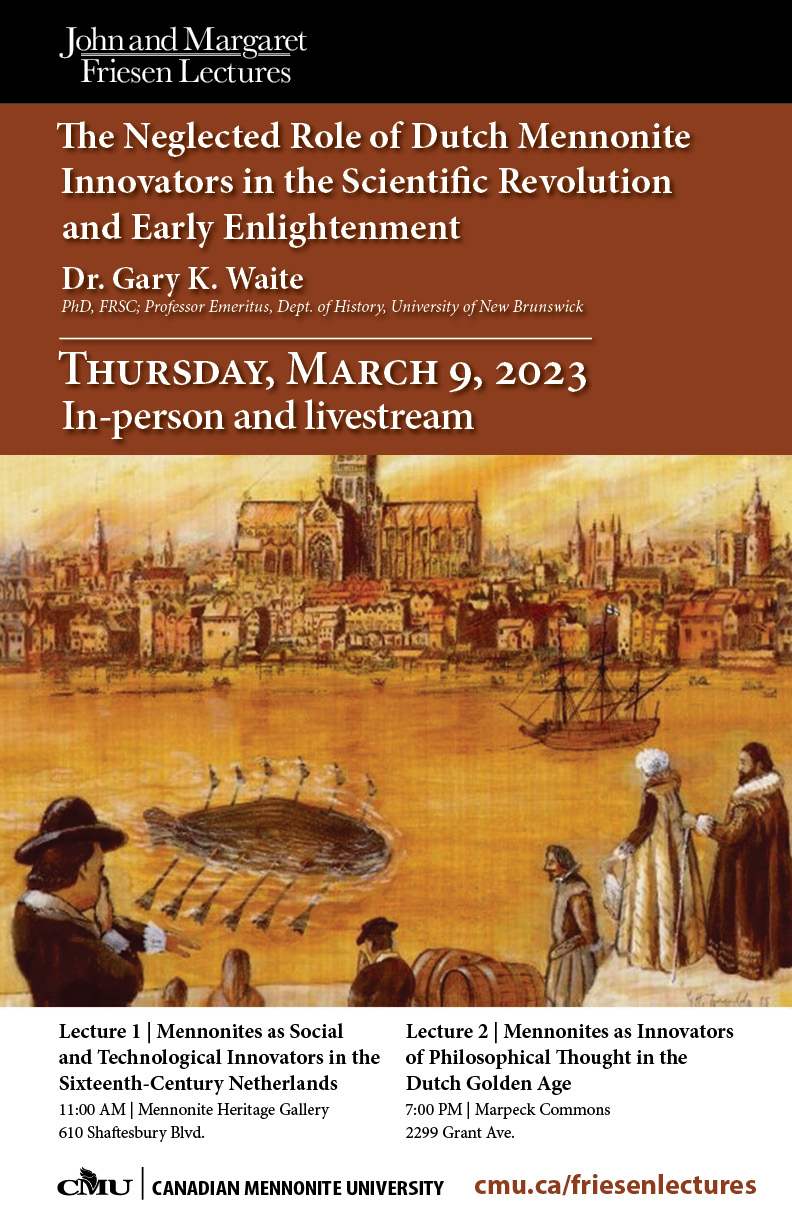 "In many respects, these lectures I will be delivering are capstones for a major research project, called "Amsterdamnified!" which Michael Driedger (Brock University) and I created with the support of the Social Sciences and Humanities Research Council of Canada back in 2015, to trace the dissident religious roots of the early Enlightenment," Waite says. "Working with a number of other incredible scholars has been one of the greatest pleasures of my career, and I am happy to be able to present some of our intriguing findings to you, findings that highlight the essential yet underappreciated role played by Dutch Mennonites in the refashioning of ideas and ways of thinking in the early-modern world."
Doerksen says the story of the Dutch Mennonites offers a lot for people to consider, even now, centuries later. "I think there are some interesting things to learn, not only about the opportunities that come to us when involved in those areas of society, but also the cautions." It's a question that's always relevant: "Is this a faithful way to be in the society in which we find ourselves?"
The John and Margaret Friesen Lectures in Anabaptist/Mennonite Studies are co-sponsored by CMU, the Mennonite Heritage Centre, and the Centre for Mennonite Brethren Studies. The series has covered topics like Anabaptism in Guatemala, Mennonite women in Canadian history, and many others.
The 2023 lectures are free and open to the public. They will also be livestreamed and available to watch online afterward. For more information, visit cmu.ca/friesenlectures.
Print This Article