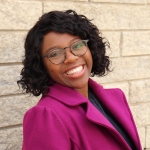 Posted in Alumni Profiles • Friday, January 22, 2021 @ 9:48 AM
Ennet Bera hadn't even donned her graduation cap yet when she got her first job in the non-profit sector.
Bera (CMU '19) graduated with a Master of Arts in Peacebuilding and Collaborative Development. She is program assistant for the Fund for Innovation and Transformation (FIT), which operates through the Manitoba Council for International Cooperation in Winnipeg.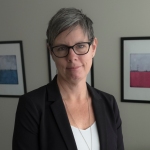 Posted in News Releases • Thursday, January 21, 2021 @ 4:04 PM
Canadian Mennonite University (CMU) is delighted to announce Sandy Koop Harder as its incoming Vice President, External, starting on June 1, 2021.
Koop Harder has diverse and demonstrated experience that positions her well in this executive role at CMU. She is Business Manager, Co-owner/Partner, and Senior Mediator at Facilitated Solutions. A Chartered Mediator with the ADR Institute of Canada, she also holds a Master of Business Administration with a specialization in leadership.
Posted in Stories • Tuesday, January 19, 2021 @ 9:49 AM
Out of the many pockets of opportunities that come from completing a bachelor's degree at CMU, more and more graduates have turned their attention to the Crisis & Trauma Resource Institute (CTRI) situated in the West Broadway neighbourhood of Winnipeg, MB. With many CMU alumni joining the CTRI community and clinical director Vicki Enns' role teaching in CMU's Canadian School of Peacebuilding, the connection between the two institutions runs deep. CTRI, made up of a wide variety of therapists, workshop facilitators, and administrative staff offers training materials and resources focused on keeping the public trauma-informed. Their sibling division, Achieve Centre for Leadership, sets its sights specifically on how workplaces can foster leadership skills, conflict resolutions, management skills, and emotional intelligence.
Posted in News Releases • Friday, January 15, 2021 @ 3:45 PM
Welcome to the learning community of Canadian Mennonite University winter 2021.

I'm pleased to announce that CMU will be returning to hybrid classes at its Shaftesbury campus on Monday, January 25. Students will have the option to be part of a significant number of courses in-person or virtually. Some courses will continue only online as indicated on the CMU website at www.cmu.ca/timetable.
Posted in Audio • Friday, January 15, 2021 @ 12:16 PM
"So What?" is a new monthly CMU podcast that draws out key ideas from public events at Canadian Mennonite University. Host Jonas Cornelsen (CMU '16) guides you through these discussions by asking 'So What?".
Episode 1 - Pandemic
What if science was more than a weapon in the fight against diseases like COVID-19? Biologist Rachel Krause talks about the ecology of pandemics: they are a natural result of living with other species. Philosopher and theologian Chris Huebner looks to the past, and opens up an unusual book during lockdown. He concludes that nothing about COVID-19 is "unprecedented."
Printed from: media.cmu.ca/news