News & Releases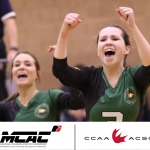 Posted in News Releases • Wednesday, June 12, 2019 @ 11:59 AM
The CMU Blazers and the Manitoba Colleges Athletic Conference have jumped another hurdle. The Canadian Collegiate Athletic Association, the national body that governs sports competitions and national championships between Canadian colleges and universities, formally and unanimously accepted the Winnipeg-based university as part of the MCAC's application for conference membership on Tuesday at the CCAA's Annual General Meeting in Calgary.
Posted in News Releases • Thursday, June 6, 2019 @ 9:37 AM
Dr. Emily Welty, member of the International Campaign to Abolish Nuclear Weapons, which won the 2017 Nobel Peace Prize, will give a public lecture at Canadian Mennonite University (CMU) later this month as part of its annual Canadian School of Peacebuilding (CSOP).
Posted in Video • Monday, June 3, 2019 @ 3:24 PM
Posted in News Releases • Monday, June 3, 2019 @ 11:00 AM
Canadian Mennonite University (CMU) is pleased to announce the recipients of this year's Leadership Scholarships: Jubilee Dueck Thiessen of Winnipeg, MB (Kelvin High School); Carrie Schulz of Winnipeg, MB (Westgate Mennonite Collegiate); Kyla Willms of Fonthill, ON (Eden High School); and Dawson Doucet of Selkirk, MB (Lord Selkirk Regional Comprehensive Secondary School).
Posted in Audio • Saturday, June 1, 2019 @ 12:00 AM
Theme: With Gratitude 2018
This month on Sunday@CMU, we are rebroadcasting recordings from CMU's With Gratitude event that took place in April 2018. At With Gratitude, graduating students express what their studies have meant to them through sharing words or music.