News & Releases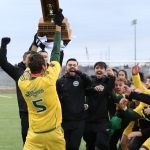 Posted in News Releases • Monday, October 29, 2018 @ 9:14 AM
Generally thought to be unlucky, the thirteenth season turned out to be just the opposite for Men's Soccer as CMU lifted their first MCAC Conference Championship Trophy since 2005 on a 1-0 win over Brandon University on Sunday afternoon at the Ralph Cantafio Soccer Complex.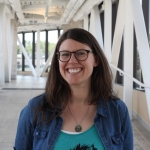 Posted in Faculty Profiles • Wednesday, October 24, 2018 @ 12:00 PM
Lee-Anne Dowsett, Assistant Professor of Music Therapy, has taught at CMU since January 2016.
What do you love about your work here?

I absolutely love our students. We have amazing, incredible, talented, and passionate students. I love working with my colleagues in the School of Music. I also really like getting to know faculty across the university in different disciplines that I haven't interacted with before.
Posted in Video • Friday, October 19, 2018 @ 8:00 AM
Posted in Video • Thursday, October 11, 2018 @ 9:00 AM
Posted in Video • Tuesday, October 2, 2018 @ 10:44 AM