News & Releases
Posted in News Releases • Tuesday, September 3, 2019 @ 2:00 PM
Recent CMU graduate Amelia Warkentin (class of '19) is the winner of this year's C. Henry Smith Oratorical Contest. Her first-place speech, titled "Finding Health and Peace Through Self-Care", has earned her $400 USD in prize money, forthcoming publication in Mennonite Weekly Review, and a scholarship for participation in a peace-related conference of her choice.
Posted in Audio • Sunday, September 1, 2019 @ 12:00 AM
Theme: The Believer's Church Bible Commentary: A Way Into Scripture For All
Speaker: Cheryl Pauls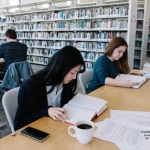 Posted in News Releases • Saturday, August 10, 2019 @ 1:00 PM
Canadian Mennonite University is taking a page out of the books of some of the most prestigious schools in the world with its latest academic offering.
The Winnipeg-based post-secondary institution is preparing to welcome students for a second year of "W" courses, all of which are designed to develop and fine-tune students' writing skills.
Posted in Audio • Sunday, August 4, 2019 @ 12:00 AM
Theme: Voices of the CMU Community
This month on Sunday@CMU, we are hearing from voices of the CMU community. Listen to faculty, staff, and alumni talk about their work and faith journeys in new segments created by CMU communications and media students, followed by performances from this year's 14th annual Verna Mae Janzen music competition.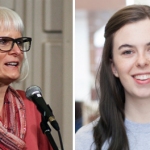 Posted in Stories • Thursday, August 1, 2019 @ 1:40 PM
Earlier this summer, the Mennonite Brethren (MB) Historical Commission awarded CMU professor Dr. Christine Longhurst and CMU student Marnie Klassen a grant and scholarship, respectively.
Longhurst, Assistant Professor of Music and Worship, received an MB Studies Project Grant for the second phase of her research project exploring how worship in Canadian MB churches has changed over the last 40 years, specifically focusing on worship music and the shift from a traditional to a more contemporary style.