News & Releases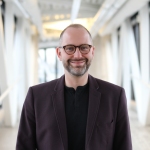 Posted in Faculty Profiles • Friday, November 23, 2018 @ 12:00 PM
James Magnus-Johnston, Director of the Centre for Resilience and Instructor of Social Entrepreneurship, has taught at CMU since 2013.
Posted in Stories • Thursday, November 15, 2018 @ 3:19 PM
Compassion and patience are key when relating to newcomers.
That was one of the main messages at a Face2Face community discussion at Canadian Mennonite University (CMU) on November 7.
Posted in Video • Thursday, November 8, 2018 @ 12:00 AM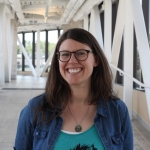 Posted in Faculty Profiles • Thursday, November 1, 2018 @ 12:00 PM
Lee-Anne Dowsett, Assistant Professor of Music Therapy, has taught at CMU since January 2016.
What do you love about your work here?

I absolutely love our students. We have amazing, incredible, talented, and passionate students. I love working with my colleagues in the School of Music. I also really like getting to know faculty across the university in different disciplines that I haven't interacted with before.
Posted in Audio • Thursday, November 1, 2018 @ 12:00 AM
Theme: Distinguished Alumni Award Recipients 2018
CMU's Distinguished Alumni Awards celebrate alumni who embody CMU's values and mission of service, leadership, and reconciliation in church and society. The awards are presented to alumni from CMU and its founding colleges. This month on Sunday@CMU, we are featuring the speeches given by this year's award recipients.