Stories
Longtime CMU alumnus donor invests in people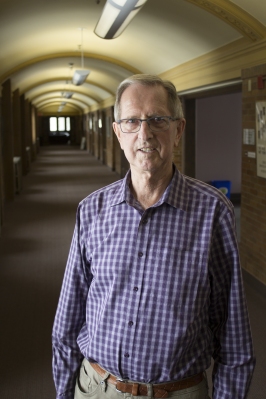 For Hugo Peters, donating to CMU is a wise investment because it means contributing to the lives of students.
"I've invested in all kinds of things in my life, some of which went south, some of which made money, but I've never regretted investing in people," says Peters (CMBC '63).
"It's the best investment because it's long term, even beyond my life," he adds. "These are people who are going to make the world move along in directions that are good."
Peters is a longtime supporter of the university. In addition to contributing to the CMU Fund for annual operations, he and his late wife, Herta, established the Hugo & Herta Peters Returning Student Leader Scholarship.
Peters has also included a gift to CMU in his will plan.
In addition to investing in the future, Peters sees giving to CMU as a way to pay back the institution that shaped him.
In the early '60s, he earned his Bachelor of Christian Education from Canadian Mennonite Bible College, one of CMU's predecessor institutions.
"I enjoyed the studies a great deal, as well as my instructors," says Peters, who grew up on a farm near Austin, MB, 130 km west of Winnipeg. "Dorm life was awesome, and I made friends from across Canada that remain my friends to this day."
Peters recalls that by the end of his first year, he was in crisis. The faith he had entered CMBC with was no longer holding water, thanks to the things he was learning in his classes.
"It took me a good year after that to sort of start pulling things back together, but that really set the direction of not only my church and faith life, but also my vocational life," he says.
Giving today, giving tomorrow
There are many generosity heroes that sustain the mission of CMU to form lives for leadership, service, and reconciliation in the church and society. By giving today, they express a deep care for CMU as a faithfilled university. By giving tomorrow through gifts in wills, life insurance, etc., they declare their trust in God's activity in the generations to come. Thank you for contemplating how you will participate, today and tomorrow, in this mission with CMU! If you have questions or wish to have further conversation about your donation, you are welcome contact us at development:@:cmu.ca.
After CMBC, Peters earned degrees in history and education at the University of Manitoba. He taught high school for 31 years before moving on to roles that involved supervising student teachers and developing curriculum.
Peters was thrilled to see one of his grandsons graduate from CMU in 2017, some 54 years after he himself graduated.
"That was amazing. It was deeply satisfying to see that," Peters says. "I was hoping of course that he would have that same life-changing, redirecting experience I had that is about more than just education—it's really (about) forming who you become."
At its best, Peters says, CMU is a place that prepares young people for their lives and vocations from a faith-based starting point.
"That to me is very valuable," he says, adding that there is one last reason why he donates to the university.
"The other reason why I support CMU is that if nothing else, it gives me a great excuse to come around (campus)," he says. "I live in a 55-plus residence, which has become a 75-plus residence, and you've got to get away from that every once in awhile."
"So, I come to Christmas at CMU, Tuition Freedom Day, Face2Face, and other events. It's a whole different environment. I think some of us really need that."
Print This Article