Stories
Giving to CMU supports global peacebuilding efforts, creates hope for the future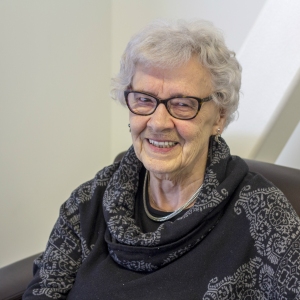 Ask Helen Rempel why she gives to CMU, and she'll tell you about CMU's Canadian School of Peacebuilding (CSOP).
"There are a lot of students coming to CMU from all around the world, and the impact that has when they go home and make peace is so important," says Rempel.
Rempel is a long-time supporter of CMU, a passionate donor and advocate for the CSOP, and a contributor to the CMU Fund for annual operations.
In addition, she and her late husband Art established the Art and Helen Rempel Bursary fund, creating opportunities for students that will continue into the future. Together, they agreed on generosity planning for CMU both during their lifetimes as well as in their wills.
Like many, Rempel is hesitant to talk about her charitable giving activities. "You don't give because you want other people to notice," she says.
"You give because there are so many needs in the world, and when you hear about a need, you feel motivated to help, especially when you've been blessed so well."
She inherited this philosophy of generosity from her parents, growing up in the small community of Hershel, Saskatchewan.
After graduating from Rosthern Jr. College, she moved to Winnipeg to work as a teacher in the public-school system.
Giving today, giving tomorrow
There are many generosity heroes that sustain the mission of CMU to form lives for leadership, service, and reconciliation in the church and society. By giving today, they express a deep care for CMU as a faithfilled university. By giving tomorrow through gifts in wills, life insurance, etc., they declare their trust in God's activity in the generations to come. Thank you for contemplating how you will participate, today and tomorrow, in this mission with CMU! If you have questions or wish to have further conversation about your donation, you are welcome contact us at development:@:cmu.ca.
There weren't many options for women back then, she recalls, but her father and grandfather had been teachers, so she was happy to carry on the tradition. She left the school system after eight years and started a family of her own. And she carried on teaching in her community.
"There was no kindergarten in Fort Garry, and there was a need for kids to have some place to go when they were five years old."
Rempel had 25 children in her kindergarten, including four of her own, and says it helped her get to know her neighbours.
As an educator, donating to CMU brings together Rempel's interest in Mennonite history, Anabaptist faith and peacebuilding, with her passion for learning.
"CMU integrates faith with so many world issues," says Rempel. "When you hear about students being here from 27 countries; well, I've been impressed how that can make a difference in the world and it gives me hope for the future."
Print This Article