Student Profiles
Graduate student explores his Mennonite roots at CMU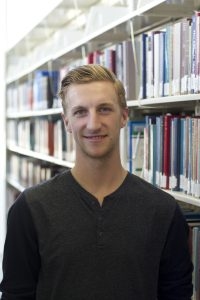 "What does it mean for me to be a Mennonite?"
That's the question that brought Daniel Rempel to CMU. Rempel is finding the answers to that question as he works toward a Master of Arts in Theological Studies in CMU's Graduate School of Theology and Ministry.
Rempel's question first occurred to him while he was earning an undergraduate degree in Biblical and Theological Studies from Providence University College in Otterburne, MB.
"While I was there, I got introduced to a whole host of other denominations," Rempel says, including Anglicans, Baptists, and Pentecostals.
"Being introduced to all these other Christian traditions caused me to really start thinking about what it means for me to be a Mennonite... Is it something I identify with because I believe in it? Or is it something I identify with because I don't know anything else?"
Studying in the Graduate School of Theology and Ministry, where the professors are approaching topics from an Anabaptist perspective, has stoked Rempel's interest.
"Coming to theology from that perspective has been enriching and made me want to learn more about my tradition," Rempel says.
Halfway through his degree, Rempel is enjoying his time at CMU. The academics are rigorous, but professors are always available to support students and help them succeed.
"Pretty much every professor that I've had has just been fantastic," Rempel says. His fellow students are also fantastic.
"You can't learn in isolation, and so I've always found the classroom to be a life-giving place," Rempel says. "You come together with people who have similar goals and a similar desire to better understand God."
In his classmates, Rempel has found people he can be friends with, bounce ideas off of, and continue the conversation with once class is over.
"That's been helpful and beneficial," he says.
The affordability of tuition and the availability of bursaries has also made studying at CMU worthwhile, Rempel adds.
"Compared to other schools it is very affordable, and I've been fortunate to be on the receiving end of some very significant bursaries from some very generous donors," he says.
Rempel is preparing to write a thesis that will explore how the church can be more welcoming and inclusive toward people with disabilities. His interest in the topic stems from working in group homes for the past two years.
"I've been really enlivened by that work," Rempel says. "My eyes have been opened to the world that people with disabilities are living in... (It) has led me to ask some of these questions, and I'm looking for theological answers to my questions." Rempel is considering doing a PhD after he finishes his Master's.
"I'm definitely trying to keep that door open, but ultimately what drives me in my studies is that I want to do theology in a way that benefits the church," he says.
In the meantime, he's happy at CMU.
"I'm very thankful for the people here and for what I've learned so far," Rempel says. "I'm about halfway through my degree now, and I'm looking forward to what's to come.
Print This Article