Faculty Profiles
Faculty: In Their Own Words – Dr. Sheila Klassen-Wiebe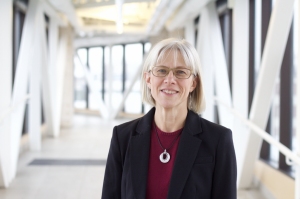 Dr. Sheila Klassen-Wiebe, Associate Professor of New Testament, has taught at CMU and CMBC (one of CMU's predecessor colleges) since 1993.
What are you teaching right now that you're most excited about?
I teach an upper-level undergraduate and graduate course called Who Is Jesus? We read a variety of scholars who understand Jesus differently, and who help us see Jesus in the larger context of his first century Jewish Palestinian world. Students sometimes have to deconstruct some of their assumptions about Jesus. It's a very rich experience to dig a little deeper and ask questions about who that first century Jesus was, since it makes a difference for how we follow Jesus today.
What are you researching and writing?
I'm writing the James volume in the Believers Church Bible Commentary Series. That's been fascinating and also challenging because James is so different from anything I've researched before. In some ways, James isn't a very difficult book to understand; the hard thing is living what James writes about. So, in my research and writing, I'm exploring the significance of James, and how we as a church can take seriously what James teaches.
What you are reading for enjoyment?
Mary Oliver's poetry. My daughters gave me a book of her poetry for my birthday last year, so I've been carrying that around and reading it. It feeds my soul. I'm also reading the Mary Russell series by Laurie R. King—that's my escape literature. Mary Russell is a young, female version of Sherlock Holmes. Another one I'm just starting is Miriam Toews' All My Puny Sorrows. So far, I'm really enjoying it.
What do you most long for in your work?
I long for students to get excited about participating in what God is doing in the world. The American writer and theologian Fredrick Buechner once said, "The place God calls you to is the place where your deep gladness and the world's deep hunger meet." If we here at CMU can work together to help students find that calling, where their deep gladness and the world's deep hunger meet, that is what I long for.
Do you have any interesting projects underway in the broader community or church?
Steve Heinrichs, Director of Indigenous Relations at Mennonite Church Canada, is editing a volume on decolonizing scripture. I contributed a poetic piece on James 5:1-6, which is in some ways the most hard-hitting passage in James against the rich. I occasionally do Bible studies at the Women's Correctional Centre in Headingley, MB. That is something that keeps my reading of scripture grounded in a very different reality.
What saying or motto inspires you?
Brother Lawrence, a 17th century French monk, wrote, "We must not grow weary of doing little things for the love of God, who looks not on the great size of the work, but on the love in it." That inspires me in my work.
Print This Article