News Releases
Posted in News Releases • Friday, July 16, 2021 @ 1:38 PM
Dear CMU Students,
Summer greetings from CMU! We very much look forward to welcoming you on campus for 2021-22 in early September.
Posted in News Releases • Monday, July 12, 2021 @ 10:00 AM
A message from President Dr. Cheryl Pauls
Greetings from CMU. I write to let you know what's been happening with the joint CMU/MB Seminary program since the time that MB Seminary informed CMU that for reasons of financial exigency MBS had decided to withdraw from the Affiliation Agreement between MB Seminary and CMU on May 31, 2021. Over the past year, a new four-way partnership has formed in order to rebuild a Mennonite Brethren Graduate Theological Education track (MB GTE Track) at CMU. This new partnership makes it possible for you to continue your studies with distinct MB dimensions, and the parchment you receive at graduation will be conferred jointly by CMU and MB Seminary. I see this new arrangement as a very good thing, and I'm deeply encouraged to be able to sustain the MB track at CMU in service of ministry education that relates very directly to the MB Church.
Posted in News Releases • Monday, May 31, 2021 @ 10:21 AM
The spring of 2021 saw the release of Germinating Conversations: Stories from Sustained Rural-Urban Dialogue on Food, Faith, Farming, and the Land. Edited by Marta Bunnett Wiebe, a recent graduate of Canadian Mennonite University (CMU) and current Peace and Advocacy Coordinator at MCC Manitoba, and collaboratively published by CMU, A Rocha, Canadian Foodgrains Bank, and Mennonite Central Committee Manitoba, the book emerged out of over a 10-year-long period of class discussions, listening events, and public dialogues between urban and rural farmers in Manitoba. The book surfaces out of these various initiatives producing germinating conversations centred around reconciliation, food production, and ecological crisis. With over 30 participants of both rural and urban contexts, the book attempts to mirror the kind of dialogue, and most importantly, the kind of listening that is required for real conversations to take place.
Posted in News Releases • Wednesday, May 26, 2021 @ 3:33 PM
David Nelson, Mia Loeppky, Matthew Pahl, and Eleanor Reimer are awarded this year's endowments: $3,500 annually up to four years, to a maximum value of $14,000 each.
CMU takes great pride in announcing the four winners of this year's Leadership Scholarships: David Nelson of Winnipeg, MB (Westgate Mennonite Collegiate); Mia Loeppky of Selkirk, MB (Lord Selkirk Regional Comprehensive Secondary School); Matthew Pahl of Morden, MB (Morden Collegiate Institute); and Eleanor Reimer of Winnipeg, MB (Sisler High School) are the winners of up to $14,000 each.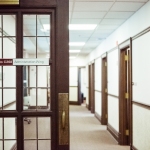 Posted in News Releases • Tuesday, May 4, 2021 @ 2:16 PM
CMU is pleased to announce new placements within its senior administration team with Charlie Peronto as the Dean of Student Life and John Unger as the Vice President, Administration & Finance.
Charlie Peronto – Effective July 1, Peronto will begin as Dean of Student Life. This follows exemplary work as Director, Student Life in 2020-21. Peronto previously served as CMU Residence Director for six years. Earlier work as the Pastor of Student Ministries at Steinbach MB Church and as Seniors and Indigenous Peoples Activity Coordinator with the Churchill Regional Health Authority also prepared Peronto for this role, given involvement with young adults and others coming from diverse backgrounds and faith homes.
« Newer Posts // Older Posts »
Print This Article