Stories
Pastor, police officer discuss cannabis legalization at CMU event
A Mennonite pastor hopes that the legalization of cannabis will allow the church to open up "theological discussions" about all sorts of substance use.
The legalization of cannabis gives the church an opportunity to discuss the New Testament emphasis on healing and reconciliation as God's response to brokenness, said Erin Morash, pastor at two rural Mennonite churches located two hours southwest of Winnipeg.
Morash made her comments last month during a panel discussion at Canadian Mennonite University (CMU) exploring the implications of marijuana legalization.
Canada's federal government is committed to implement the legalized production, sale, and recreational consumption of cannabis by July 1, 2018.
"Maybe we start asking questions on what causes people to misuse" substances, Morash said. "Instead of limiting our theological conversation to condemnation of individual sinners, maybe we could have more conversations around root causes, like abuse, or homelessness, depression, despair, broken relationships, loneliness, chronic poverty, underemployment, lack of social ties and supports, or identity issues like racism or sexism or sexual identity."
The discussion at CMU, held on November 15, sought to broaden awareness about the topic, explore questions and discern ways forward.
Joining Morash on the panel were Max Waddell, commander with the Organized Crime Division of the Winnipeg Police Service; Nelson Martens, member representative and business developer at Bonify, a licensed producer of medical cannabis located in Winnipeg; and Daniel Dacombe, rehabilitation counsellor with Addictions Foundation of Manitoba (AFM) and addictions specialist with the Manitoba Government.
During his presentation, Waddell outlined the effects that legalizing cannabis will have on law enforcement.
"It's very unlikely that the legalization will impact the profitability (of cannabis sales) for organized crime," Waddell said. "In fact, reports out of Colorado and Washington State report that legalization has not diminished the illegal market."
He added later, "As always, we will find a way to make sure the citizens we serve are protected and are informed."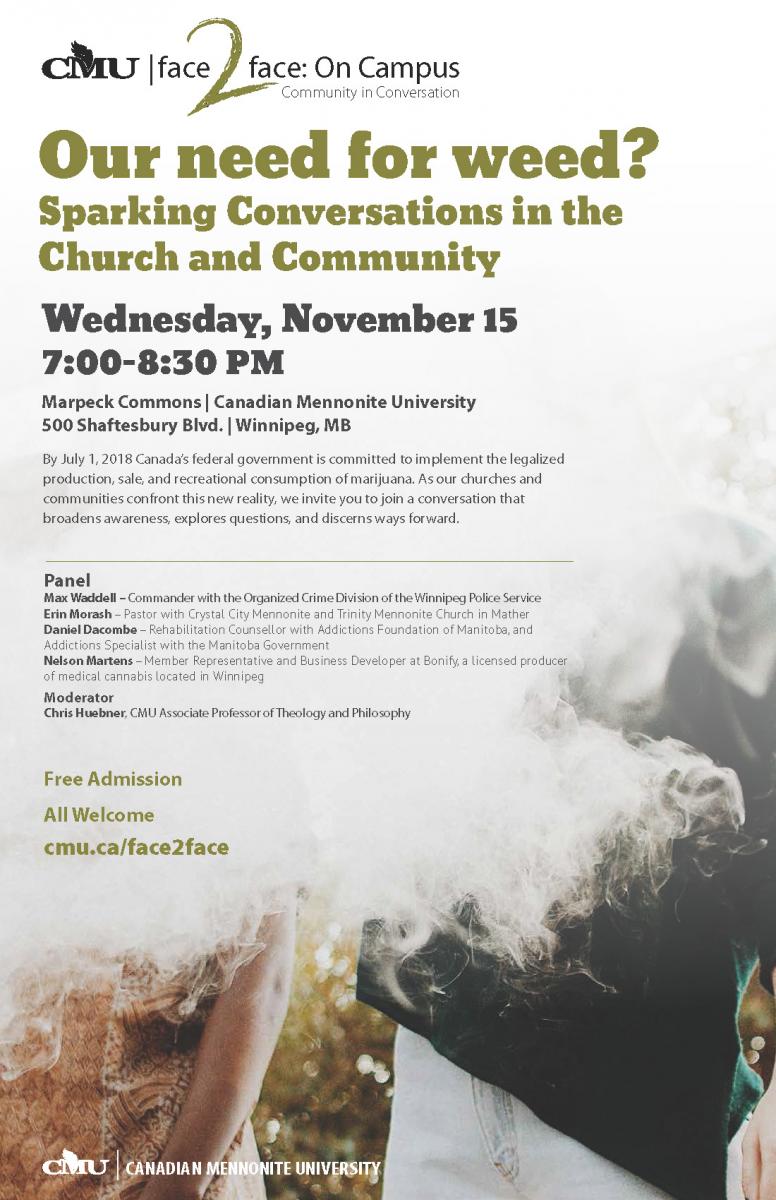 Addressing how the legalization of cannabis will impact how Bonify does business, Martens said that the company will remain dedicated to producing quality-assured medical cannabis in accordance with international standards.
"Bonify's corporate focus is on making things better," Martens said, adding that the company is committed to giving back to the community it serves by employing people in Winnipeg's North End, where its facility is located.
The company is also interested in providing a balanced education for consumers that expresses both the pros and cons of cannabis use, and that guard against impaired driving and addiction.
"Having a strong sense of corporate social responsibility is integral to Bonify's way of being," Martens said. "Everything we do is based on the shared values we have established. Those are accountability, integrity, commitment to quality, entrepreneurship, and innovation."
Meanwhile, Dacombe said that AFM is approaching the topic of marijuana legalization from a public health standpoint.
There are pros and cons to legalization, he said. The prospect of cannabis legalization also creates opportunities for greater research on the impacts of smoking cannabis both recreationally and medicinally, as well opportunities for more open discussion with young people in schools.
There is compelling evidence, Dacombe added, that using cannabis can cause developmental, psychological, and social harms in young people.
"In my work, I believe that legalization may increase the perception among youth that it is a harmless substance," Dacombe said. "It's going to be challenging, as it becomes legalized, to deal with these issues as they come up. However, I believe that there's going to be more opportunities to have those conversations, to discuss honestly with young people why they want to use."
CMU hosted the discussion, titled, "Our Need for Weed? Sparking Conversations in the Church and Community," as part of its Face2Face conversation series, which is designed to engage the community on a wide variety of current events and issues at the intersection of faith and life.
Something like marijuana legalization isn't a simple issue with only two sides to it, CMU President Dr. Cheryl Pauls noted during her remarks at the beginning of the evening.
"We all need to continually learn what it is to talk with one another, to understand first of all where we're coming from, and secondly, to seek what is good and true and best together," Pauls said. "This is the purpose of Face2Face."
Watch a recording of the event:
Print This Article