Alumni Profiles
In God's Country: Alumna finds joy and purpose teaching in Canada's far north
This is part of the life I know I was meant to live, and God made sure I made it here.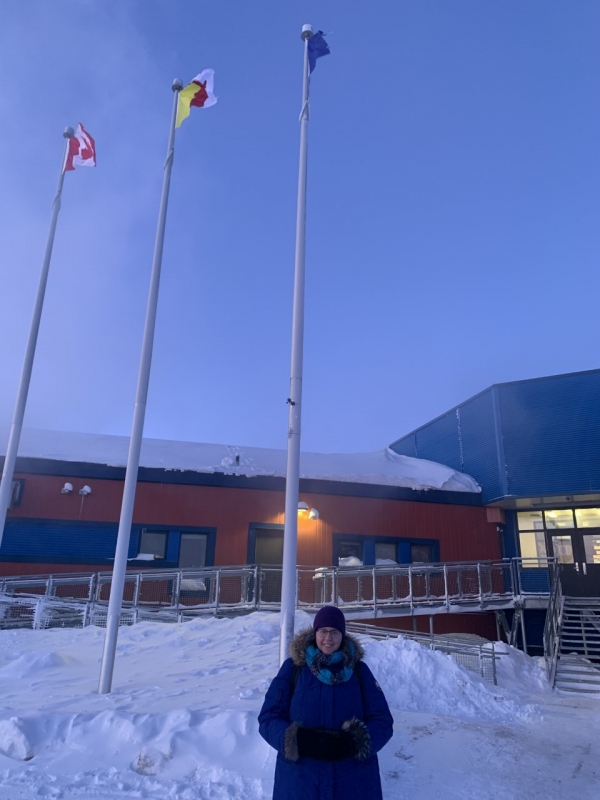 Gjoa Haven is situated on William Island, Nunavut, a little over 2,000 kilometres north of Winnipeg. As the crow flies, it's about as far from here to Vancouver. But the Mercator effect is truer to life in Canada than ninth-grade social studies would have us believe: in significance if not in substance, distances expand toward the Pole. While the realities of life up north can be harsh, for Katrina Brooks, a 2015 alumna of CMU's Bachelor of Arts in English now teaching at Gjoa Haven's Qiqirtaq Ilihakvik High School, this expansion of space and consciousness is a taste of what it feels like to be in God's country.
"This is a small community, but in the time I've spent here so far, I've grown to love it. I see God every day: at work, in every little success my students achieve, every time I step out of my door and see my surroundings. I can't imagine being anywhere else. This is part of the life I know I was meant to live, and God made sure I made it here."
It took some doing, though. Through program changes, personal ups and downs, a brief transfer out and retransfer back in, Brooks learned to listen for and discern God's promptings in her life—a skill that has served her well since graduation.
"Once I was back at CMU, after the transfer year, things felt right again. I had a similar experience post-grad when I realized that DaVinci College (where I briefly studied event planning) wasn't right for me, and again when I felt the desire to apply to jobs up north. I came to understand the importance of placing my faith in God—trusting that I am, in fact, at the right place at the right time. CMU helped me realize that God has a plan for me, and that, if I listen, I will be exactly where I need to be in order to carry out that plan."
"Before university I was shy and withdrawn; I was a ball of anxiety and found it difficult to reach out to others. CMU brought me out of my shell: I learned how to communicate and hold meaningful conversations with others. By the time I graduated, I was willing to speak up about issues that I cared about. Now that I'm teaching, I definitely know that if not for my experiences at CMU, I would be a far more reserved individual. Instead, I'm open and energetic, and take each day as an adventure."
Following graduation, Brooks returned home to Nova Scotia where she completed a Bachelor of Education, concentrating in English and Fine Arts for senior years. Early job searching showed a strong preference for French teachers in her area, so, sensing a nudge, she decided to look northward. Just two days after interviewing with Qiqirtag Ilihakvik, she got the job. She hasn't looked back.
"The North has taught me so much. For one, it has truly opened my eyes to the beauty of nature; I often stop and glance around, just to see what the world has to offer. As a teacher, it has also taught me to view curriculum in a very different light. I find myself drawing on the land for examples in my teaching far more often than I would if I was teaching down south, and I have learned so much about where I live, just from listening to my students' stories. My favourite school day so far was actually a day-long learning trip we took out on the land, seeing how teaching is far more than a classroom."
Brooks has been in Gjoa Haven for almost two years, and has no plans to return south any time soon.
Print This Article