Alumni Profiles
Super Sick: Making Peace with Chronic Illness – English alumna Allison Alexander launches first book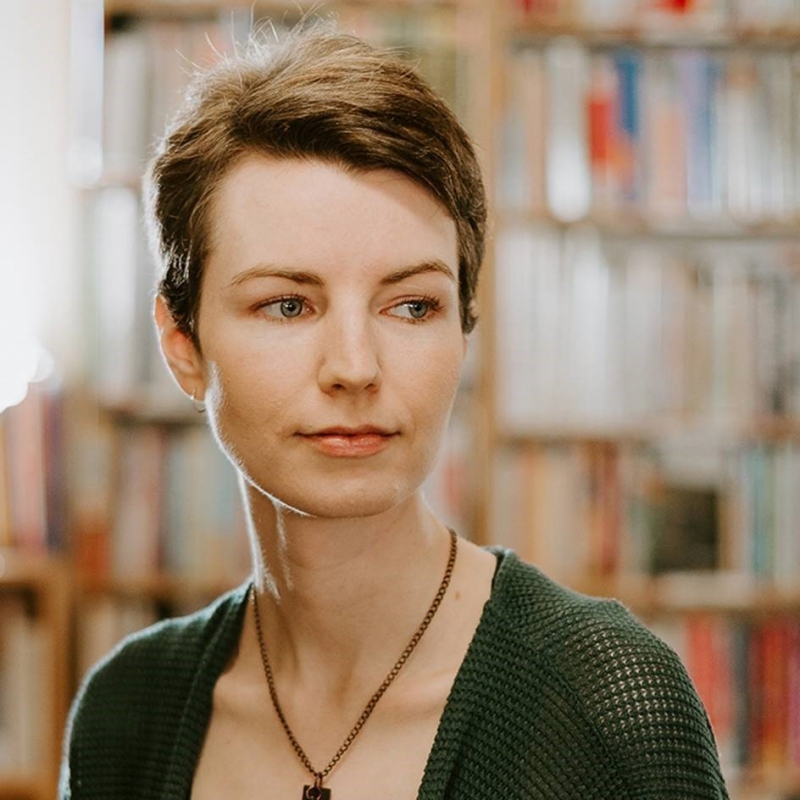 Having battled chronic illness all her life, Alexander wants to see herself in her heroes. Her new book Super Sick chronicles her search for sick characters in pop culture, and the personal impact of that quest.
"Superheroes aren't sick. They don't lie in bed all day because they're in too much pain to get up. They don't face the challenges of the chronically ill, which include socially inappropriate topics like mental illness, sex, and diarrhea. The latter, of course, would be exponentially worse in a spandex suit."
So reads the elevator pitch for Allison (nee Barron) Alexander's new book Super Sick, launched online late last month, and touring now.
In the nine years since her graduation from CMU ('11), Alexander has completed a certificate in Publishing from Ryerson University ('12), and written for assorted magazines, online publications, and blog projects. She has also co-edited two volumes the titles which may, without commentary, furnish an introduction to her field of speciality: Area of Effect: Wisdom from Geek Culture, and Thy Geekdom Come: 42 Fandom-Inspired Devotionals.
Alexander lives and breathes geek culture. Her Super Sick author biography describes her as "a nerdy, chronically ill writer from Winnipeg [who] aims to make spaces for minority characters in science fiction, fantasy, and pop culture. Also, her favourite character class in Dungeons & Dragons is a bard, so that should tell you everything you need to know..." For the uninitiated, expect charisma, wanderlust, team values, and fierce devotion to the arts of story and song. Do not expect self-pity, navel-gazing, or quitter-talk.
Super Sick was born out of Alexander's combined hunger for company and inspiration in fiction, her desire to share what inspiration could be found with others impacted be chronic illness or other difference, and her specific vocational passions. A fusion of memoir, spiritual reflection, and literary criticism, Super Sick "weaves Alexander's own painful experiences with stories from other chronic sufferers," offering fresh considerations of familiar figures in the realms of Marvel, Harry Potter, Final Fantasy, and others.
"Whenever I've touched on chronic illness in my writing, I realized I had much more to say, so a book seemed like the way to go! Writing has always been cathartic for me and often helps me process my own feelings. This book was no different. I especially enjoyed searching for positive examples of chronic illness in fiction and interviewing other people who have chronic conditions."
Alexander's work also returns regularly to more existential concerns, as old as they are current: how Western society values health over weakness; how one copes when even experts have no answers; and all the ways that "faith, friendship, and romance add pressure to already complicated situations." In total, as the title suggests, Super Sick chronicles Alexander's own journey toward making peace with her illness:
"Chronic illness can be incredibly lonely; there's something encouraging about knowing other people intimately understand your struggles. I hope that, as it has for me, my book helps others with chronic conditions to feel less alone and to know they are loved and valued. I hope it helps them feel validated and voices struggles they may not have been able to put to words before. I also hope it gives healthy people a better picture of what their chronically ill loved ones go through, enabling consideration and acceptance in pop culture and beyond."
When not otherwise barding (read: writing, reading, mentoring aspiring authors), Alexander serves as Editorial Director of MythosInk—a small press publishing company right here in Winnipeg specializing in science-fiction, fantasy, and select non-fiction, principally for youth and young adult market. She attends The Hearth church in Winnipeg.
Print This Article