Alumni Profiles
Impactful work-integrated learning experience leads alumna to pursue decolonization efforts and Indigenous solidarity work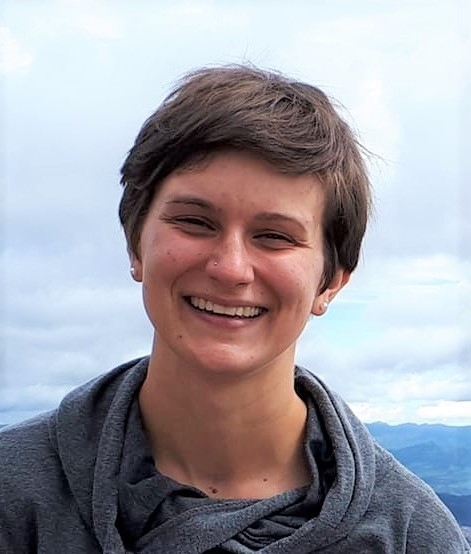 Ask any Canadian Mennonite University (CMU) graduate the most impactful learning experience during their undergrad, and they will most likely say their practicum placement.
As the only university in Canada that includes a work-integrated learning placement for all undergraduates, CMU's Practicum Program gives students practical, hands-on opportunities to work in their desired fields of study. Most students look at their practicum placement as a turning point in their education; they get a fully realized vision of the types of impacts they can make in the world and can be inspired to reach further heights in their academics or career.
As Allegra Friesen Epp (CMU '20) was finishing up a Major in Biblical & Theological Studies, she was looking for a way to apply her passion for social justice to her practicum placement. Through connections with Mennonite Church Canada (MC Canada), she landed a position at MC Canada's Indigenous-Settler Relations program in 2019.
Friesen Epp's time there allowed her to pursue advocacy in a very tangible way; "Part of what I did during that time was advocacy work around Bill C-262 [a piece of Indigenous rights legislation,] and I also helped to organize a treaty walk in Alberta." Friesen Epp says, "The practicum certainly was a turning point for me."
Friesen Epp was offered an internship with MC Canada and Christian Peacemaker Teams (CPT) upon graduation the following year. In many ways, the internship extends the work done during her practicum, with the scope still on decolonization efforts and Indigenous solidarity work.
In direct response to the continued infraction of the Coastal GasLink Pipeline on unceded Wet'suwet'en territory in northern British Columbia, Friesen Epp and a team of four others from MC Canada and CPT went to Unist'ot'en Camp, an Indigenous-led protest and healing centre located on Wet'suwet'en land during the summer of 2021.
MC Canada and CPT at Unist'ot'en Camp in northern BC
Left to right: (back row) Josiah Neufeld, Steve Heinrichs,
Allegra Friesen Epp
; (front row) Emily Green, Rachelle Friesen
Friesen Epp says this time was a profoundly impactful experience. "It was a great way to experience life on the ground and respond to a call of support that came from the hereditary chiefs," she says. After a month of helping with general maintenance, Friesen Epp says her work with MC Canada and CPT got put into perspective. "[Unist'ot'en Camp] encouraged to engage in solidarity activities here, in Winnipeg, on the ground. It reminds me why I do the work that I do."
Friesen Epp says living and working in a context of systemic oppression challenges her long-established theological perspectives. "I've grown up with really strong pacifist beliefs, and I still hold those, but my understanding of what constitutes violence or what peace looks like is shifting," says Friesen Epp. "It is really interesting to me which acts of violence we as Mennonites are particularly inclined to condemn and which ones we hesitate to speak out on."
Christy Anderson, Indigenous Engagement Advisor at CMU, says that as our community looks towards reconciliation, there needs to be a committed effort towards education. Anderson says, "As we all know, relationships are not cultivated overnight—it takes time, a lot of effort, resources, and a whole lot of listening to unlearn and relearn."
Anderson says CMU should, through education and awareness, move "towards long-term solutions that help rebuild society into a more equitable place where Indigenous perspectives, knowledges, and voices are amplified and given the prominence they deserve."
Friesen Epp reiterates that sentiment. "Education is huge. Whether that be anti-racism/cultural sensitivity training or as settlers learning about our history of this land," says Friesen Epp. "I think CMU and the Mennonite community are latching onto the idea of the importance of education."
Friesen Epp says how we learn shapes the way we understand violence and oppression. Learning in a classroom can be beneficial to understanding how we view conflict, but experiential learning, Friesen Epp says, shapes the way we engage with conflict. "I think what has become apparent in my internship and my practicum as an undergrad is that education needs to take place through experiences," says Friesen Epp.
The practicum placement not only helped Friesen Epp discover her vocation but showed her how to engage with complex issues, navigate conflict, and work towards reconciliation.
Print This Article