Stories
Graduates receive award for scholarship, leadership, and service from CMU president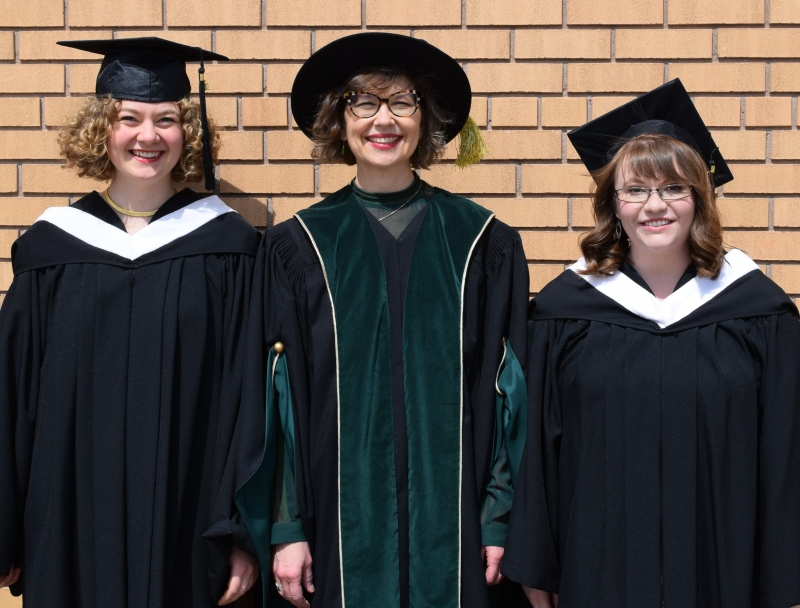 Erin Froese and Mackenzie Nicolle are the 2019 recipients of Canadian Mennonite University's (CMU) President's Medal Awards.
CMU President Dr. Cheryl Pauls presented the awards during CMU's 2019 Graduation Exercises on April 27. Froese and Nicolle received the awards in recognition of their qualities of scholarship, leadership, and service.
"I believe this award is a reflection of the many diverse opportunities that I was gifted throughout my time at CMU," Froese says. "I feel very thankful that CMU is a place that encourages and celebrates learning both within and outside of the classroom."
Froese, 23, and Nicolle, 22, were chosen from a group of 96 graduates.
Froese, who grew up in Morden, MB, graduated with a four-year Bachelor of Arts majoring in Environmental Studies, after graduating from the Outtatown Guatemala program in 2014.
She immersed herself in the CMU community by singing in choirs, being on the peace and sustainability committee, and farming on the school's land as part of the Metanoia Farmers Worker Cooperative.
She attends Hope Mennonite Church in Winnipeg and has spent numerous summers working in various roles at Camps with Meaning, Mennonite Church Manitoba's camping ministry.
Froese was also active in the broader community throughout her degree, volunteering with the Careers that Fight Climate Change Mentorship Program and planning and leading Farmhands on Bikes, a four-day bike trip for inner-city youth visiting and working on farms in rural Manitoba.
In 2017, Froese helped plan and lead the Pilgrimage for Indigenous Rights, a 600-km walk from Kitchener to Ottawa to advocate for the adoption of the United Nations Declaration on the Rights of Indigenous Peoples. As part of an independent study for her degree, the pilgrimage was a chance for her to learn about participating in non-violent direct action and community organizing. "It was an opportunity for me to re-engage in my learning and to take theoretical concepts out into the real world," she says.
Originally from Rosthern, SK, Nicolle graduated with a four-year Bachelors of Arts majoring in Social Science, after graduating from the Outtatown South Africa program in 2015.
While at CMU, Nicolle was a Residence Assistant, Senior Residence Assistant, fellowship group leader, and member of numerous student committees. She sang in choir and volunteered at Blaurock Café, the student-run café on campus.
She has spent the last eight summers as a direct care worker at Valley Action Abilities, a day centre for adults with disabilities in Rosthern. She grew up in Eighenheim Mennonite Church and has been attending Home Street Mennonite Church in Winnipeg during the school year.
This past year, Nicolle created an audio documentary titled, I Want to Live in the Comma: A Project of Hope. She interviewed six people about why CMU matters and where they find hope in the institution of university. She wanted to explore a question that she had been developing during her time at CMU: "In a world where university pushes people into programs that simply create workers for a productivist society, why does a Christian liberal arts university like Canadian Mennonite University matter?"
"I feel very honoured to have gotten this award and I have greatly appreciated the care and support of the CMU community as I have studied here," Nicolle says.
Froese will be spending the summer cycling from Winnipeg to the east coast of Canada, getting to know the landscape and meeting new people across the country. In September she will begin a position with L'Arche Canada, living and working in a house with adults with disabilities in Cape Breton, NS.
Nicolle will be working as the Integration Coordinator at Camps with Meaning this summer, working with children and adults with disabilities and their caregivers to make sure people of all abilities are included and have fun at camp. In the fall she will be returning to her position as Senior Residence Assistant at CMU.
She says the deep connections she's made with faculty and classmates, the opportunity to shape residence life, and living beside the Assiniboine Forest are things that stick out to her from her time at CMU.
For Froese, experiences like putting on hip waders and having ecology class in the river, learning about her love for big bluestem grass, and crocheting a "yarn bomb" onto a tree to explore ecofeminist theology are memories that will stay with her as she leaves CMU.
Print This Article