News Releases
Pianist from Saskatchewan wins 2018 Verna Mae Janzen Music Competition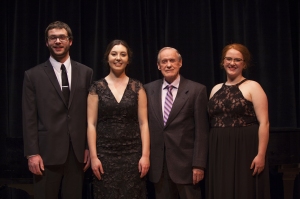 A pianist from Saskatchewan is the winner of the 13th annual Verna Mae Janzen Music Competition at Canadian Mennonite University (CMU).
Emma Heinrichs' performance earned her first place and the $700 prize that comes with it on Thursday, February 15.
"I went into it with the attitude that this was an opportunity to share with everyone all the hard work I've put into these pieces," said Heinrichs, who grew up in Waldheim, SK. "It was a lot of fun."
Heinrichs is in her third year of a music degree, with a double major in performance and early years music education. This was her second year participating in the competition.
Riley Dyck, a pianist in his fourth year of a Bachelor of Music (Comprehensive), placed second and received $500. Third place and its $300 prize went to soprano Katy Unruh, who is in her third year of a Bachelor of Music in Vocal Performance.
Maria Cesario (soprano), Madeleine Friesen (piano), Emily Rempel (piano), Julie Sidorchuk (piano), and Lisa Vuignier (soprano) also competed in the finals.
The competition is often marked by a sense of camaraderie. Heinrichs noted that as soon as she finished her performance, three of her close friends—who were also competing in the finals—hugged her and congratulated her on a job well done.
"That just sort of shows you the entire atmosphere and attitude of the competition," Heinrichs said. "We all wanted everyone to do well and to feel satisfied with the performance each person gave."
The competition provides an important venue for students to develop their skills beyond the regular performance requirements of their program, said Rosemarie van der Hooft, Voice Instructor at CMU.
"Over the course of the last 12 years of the competition, students have consistently risen to a very high standard," van der Hooft said. "It has helped them prepare for performances beyond the university, whether it be auditions for master's programs or other areas of public performance that they may pursue after their studies at CMU."
Jenny Regehr, a harpsichordist and pianist who is well known across Canada for her solo recitals, duo and chamber music performances, and Lara Ciekiewicz, a dynamic singing-actress hailed by critics as "mesmerizing" and "a clear standout," served as adjudicators for the finals.
In attendance at the final round of competitions once again was Peter Janzen of Deep River, ON, whose generous donations make the competition possible. It is named in memory of his wife, who died of cancer in 1989 at age 53.
"The competition is a fitting memorial to Verna Mae Janzen, who had a passion for singing and music in her life," van der Hooft said. "We're once again extremely grateful to Mr. Janzen for supporting and encouraging students to pursue their passions."
For Janzen, sponsoring the event is a way to contribute toward the success of CMU. He wanted to support CMU via a music competition because he and Verna Mae met through their interest in choral singing."I always dreamed of someday dedicating a memorial to my wife—a wonderful, loving, sensitive, intelligent, and happy companion," Janzen said in 2007. "Through the Verna Mae Janzen Music Competition at CMU, I can keep her memory alive."
About CMU
A Christian university in the Anabaptist tradition, CMU's Shaftesbury campus offers undergraduate degrees in arts, business, humanities, music, sciences, and social sciences, and graduate degrees in Theology and Ministry. CMU has over 1,600 students, including those enrolled in degree programs at its Shaftesbury Campus and Menno Simons College Campus.
For information about CMU, visit: cmu.ca
For additional information, please contact:
Kevin Kilbrei, Director of Communications & Marketing
kkilbrei@cmu.ca; 204-487-3300 Ext. 621
Canadian Mennonite University
500 Shaftesbury Blvd., Winnipeg, MB R3P 2N2
Print This Article