News Releases
CMU recognizes distinguished alumni with 2018 awards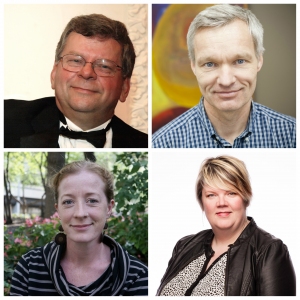 A professor who has made extensive contributions to choral music in Canada, a former missionary passionate about helping refugees, the leader of an organization dedicated to restorative justice, and a lawyer who provides counsel to a human rights agency are the recipients of Canadian Mennonite University's (CMU) 2018 Distinguished Alumni Awards.
CMU President Cheryl Pauls is pleased to present the awards to Leonard Ratzlaff, Brian Dyck, Christine Ens, and Heather Unger on Friday, September 21.
The Distinguished Alumni Awards celebrate alumni who, through their lives, embody CMU's values and mission of service, leadership, and reconciliation in church and society. The awards are presented to alumni from CMU and its founding colleges: Canadian Mennonite Bible College (CMBC) and Mennonite Brethren Bible College (MBBC)/Concord College (CC).
Pauls will present the awards during a celebration starting at 7:00 PM on Friday, September 21 in CMU's Laudamus Auditorium (500 Shaftesbury Blvd.). The four recipients will share stories and reflections from their personal and professional journeys.
The evening will also feature a performance by the CMU Singers, and a community blessing for the academic year.
The event marks the beginning of Fall@CMU, a high-energy weekend that features opportunities to connect, learn, play, and celebrate with students, alumni, friends, donors, and community members.
Information about the award recipients:
Dr. Leonard Ratzlaff (MBBC '70) of Edmonton, AB has been on the faculty of the Department of Music at the University of Alberta since 1981, teaching in the area of choral music. Ratzlaff co-founded and directs the most established graduate training program for choral conductors in Canada. He directs the University of Alberta Madrigal Singers, one of Canada's leading university choirs, which has gained both national and international competition awards for their performances and recordings. As a professional baritone soloist and ensemble singer, he has sung in numerous projects in North America and Europe. Honours include induction into the Alberta Order of Excellence, the Order of Canada, and the Royal Society of Canada.
Brian Dyck (CMBC '83) of Winnipeg, MB is the Migration and Resettlement Coordinator at Mennonite Central Committee (MCC) Canada. Before that, he was Refugee Assistance Program Coordinator at MCC Manitoba. His primary work at MCC has been helping churches think about refugee sponsorship and the broader issues around forced displacement. He is also chair of the Canadian National Refugee Sponsorship Agreement Holder Association, a national organization that meets with the Canadian government to help form Canadian policy on refugee resettlement. Dyck was a missionary in South Africa from 1999 to 2005, where he did leadership development and HIV/AIDS education among the African Indigenous Churches in the Eastern Cape Province.
Christine Ens (CMBC '96) of Winnipeg, MB is the executive director of Mediation Services. She has established her career in the non-profit sector, building new programs, developing relationships and growing revenues. In addition to her Bachelor of Theology from CMBC, Ens has a certificate in Commerce, Industry Sales and Marketing from Red River College, and is a graduate of the Leadership Winnipeg program. Her interest in restorative justice started with a voluntary service assignment doing prison visitation. Ens is an active community volunteer and currently serves as the chair of the board for the Women's Health Clinic.
Heather Unger (CC '02) of Winnipeg, MB is legal counsel to the Manitoba Human Rights Commission. In this capacity, she provides legal support to the Commission's board and staff, and represents the commission at human rights adjudications and in court proceedings. She also engages with the public regarding human rights principles and current issues of discrimination and harassment. Previous to her career pursuits in human rights law, Unger studied and worked in the area of international development. She obtained her Bachelor of Laws and Bachelor of Civil Law degrees from McGill University.
About CMU
A Christian university in the Anabaptist tradition, CMU's Shaftesbury campus offers undergraduate degrees in arts, business, humanities, music, natural sciences, and social sciences, as well as graduate degrees in Theology and Ministry, Business Administration, Peacebuilding and Collaborative Development. CMU has over 1,600 students, including those enrolled in degree programs at its Shaftesbury Campus and Menno Simons College Campus. CMU is a member of Universities Canada.
For information about CMU, visit cmu.ca.
For additional information, please contact:
Kevin Kilbrei, Director of Communications & Marketing
kkilbrei@cmu.ca; 204-487-3300 Ext. 621
Canadian Mennonite University
500 Shaftesbury Blvd., Winnipeg, MB R3P 2N2
Print This Article