Stories
Student climate ambassador finds hope in raising awareness and inspiring action for sustainability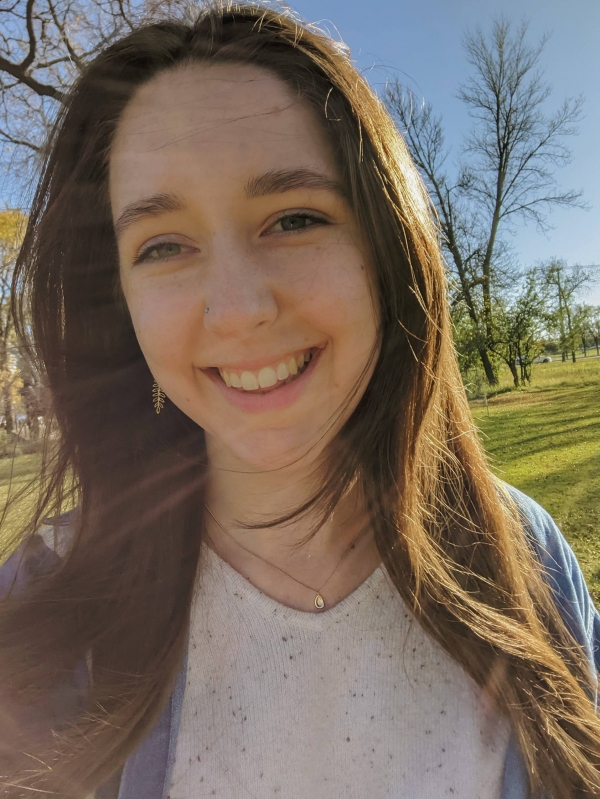 CMU student Ruby Anderson is passionate about sustainability and climate justice. That's why she is the Student Climate Ambassador to CMU through the Center for Sustainable Climate Solutions (CSCS) for the 2021-22 academic year.
CSCS is an initiative of Eastern Mennonite University, Goshen College, and Mennonite Central Committee. It works in Anabaptist and other faith communities to respond to climate change challenges by researching climate solutions, developing and equipping leaders, building networks, and inspiring action.
Anderson is a third-year environmental studies major from Corvallis, Oregon, USA. She spent a year in Outtatown, CMU's former service and learning program, after which she eagerly began studying at CMU and joined the student-run Peace and Sustainability committee.
She is one of 10 students participating this year in the centre's Campus Climate Ambassadors program, which first launched in 2016. The group fosters connection between students from Mennonite colleges and universities across USA and Canada, who learn climate communication skills and take action for climate justice.
"I am very passionate about sustainability and I think everybody can be a part of sustainability," Anderson says. "I thought it would be really cool to have the opportunity to promote sustainability on CMU's campus and also be part of a broader community and hear about what other climate ambassadors are doing."
The ambassadors are tasked with organizing events to promote sustainability on their campuses, whether that's education nights, climate strikes, or cooking reclaimed food and discussing food waste. They meet monthly on Zoom to share about their projects and experiences.
In the fall semester, Anderson collaborated with the Peace and Sustainability committee to host an e-waste drive, where people could drop off their electronics to be recycled sustainably. They received a lot of contributions, as well as gratitude for making recycling easier. They donated the items to Mother Earth Recycling, an Indigenous owned and operated social enterprise in Winnipeg that provides meaningful training and employment opportunities to the Indigenous community through environmentally sustainable initiatives.
Anderson hopes to coordinate again some of the initiatives she put on last year while co-directing the Peace and Sustainability committee with fellow CMU student Jubilee Dueck Thiessen, who is also a previous CSCS Student Climate Ambassador. They held a market selling sustainable products, reducing the price to make them more accessible to students, and used some of their committee budget to provide students with free sustainable menstrual products.
"I think my whole life I've been pretty passionate about the environment and sustainability," Anderson says. Working at Drift Creek Camp, a Mennonite summer camp in Oregon that focused on the relationship between spirituality and the earth, played a big part in her interest. "I was taught in my church and family and camp communities that I should really care for the environment."
That doesn't mean she never feels the shadow of the monster that is climate change. She is discouraged by how slow legislation and policies move, and like many of her peers, she often experiences climate anxiety. But "taking action is hopeful for me," she says. "It feels good to not just be sitting around... I'd rather do something than nothing." She adds: "It's hopeful to see students excited about sustainability and wanting to be involved."
Student volunteers constructing bins for CMU's campus-wide composting program—an initiative of the student-led Peace and Sustainability Committee.
While directing the Peace and Sustainability Committee last year, Anderson and Dueck Thiessen also led a healing nature walk and discussion in the Assiniboine Forest and helped start the student-run campus composting program. They organized student volunteers to help build the large compost collection bins and joined in the work themselves; they hosted a compost education night for students and made compost bins accessible around campus. They also collaborated with Sanctoral Cycle, CMU's student-run bike hub, who built a bicycle and trailer to transport the compost across campus.
Anderson believes the purpose of an environmental presence on campus is "to provide an avenue for students who are interested in sustainability to practice it in their own community... Also, hopefully it makes CMU staff and faculty realize this is something the students value and this is something we need to incorporate into our academic community."
After graduating with her degree, Anderson hopes to work in the environmental non-profit sector or in a national park.
Print This Article