Stories
Dr. Stephanie Stobbe curates national travelling exhibition
According to the United Nations High Commissioner for Refugees (UNHCR), as of mid-2022, there are 32.5 million refugees worldwide. That number jumps to 53.1 million internally displaced people and expands yet again to 103 million when considering forcibly displaced people worldwide.
While these statistics are frightening and alarming, Dr. Stephanie Stobbe of Canadian Mennonite University's Menno Simons College program says it's evidence that there is a need for work to be done to find other durable solutions, including resettlement. Stobbe's research on conflict resolution, refugees, and forced migration has led her to work with various organizations and individuals to highlight the plight of refugees and address the refugee crisis or crisis of policies.
Most recently, Stobbe is the lead researcher and curator of the Hearts of Freedom: Stories of Southeast Asian Refugees Travelling Exhibition, launching this month and running until December 2024.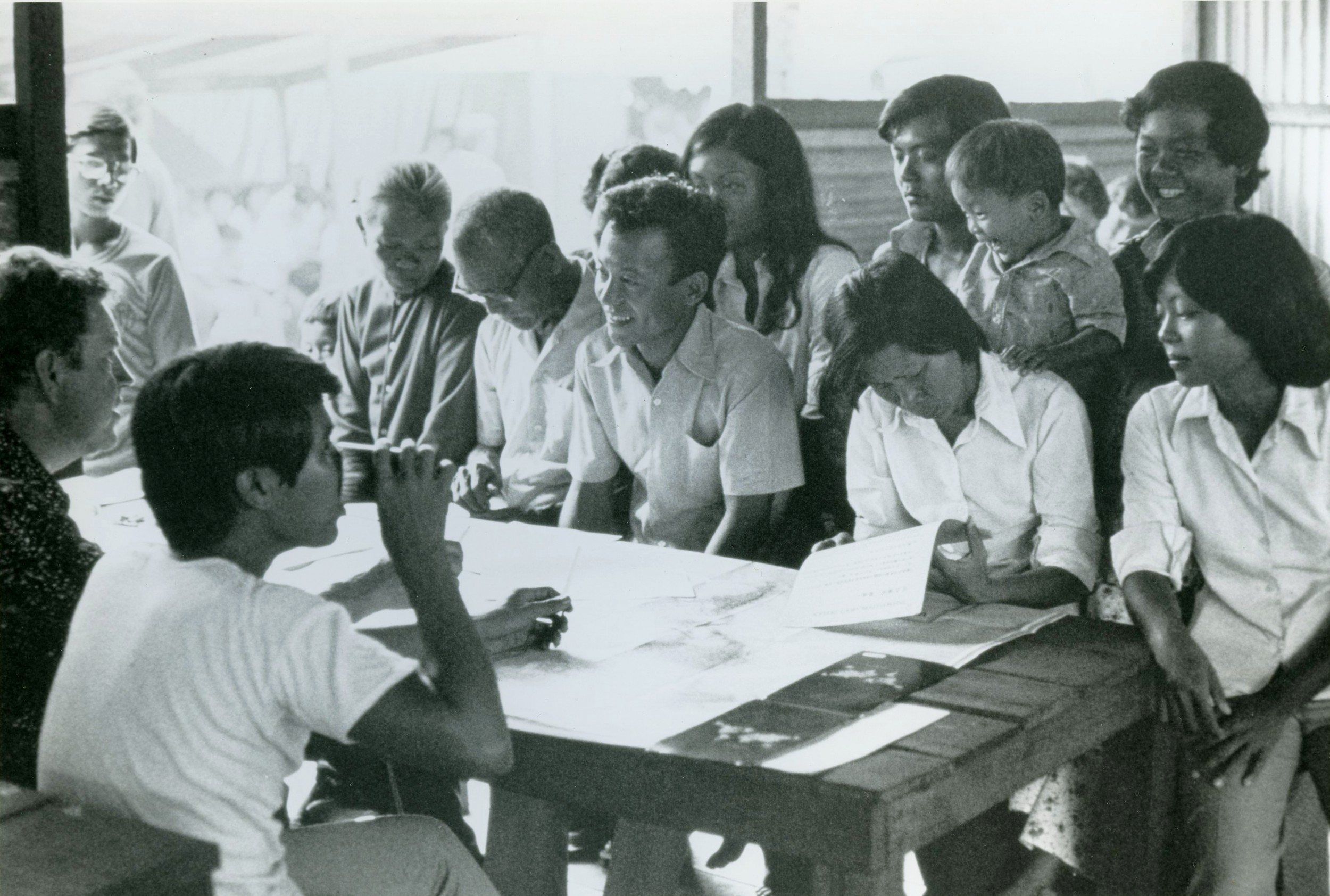 The travelling museum exhibition tells the stories and experiences of Vietnamese, Laotian, and Cambodian refugees who came to Canada between 1975 and 1985. Stobbe's goal is to show that behind cold and sterile statistics are heroic stories of real people and their journeys to freedom and their contributions to Canada's history of immigration.
The travelling museum exhibition is an expansion of a larger Hearts of Freedom research project that began in 2018. Stobbe is one of five researchers (including Peter Duschinsky, Colleen Lundy, Michael Molloy, and Allan Moscovitch) aiming to document and chronicle an oral history of Southeast Asian refugees in Canada, the longest refugee movement and the largest movement that resettled non-European refugees to Canada. The outcomes of the original research project are a film documentary, book, website, and school curriculum. The new addition of a Museum Exhibition, along with QR codes connecting it to the Digital Exhibition on the website, allow for a wide dissemination of the research across Canada and the world.
The exhibition begins at the Canadian Museum of History in Gatineau/Ottawa on February 14 and will remain there until April 16, 2023. It will move to The Pacific Canada Heritage Centre – Museum of Migration and its various partners in Vancouver and Victoria from mid-April to July 15. The Exhibition will then travel across Canada to the Canadian Museum of Immigration at Pier 21 in Halifax on August 20 and remain there until December 3. The Manitoba Museum in Winnipeg is hosting it from January 5 to April 7, 2024. Other dates and venues will be announced in the future.
Stobbe says the exhibition aims to highlight the challenges faced by Vietnamese, Laotian, and Cambodian refugees while also showcasing the Canadian political and social breakthroughs that endorsed such a monumental resettlement movement. She says the people of Canada were even recognized by the UNHCR with the Nansen Refugee Award in 1986 for their role in assisting refugees.
Stobbe is excited to share these stories not only because of its importance to Canadian history but globally. The Southeast Asian (Indochinese) Refugee Movement was the single largest refugee resettlement movement to Canada since the post-WW2 emptying of displaced person camps in Europe. It was also the first mass refugee movement that resettled visible minority populations.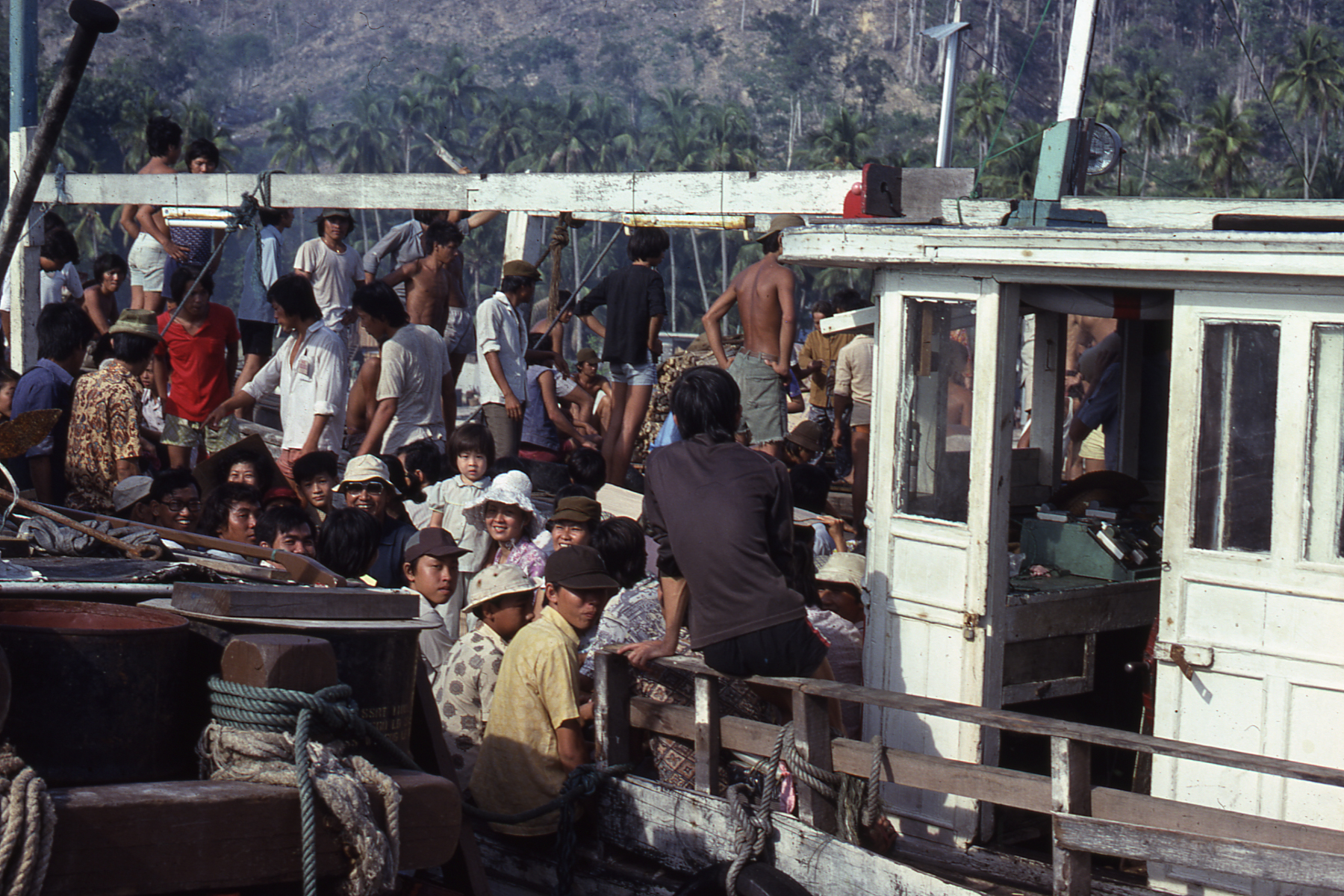 Stobbe says that 60,049 Southeast Asian Refugees resettled in Canada between 1979-1980. "That's really exciting to see that [Canada] was able to bring in so many refugees in such a short period of time," says Stobbe. "This is such an important part of Canadian history and Canadian programs and policies on immigration that people don't really understand or know about."
Stobbe also highlights the important role Mennonites played during this period of history. "Mennonite Central Committee Canada actually signed the first master agreement with the federal government to privately sponsor refugees. Soon after that, different organizations and churches began to sign similar agreements." The Private Sponsorship of Refugees Program still exists to this day and has become a model for other countries.
After the fallout of the Vietnam War, the US Secret War in Laos, and the Cambodian Genocide, many displaced people feared for their safety and faced food shortages, severe hunger, and death from starvation. Stobbe says that many interviewees shared a collective trauma from the most challenging period in their lives.
"These experiences, even though they would have happened 40 or 45 years ago, are still difficult to share," says Stobbe. "These interviewees were emotional in terms of these experiences because of what happened to them personally and what happened to their family members."
One story recounts the profound experience of Nguyen Quyen (HOF130). "At that time, we lived in fear every day," says Nguyen in his recorded interview on the Hearts of Freedom website.
In 1979, 14-year-old Nguyen and his two brothers attempted to flee their home on a boat heading north from Da Nang in Vietnam. The boat ran into trouble with the Vietnamese coast guards, and a 4-hour-long chase ensued. Among guns firing, choppy waters, and misguided directions, the group eventually got lost around Hainan Island but managed to escape the Vietnamese authorities. They later arrived in Hong Kong and, after three months, were approved for asylum in Canada. "When I stepped outside the plane, instead of it being hot and sandy like Vietnam, it was just white snow and -25 degrees." Despite the culture shock, Nguyen says in the interview that he overcame the odds, gained a post-secondary education, and raised a family. He says, "I'm not going anywhere else; I know that Canada is my real country."
The success of Nguyen's story is inspiring, and Stobbe, along with her colleagues, hopes to highlight just how vital resettlement and integration programs are. "This was a mass movement, and a large group of people was resettled in Canada, and they have been highly successful." She says many have been able to gain consistent employment, grow families, and now as a community, help out others who are going through similar experiences, including sponsoring and raising money for Ukrainian refugees this year. Those who came as children and second generations now occupy many professional jobs, including entrepreneurs, medical doctors, and the High Commissioner of Canada.
"Many [interviewees] said this is the first time that they have told their stories," says Stobbe. "So, it's taken them so long to feel comfortable in sharing their experiences and insights into what needs to be done to address the refugee situation around the world."
More information about the Travelling Exhibition and recorded interviews can be found at heartsoffreedom.org.
Print This Article