CMU remembers the legacy of Menno Wiebe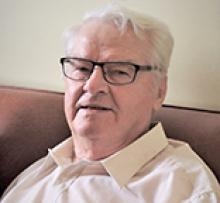 After years of health struggles, Menno Wiebe died on January 5 at the age of 88 surrounded by family and loved ones. Wiebe, a family man, anthropologist, justice advocate, poet, gardener, and founder of what is now called Indigenous-Settlers Relations, was an important figure in the history of the CMU community.
Graduating from CMBC in 1961, Wiebe went on to eventually teach Introduction to Native Studies and Introduction to Anthropology part-time at CMBC in the following years. Andrew Dyck, Assistant Professor of Christian Spirituality and Pastoral Ministry at CMU, remembers taking classes with Menno and how Menno would inspire and recruit students to volunteer and garden on Indigenous reserves. "Menno had a way of capturing the imagination of college and university students with the work he was doing to build relationships with Indigenous communities," says Dyck, "I grew up with all the normal white stereotypes about Indigenous people, Menno helped break these down. He had a vision that Mennonites could do better."
CMU Professor Emeritus Titus Guenther, who worked alongside Wiebe at CMBC, recalls a pivotal moment when Wiebe encouraged him to volunteer for one summer at the Grand Rapids reservation. "This," says Guenther, "was my wonderful conversion to Canadian-Indigenous life." Guenther continues that "when Menno approached a first-nations person or community, he might have often said something seemingly nonchalant or insignificant, but those with him could feel that underneath his "nothing' comment was an attentiveness that saw deeper into each person. He had a curious, non-judgmental, inquiring presence. He was able to hear people by being among them." Guenther reflects on his last experiences with Wiebe, sharing that "Menno and I had a special connection because he, too, had a soft spot for Paraguay. As an MCC worker, he learned Spanish, and we would speak it together regularly. When Menno became ill and could no longer recognize me, we still had Spanish to unite us."
Bob Wiebe, a nephew of Menno Wiebe, states that his uncle, whom he remembers being a present and influential figure from his childhood to adult life, was known by his radical Sunday school lessons about Indigenous culture, his organization of multi-generational family hockey events, and inventions of games that are still played between Wiebe and his own children. "Menno was very funny," says Wiebe, "both in the way he posed his philosophical musings and in what one might call his 'comedy routines.' He carried a knack for impersonations beyond the parochial world of minsters and village personalities into the world of entertainment. The funniest impersonation I ever experienced was a send up of an old-style Mennonite minister delivering a pious sermon on a most mundane subject, while a wood tick crept slowly but surely up his leg. Even though I did not catch all the German vocabulary, the arc of the ridiculously prosaic story coupled with the vocal aura of the sincere pastor caused the assembled visiting aunts and uncles, and me, to laugh until it hurt even while we received therapy for our spirits! Perhaps this impersonation, which was also available in versions involving farm animals, was a reminder not to substitute style for substance!"
CMU Professor Emeritus Harry Huebner also recalls Wiebe's humorous impersonations, stating that "the thing Menno loved to do was to imitate and mimic famous people and not-so-famous people. Anyone who spoke in public he would mimic (including former CMBC presidents!) and would have his peers laughing hysterically." Reflecting on the legacy of Wiebe, Huebner notes, "I remember fondly his sermons and poetry." Many of those in the CMBC/CMU community remember Wiebe's powerful craftsmanship with words. Not only is he survived by those intimate memories of hockey, humour, and horticulture, but by the legacy of his mission and writings.
Below is a poem published in an article Wiebe wrote in 1978 entitled "Indians Talk-Back—Churches Back-Track":
two peoples
of divergent origins
now
are touching one another

they have met
by the circumstance of ethnohistories
and
by our ecclesiastical design

now
that there is geographic coexistence
we dream about
proximity of mind and soul

Father of all peoples
give your assent
we ask
for the building of this dream.
Printed from: media.cmu.ca/story-remembering-menno-wiebe