Stories
CMU student cycles across U.S. to learn about climate change and boost awareness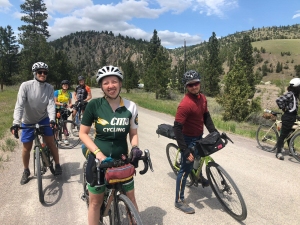 This summer, CMU student Miriam Huebner is switching out her textbooks and laptop for her helmet and bike shorts. Huebner is cycling 6,024 kilometres (3,743 miles) across the United States for climate justice.
She and 17 other riders are participating in the Climate Ride, a two-month bike trip from Seattle to Washington D.C. Along the way, the group will learn about the impacts of climate change on diverse communities, raise awareness of climate issues, connect people across the country with other people and organizations fighting climate change, and grow closer to the land.
The ride is organized by the Center for Sustainable Climate Solutions (CSCS), an initiative of Eastern Mennonite University, Goshen College, and Mennonite Central Committee working in Anabaptist and other faith communities to mitigate climate change.
From May 30 – July 28, the cyclists are traversing mountains, roughing gravel roads, and pedaling down long stretches of highway through the vast prairie.
Huebner, 19, just completed her first year of studies at CMU, after doing a year of CMU's former service and learning program, Outtatown. She's interested in environmental studies and sociology, and loves to create, whether that's ceramics, gardening, or sewing her own bike bags for this trip.
Coming from Winnipeg, MB, Huebner is the only Canadian in the group. She decided to participate because she's passionate about nature but often feels scared and immobilized by the climate crisis. "I'm hoping that it'll leave me more inspired to do something and with a better sense of knowing that...what I do matters," she says of the Climate Ride. "And maybe it'll help me encourage other people to do things."
She's no rookie in the cycling world, either. She competed with the Manitoba provincial team in high school, but stopped when she realized the intense racing world wasn't the right fit for her anymore. "I'm excited about this because it's getting back into biking but with a more social justice lens," she says of the Climate Ride. "It's nice that it's not about racing and going fast, it's about exploring the world and getting to know people."
She is also a mechanic at Sanctoral Cycle, CMU's student-run bike hub, where she teaches peers how to build and repair bikes and helps them access affordable bicycles. "I'll be able to carry on the cycling component of this trip with Sanctoral Cycle next year, which I'm super excited about."
But despite completing countless races and several 100-kilometre rides, she's never done a trip of this magnitude. She and her teammates will be cycling more than 100 kilometres almost every day of their journey, interspersed with rest days. Huebner started training in January, first on her indoor bike trainer during the icy Manitoba winter and then outside, gradually extending her rides.
But this trip isn't just about getting across the country. "I'm really looking forward to the conversations that we're going to have. With the group, but then also we'll be going through small towns and meeting people and talking to people," she says.
On their rest days, the group is hearing stories from local community members and organizations, through events which will be available to the public either by livestream or in-person, depending on covid restrictions. They'll explore topics like food systems, Indigenous perspectives of land and climate, creating local solutions for change, environmental policy, and the church's response to climate change.
"They're focusing a lot on a whole bunch of different intersectionalities in climate change," Huebner says. "We'll be having an event about climate racism, an event about immigration and climate change, and a whole bunch of things like that, so I'm excited to learn more about those perspectives."
The team members, who are all vaccinated, are camping along the way most nights, cooking food and hanging out together. Huebner's excited about this too. "Just being outside every day and sleeping outside, all I'll have to do is focus on my connection to my body, my connection to others, my connection to nature...which seems kind of amazing."
Follow the Climate Ride from home on the CSCS website, or on Instagram.
Print This Article