Stories
CMU student's award-winning speech encourages us to live with "an attitude of abundance"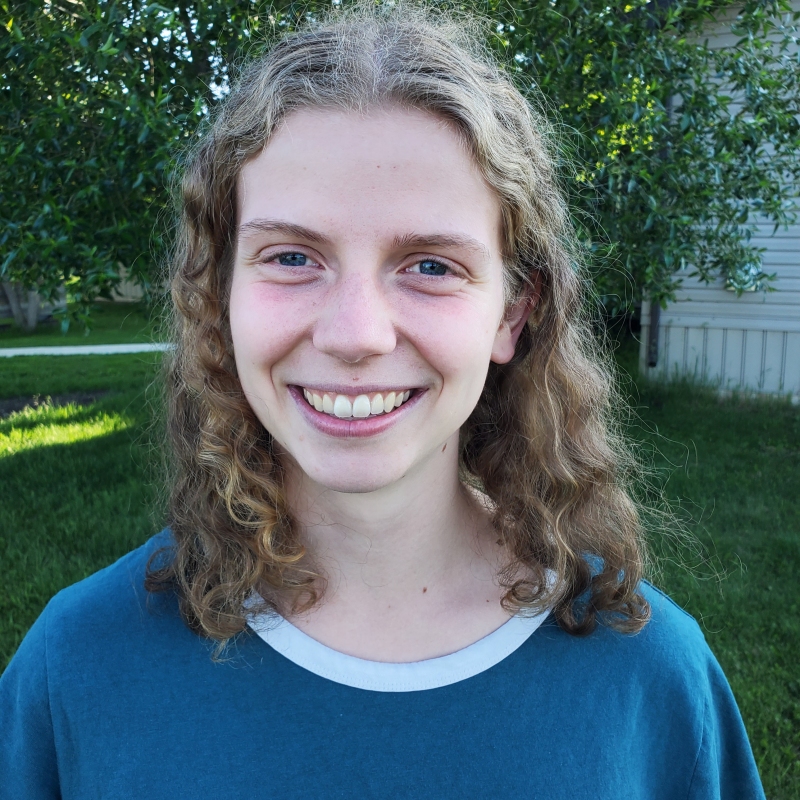 "The kingdom of God [that Jesus] preached about was one of banquets. It is a kingdom that starts with faith the size of a mustard seed and grows like yeast mixed with flour. You are invited; come and join the feast."
So says current Canadian Mennonite University (CMU) student Danika Warkentin in her award-winning speech titled, "Join the Feast."
Warkentin's speech won first place in the bi-national C. Henry Smith Peace Oratorical Contest this year and, as the name suggests, examines the value of sharing, eating, and living with an attitude of abundance.
The contest is open to all undergraduate students from any Mennonite or Brethren in Christ colleges and universities across Canada and United States and is administered by Mennonite Central Committee U.S. Six colleges/universities submitted videos of student speeches for adjudication in 2022.
Warkentin's speech is a provoking and thoughtful reminder of Jesus' mission and instruction to live with and love societies' most vulnerable individuals. Central to the speech is the idea of gathering with one another around food.
"I've been thinking about [the themes] a lot lately, and to me, what that means is to let God's love be the source of love for others. At certain times I'm trying to use my own love, and it just doesn't go far enough," explains Warkentin. "When you center that around God, it just becomes an unconditional form of love where you're not expecting anything in return."
During a pivotal moment of the speech, a matter that grabs your attention and refuses to let go, Warkentin shares a story of a family trip to Burkina Faso. While on their way to the marketplace, the Warkentin family met a stranger on the street, who invited them into his outdoor courtyard, where he ate lunch. The stranger declares, "Tu es invité—you are invited."
"He was offering the majority of food he had to us, foreigners with more than enough money to buy our own lunch," says Warkentin in her speech. "If you have food and someone else doesn't, it's socially appropriate that you offer to share what you have."
In the speech, Warkentin says that the stranger who shared his food was living with an attitude of abundance, a mentality of unconditionally giving that is missing in mainstream North American culture.
"He had faith that his plate of rice would be sufficient for the five of us to share. He had faith that tomorrow if he was hungry and had no food, someone might share with him. Now that's feasting," address Warkentin in her speech.
Associate Professor of Communications and Media David Balzer says that Warkentin's speech gets to the heart of the overarching commitments of CMU. "In my mind, this means taking on a posture of openness to conversations and relationships that move between where I am and where someone else is situated in the world. This takes time and humility," says Balzer. "Danika drew a concrete picture for us of how that hospitality can happen through food and feasting together."
Balzer teaches new media, communication theory, media production, and public speaking. When drafting the speech, Warkentin often met with the former radio broadcaster to work through the kinks and focus on crafting a clear narrative arch.
Over the course of four months, the speech finally came together. Balzer says, "as we sat across from each other in my office working through a draft of her speech, the conversation looked for life-giving moments and themes that could draw people into behaving generously in the world."
"In terms of presenting the speech, Danika has a keen sense of being present with people in an audience. Her zest for life translates into sparkling emotion and genuine care for the people in the room," says Balzer.
Writing and submitting a speech to the oratorical contest was one of many options for a class assignment in Biblical Perspectives on Peace and Justice, which Warkentin took last year as part of her journey to a major in Peace and Conflict Transformation Studies.
"I really love the performance aspect of [public speaking] where it can reach a lot of people," says Warkentin. "Part of that is that you're literally standing in front of a crowd and talking, so it drove me to put a lot of time in because I wanted to do my best."
Balzer says that class projects like this reinforce the value of oration. He says that entering a shared space where we live and breathe themes of commonality, or ethical debates, is invigorating and life-affirming. "A public speech is something that we create together as the speaker and audience enter into a kind of dance. This deep sharing transforms us, and hopefully for the good," says Balzer.
He continues, "Danika is a wonderful thinker, writer, and person of action... she brings genuine curiosity to the various spheres of her life, which leads to insightful reflection."
Warkentin hopes students continue to seek out public speaking opportunities. Whether challenging or effortless, scary or reassuring, she says it's a wonderful opportunity to practice and rehearse for a unique medium. Warkentin says it's very accessible to get into public speaking with "the support at CMU from the professors, who give you way more time than they need to."
In her speech, Warkentin says, "In eating and sharing food with gratitude and the spirit of generosity, you are playing your part in the larger cycle of abundance."
Watch the full speech below..
Print This Article