Stories
CMU alum recontextualizes art song through queer, ecological lens
Singer earns significant grants for vocal studies, creative music projects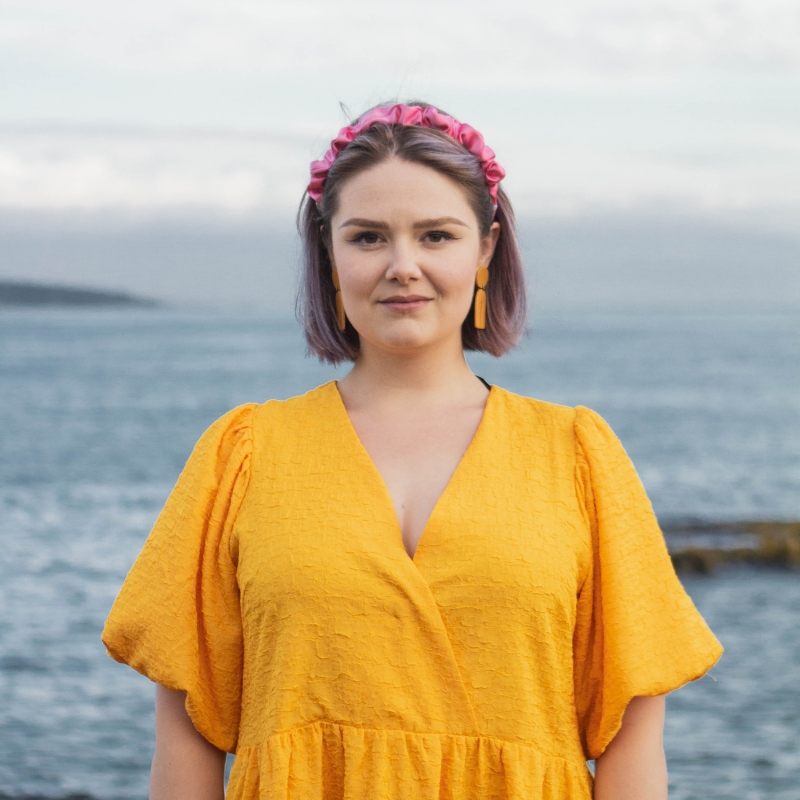 At first glance, it may not seem like music, climate justice, and queerness would cross career paths. But Canadian Mennonite University (CMU) alum Anna Bigland-Pritchard has built a life that weaves together these strands.
The 30-year-old soprano lives in Victoria, BC, where she divides her time between studying under renowned soprano Nancy Argenta, managing marketing at Vancouver Bach Choirs, directing music ministry at Oak Bay United Church, and teaching through her small business, ABP Music Studio. She also dedicates time to advocating for climate justice and facilitating workshops on eco-mindfulness, which she has done for institutions like KAIROS, University of Toronto, and CMU.
Bigland-Pritchard is currently working on a new project funded by a major grant from the Canada Council for the Arts. Along with a team of artists, she is creating an experimental visual album of Debussy's six-piece song cycle, Ariettes Oubliées.
"Our goal is to recontextualize western art song through a queer and ecological lens," Bigland-Pritchard says. She explains that means "exploring the text and giving ourselves permission to let it evoke imagery and stories that aren't heteronormative. That's the lens from which we have typically been taught this music and poetry and it's so empowering to be able to recontextualize it, especially when so many of the composers and poets that we sing the music and words of were queer."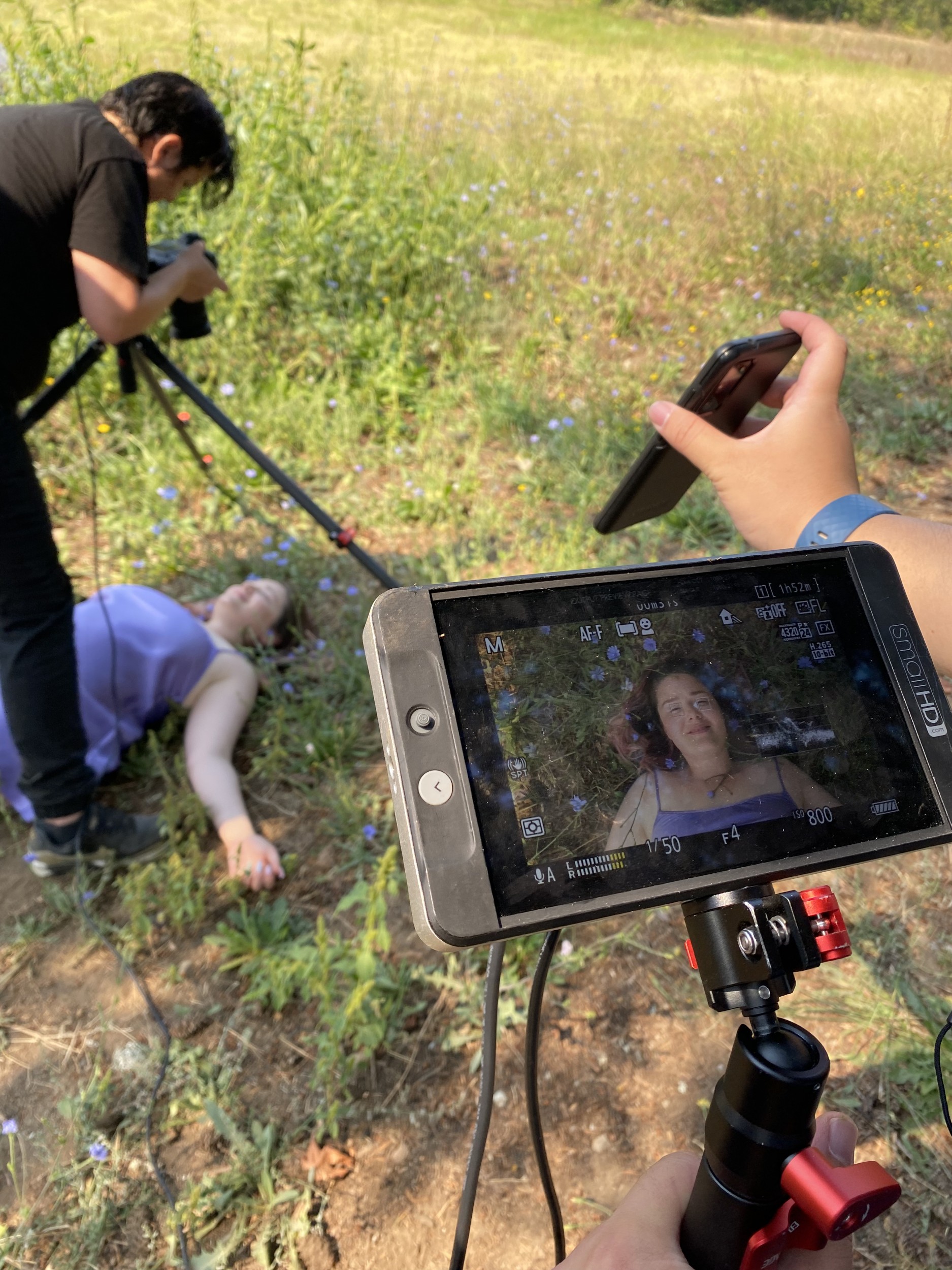 The production, about 20 minutes in length, will be one complete film—but one that can also be watched as six individual music videos. The group easily related the nature imagery in the poetry of Debussy's work to the world's current ecological crisis, which is an important theme of the project. Bigland-Pritchard adds, "The story we're telling is a story of queer friendship, platonic intimacy, which is a beautiful and sacred part of the queer experience, as well as struggling with mental health and a sense of disconnection...but the focus really is on queer joy."
Bigland-Pritchard and collaborative pianist Alex Chen co-direct the ensemble, which they've named Gay4Nature Collective. They're joined by numerous other artists—a cinematographer, audio engineer, choreographer, and more—including sound artist Jami Reimer (CMU '14), who is capturing nature sounds and mixing them into the recordings.
The team recorded Bigland-Pritchard and Chen's performance of Debussy's music in August and filmed visuals in fall. The production is in its final stages of editing and mixing. Their hope is to premiere the film in Victoria in February and then screen it across Canada through partner organizations in spring and summer, during Pride 2023.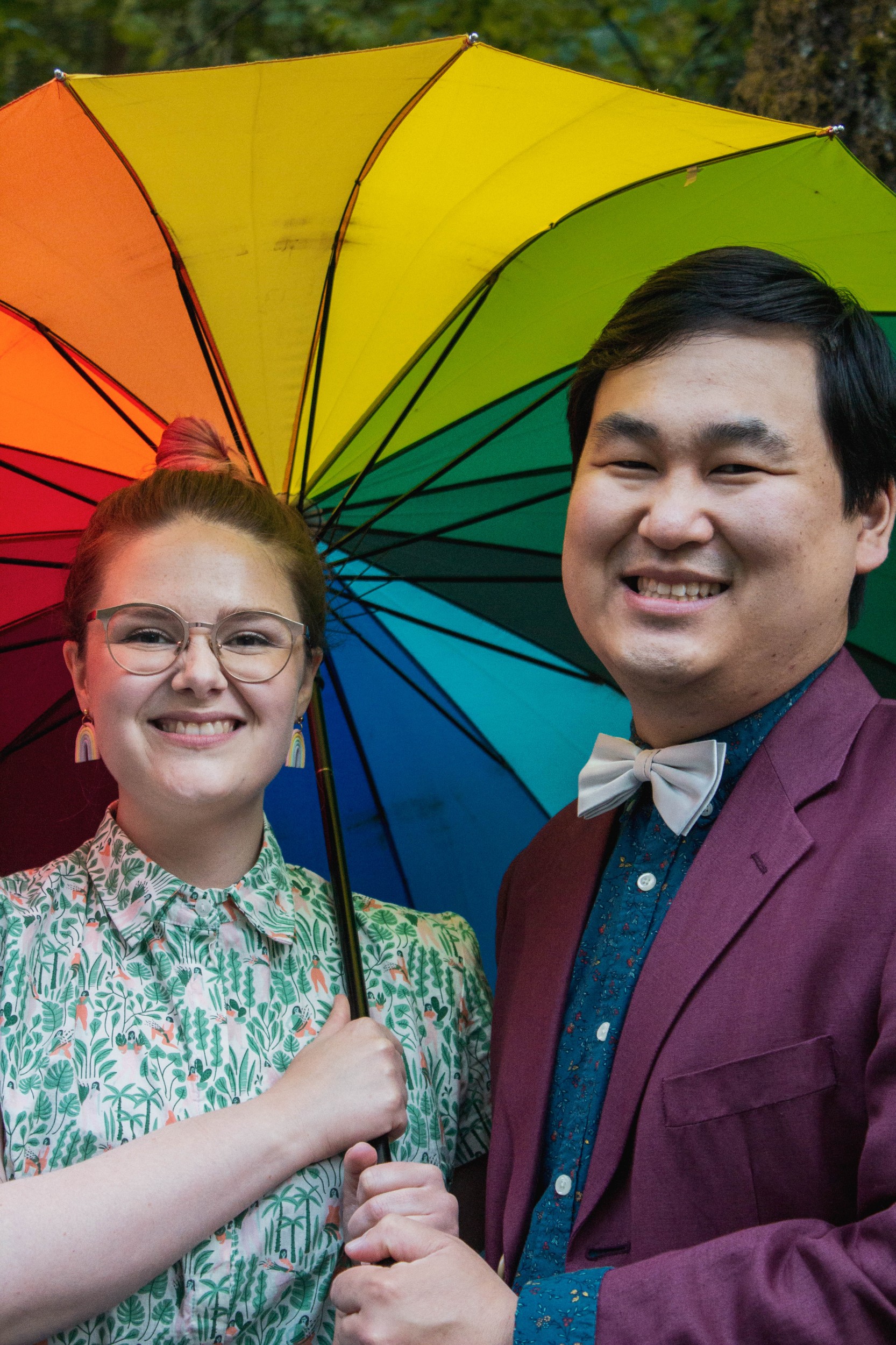 2022 was a big year for Bigland-Pritchard. She was invited to speak about the Debussy project at the National Opera Summit in Vancouver and received a second significant grant from the Canada Council for the Arts for professional development, supporting her studies with Argenta. She toured for two weeks to seniors care homes with Pacific Opera Victoria and participated in a 48-hour opera project, in which her team's opera about friendship and self-care won the audience favourite award. The year before, she performed the role of Eve in Haydn's The Creation with the Victoria Philharmonic Choir.
When Bigland-Pritchard graduated from CMU in 2015 with a Bachelor of Music in vocal performance and music ministry, she imagined her future would include performing and singing around the world. She struggled with disappointment when her plans didn't unfold quite how she envisioned.
Over the last several years, though, the climate crisis has shifted her expectations. "I think the thrilling international opera career that was sort of sold as the ideal from a few generations above me is not a thing people can have for much longer." She is grateful to instead be living somewhere beautiful and earning a living making music with others.
Part of that is teaching voice lessons and songwriting to a full roster of students online and in-person. Bigland-Pritchard, who's working towards a certificate in expressive arts therapy, is passionate about singing for self-care and creating an explicitly affirming, supportive space for people in the 2SLGBTQ+ community.
She knows the importance of this first-hand. After she came out as queer in her mid-20s, Bigland-Pritchard could sing so much more freely, overcoming many vocal barriers she had struggled with before. She's seen it with her students too. "There really is a big connection between speaking your truth metaphorically and physically," she says, adding that getting to be there for her students, cheering them on and embracing who they are, is a "miraculous and beautiful" thing.
Print This Article