News Releases
Is Christian ministry for you? Learn more at the ministry inquiry retreat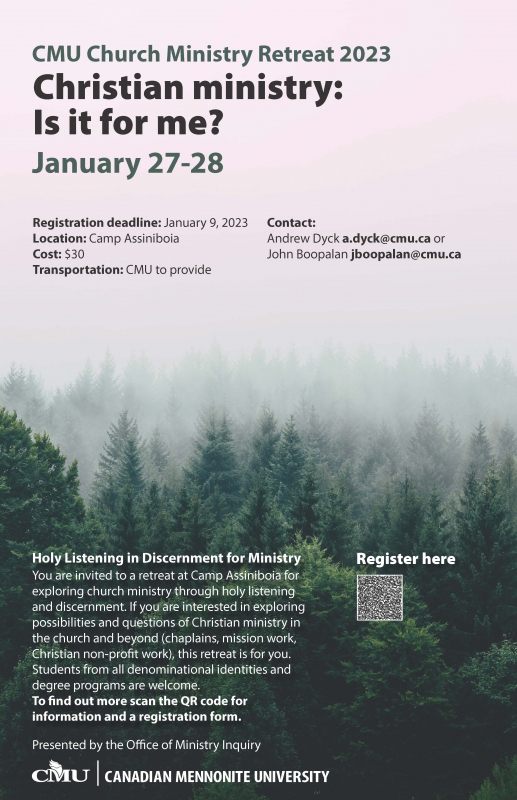 The Canadian Mennonite University (CMU) Office of Ministry Inquiry is once again hosting its annual Ministry Inquiry Retreat at Camp Assiniboia from January 27–28, 2023.
This decades-long tradition of gathering in nature to explore God's call to ministry is designed for graduate and undergraduate CMU students looking for time out of daily life to reconsider and pay attention to the lingering questions that emerge in our lives. The discovery-oriented framework of this retreat seeks to help and support those reflecting on one's calling toward congregational ministry.
Assistant Professor of Christian Spirituality and Pastoral Ministry and retreat host Andrew Dyck says, "Getting away from one's routines and the busyness of city and university life creates opportunities for fresh perspectives on life, oneself, and God."
Among guest speakers, small group discussions, and worship time, a critical element of the retreat revolves around the practice of 'Holy Listening.'
"I consider 'Holy Listening' to be a description of Jesus' repeated instruction, "Watch and pray," says Dyck. "Jesus' followers are to grow in loving attentiveness to themselves, others, scripture, and the world. When Jesus' followers couple this watchfulness with a prayer-infused attentiveness to God, they gain divine wisdom for making life decisions that are faithful to the personal invitations of Jesus."
In attendance will be Renee Willms, Interim Director of the Centre for Career and Vocation. She says, "The retreat is being organized by the Office of Ministry Inquiry, but the nature of the retreat focusing on vocational discernment overlaps with the work done in the Centre for Career and Vocation, so it felt like a natural partnership."
Willms says that vocational discernment is intended to be collaborative and that the retreat provides space to participate in that sacred and holy endeavor. "Our hope for the retreat is to facilitate intentional time for students to step away from their every day so that they can better pay attention to the stories, patterns, and callings emerging in their lives," says Willms.
"The Ministry Inquiry Retreat is designed to nurture this kind of 'Holy Listening,'" says Dyck.
The application deadline is fast-approaching. Students need to apply by January 9, 2023, to secure a spot.
Apply for the Ministry Inquiry Retreat at Camp Assiniboia HERE.
Print This Article