Stories
Cultivating health and wellbeing
CMU Student Life reimagines wellness and health on campus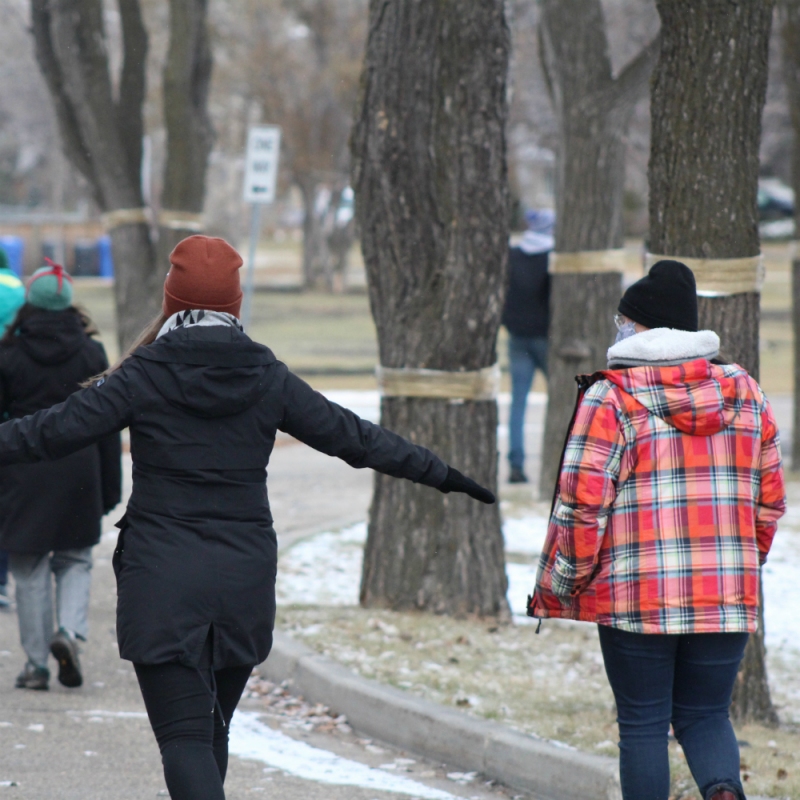 What comes to mind when thinking about 'wellness' and 'mental health'? For many, taking care of mental health may mean booking a session with a therapist. For others, practising wellness might mean beginning a new diet or exercise routine. While, generally, these practices embody the most basic expressions of wellness, wellbeing is impacted by every facet of life. As CMU's Spiritual Life Facilitator Danielle Morton puts it, "wellness can feel like a nebulous category. What counts and does not count as wellness can look different for everyone."
Considering the complexity of wellness, CMU Student Life has begun to reimagine how wellness can be cultivated on campus despite current social-distance conditions. Movement, Art, Conversation, and Spiritual Practice name the four alternatives of wellness practice made available to students during this academic year.
Within the Movement alternative, Russell Willms, the CMU Director of Athletics, is heading up a running club four days a week. Students are encouraged to connect with each other (as well as CMU alumni) over the "Strava" app to track their improvement, give "kudos" (encouragement) to each other, as well as well as schedule runs together virtually. "Running fosters both physical and mental wellness" says Miriam Carpenter, student leader of the Thursday run, "it is an opportunity for people to connect with each other, while also providing a way to decompress after long days of studying or classes." In addition to running, shanti yoga and dance classes, which include a variety of modern and classic choreography, are offered every Monday and Thursday to students in-person and virtually.
While Spiritual Practices of wellness on campus continue to include Tuesday chapel, Wednesday night worship, and student-led small groups, students are finding new ways of connecting, from sharing poetry surrounded by the trees of the Assiniboine Forest to, what student leader Hannah Connelly calls, the "Encounter" group. Connelly explains "Encounter is all about asking what it means to build connection with people you do not know. As a student it is easy to stay on the edges. I am looking for friendships with people who I may not have met otherwise."
Several spaces on campus have been redefined, including the new prayer room which includes distanced chairs, sofas, a kneeling prayer bench, hymnals, icons, and Bibles available for students and staff. As for the Art alternative, the Mennonite Heritage Gallery continues to be used to display and create art, functioning also as a multipurpose space for students to study and Zoom into class from on campus.
On-campus counselling, forums, small groups, and drop-in lunch conversations make up the Conversation alternative, most of which involve facilitating intentional conversations that happen in the dining hall, residence quarters, and other areas on campus. "Ultimately," Morton comments, "if we can create spaces where students can experiment with practices of wellness that work for them, then they will be able to take ownership for their own mental health and wellbeing.
For more information about wellness across campus follow @cmu_blazers on Instagram.
This is an extended version of the story found in Fall 2020 issue of The Blazer magazine.
Print This Article