Stories
CMU to honour musician Steve Bell with 2018 PAX Award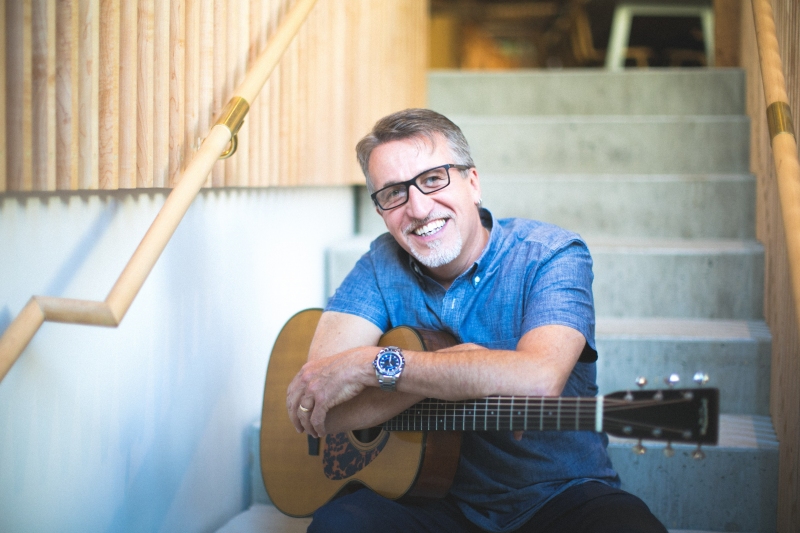 Acclaimed Winnipeg singer-songwriter Steve Bell will receive the 2018 CMU PAX Award.
President Dr. Cheryl Pauls will present the award to Bell on April 5, 2018 at Gather. Give. Celebrate. Spring at CMU*, an annual fundraiser in support of the university.
The award was created to honour people and organizations who are dedicated to service, leadership, and reconciliation in church and society.
Since 1989, Bell has released 20 albums and performed more than 1,500 concerts to over half a million people in 15 countries.
"CMU is honoured to present Steve Bell with the 2018 PAX Award," Pauls says. "Steve is a dearly cherished singer-songwriter for all the right reasons. He is a fine musician, poet, and storyteller. His music springs from the stories and yearnings of others, especially those seeking healing and hope."
In recent years, Bell has used his platform to advocate for the building of Freedom Road, a 27-kilometre road that would end a century of isolation for the people of Shoal Lake 40 First Nation.
He has also been a strong voice urging the Canadian government to adopt Bill C-262, an act that would ensure that Canadian laws are in harmony with the United Nations Declaration on the Rights of Indigenous Peoples.
"Steve's commitment to access to water for Shoal Lake 40 in recent years has brought together many Indigenous, church, political and other groups of people, including CMU students," Pauls says. "This effort for the sake of Indigenous communities was a major impetus for our selection of Steve Bell as recipient of the PAX Award."
CMU magazine The Blazer recently caught up with Bell via email.
What has compelled you to promote Indigenous rights?
Certainly, I am compelled by my faith to want to address systemic injustices that harm God's beloved and hinder human flourishing. But it's more personal than just that. It was Indigenous men that taught me to play guitar when I was a young boy. I loved those fellows, and was struck, even then, by the perplexing incongruity I found between their gentle, loving natures and the homely tattoos that betrayed the deepest pain and harsher realities. I also have Indigenous blood relatives, and an Indigenous foster daughter who now has three children, and whose mother was snatched up in the Sixties Scoop.
How does it feel to be receiving the CMU PAX Award?
I'm not going to lie. It feels very nice to receive an award, even though it's an awkward thing to do. One can always think of a thousand true reasons why it is not deserved. And there's no getting around that. Equally, it must be said that I don't know anyone who does this kind of work alone. There is a deep community of folks who work together to find and tend healing pathways for Indigenous/settler relations.
That being said, the integrity of CMU and the people therein is such that the award is deeply encouraging, and I'll receive it as an affirmation that these efforts are not in vain. Truth is, so many of my efforts have been in tandem with folks associated with CMU that when the time comes, I'll want to hold it up and say, "Look what we've done! Look what we're doing! Consider what we might yet do! Thanks be to God!"
What has CMU and the CMU community meant to you over the past 10 or 15 years?

I've had a long and wonderful relationship with CMU. I've both taken and contributed to Gordon Matties' classes. Gordon and (his wife) Lori were key supporters in the early years of my career. Craig Terlson is a beloved friend who has also designed CD covers for me. I've known Jarem Sawatsky since he was a baby, and have participated in some of his work at CMU. Wally Schmidt, who created Outtatown, is a dear friend who was very significant in the launching of my ministry. I've sung in CMU chapels and classes, I've taught at and participated in CMU conferences. I've spent way too much money in the CMU bookstore, and my sometimes-weary soul has been revitalized more than once from my various engagements with CMU students, one of whom is my niece, Rebecca Krahn ('17).
Many, many staff have been so very encouraging to me over the years. I just now looked up the CMU faculty online and was rather staggered to realize how many of those people have spoken into my life, either directly or through their work.

Is there anything you would like to add?
It meant so much to me a couple years ago when CMU students jumped on board with such creative energy in the fight for Freedom Road. I'm starting to feel like the sentimental, teary "old guy." But I will always have such lovely affection for those students. They stirred me in ways that would be hard to articulate.
*RSVP your interest in attending Spring at CMU by contacting Joyce Friesen at jfriesen:@:cmu.ca or phone 204.594.0517.
Read more about the CMU PAX Award and past recipients here.
Print This Article