Stories
Meet Our Fall 2019 Pastor in Residence
CMU welcomes pastor Michael Pahl of Morden Mennonite Church for week of October 28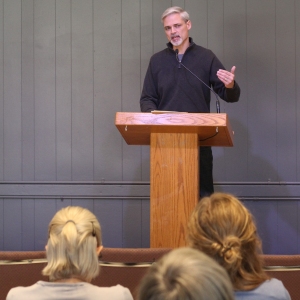 When Michael Pahl received CMU's invitation to join us as fall 2019's Pastor in Residence, he immediately said yes.
"I absolutely love what CMU is about. It's such a palpably Jesus-centric, community-minded place, and the peace and reconciliation emphasis here, the rich Anabaptist roots—they're so tangible in how this place operates. CMU does not shy away from the big, difficult issues. The faculty and the students here engage, and they do so creatively, with joy and boldness. I love it, and I'm delighted to be a part of it for a while."
Born and raised in Coaldale Alberta, Pahl received his higher education both in Canada and abroad, studying first at the University of Victoria, then later at the University of Birmingham (UK) where he received his PhD in New Testament. As Pastor in Residence, Pahl says he knows first-hand just how spiritually formative undergrad can be for students:
"During my undergrad at UVic, I was part of this student group on campus. We all came from different denominations and were at different places in our walks of faith. We decided to go around and visit all sorts of different churches, experience one another's church traditions in this kind of ecumenical tour. That led to a spiritual reawakening that brought me back to my own faith in a new way, and that's when I first felt compelled towards some kind of work in ministry."
It was later, during his seminary and graduate work, that Pahl came to see academics and teaching as his proper ministry. That teacher's heart has since expressed itself in different context, sometimes academic, sometimes pastoral. For a while, Pahl taught at Prairie College in Alberta, where he discovered for the first time that, deep down, he was Anabaptist. He says that discovery which has since greatly shaped him and contributes to his passion for the work of CMU.
Tellingly, when asked what he most hopes to bring to his time on campus, Pahl speaks first not about teaching, but about listening.
"I want to listen a lot. You know, to where students are at, staff and faculty as well. Pastorally, there's a unique dynamic that a Pastor in Residence can provide: I'm an outsider here, but I'm also in a known and trusted position. I really want to be a listening ear for that's going on here, in people's hearts and minds."
Today, Pahl's home base is in Manitoba where he has been pastor of Morden Mennonite Church for the last six and a half years. During his time on campus, Pahl has been joining with some classes, both at the undergraduate and graduate levels, connecting one-on-one with students and staff, and sharing in community quality times like evening snack. He will also be sharing during weekly community gatherings like chapel and Wednesday forum.
Print This Article