News Releases
Nobel Peace Prize laureate to give public lecture at CMU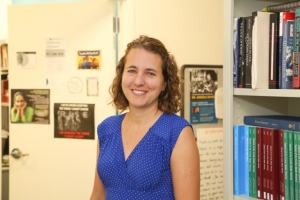 Dr. Emily Welty, member of the International Campaign to Abolish Nuclear Weapons, which won the 2017 Nobel Peace Prize, will give a public lecture at Canadian Mennonite University (CMU) later this month as part of its annual Canadian School of Peacebuilding (CSOP).
Welty will present the lecture, titled "Imagination, Courage, and Resilience," on Wednesday, June 19 at 7:00 PM in CMU's Marpeck Commons (2299 Grant Ave.). Admission is free. All are welcome to attend.
Drawing on her experiences both teaching and working in the peace and justice field, including the Nobel Peace Prize winning campaign, Welty will explore how we can create communities of imagination, joy, and resistance in the face of injustice and hopelessness.
"For anyone who has wondered if they can do anything about the big issues facing our world, they should come hear Emily. This campaign is the "little train who could," something small that grew big," says Dr. Wendy Kroeker, Assistant Professor of Peace and Conflict Transformation Studies and CSOP Director.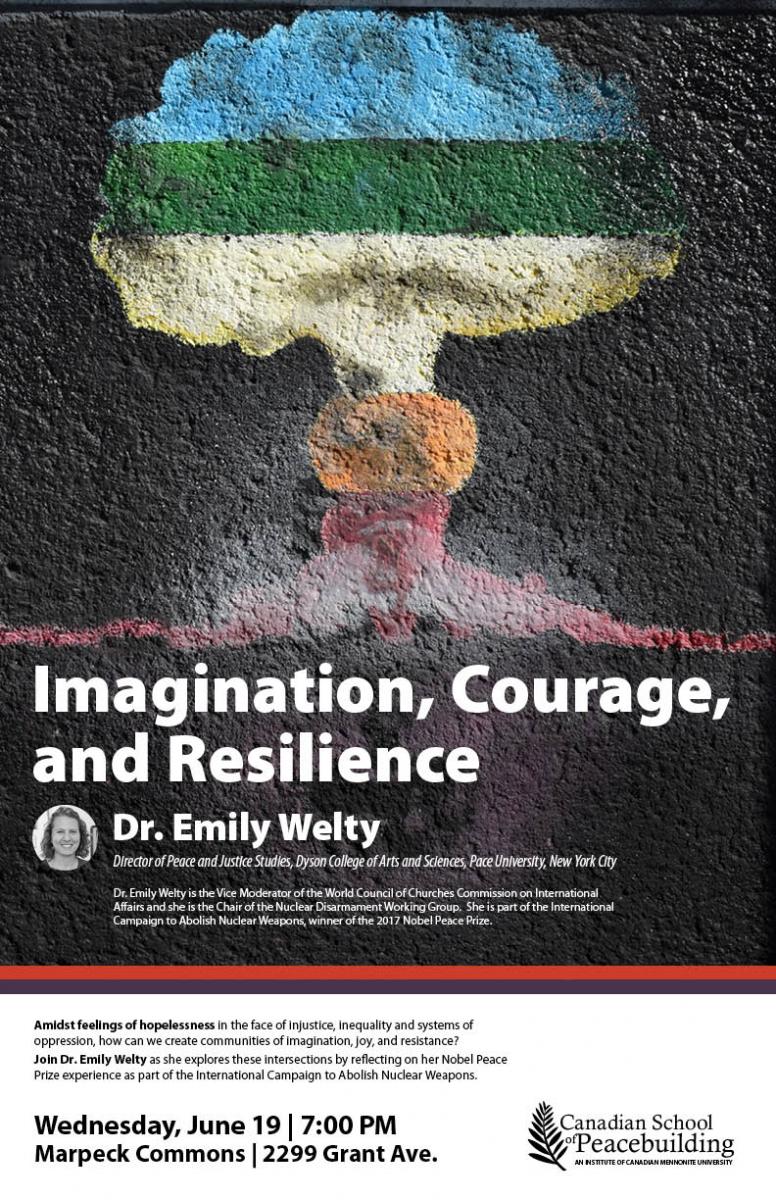 CSOP is a learning community of people from all over the world that gathers every June to learn, network, and engage in peacebuilding. Welty will be teaching a course at the school titled, "Generous Dissent: Nonviolent Activism and Resistance" from June 17-21. The course will dig into the meaning and theory of nonviolence as an active tool for social change and examine it in the context of current real-life examples.
"Sometimes we spend so much time naming and describing the violence and oppression that exists in the world that we forget to also concentrate on the roots of how to sustain dissent, to be generous and creative with one another," Welty says. "I don't want to minimize the very real suffering all around us, but I think we need to be as rigorous in our exploration of celebration, activism rooted in radical love for the Other, and imagination as we are in our analysis of violence."
Welty is a professor and the director of Peace and Justice Studies at Pace University in New York City. Her teaching and research focus on peacebuilding, nonviolence, and humanitarianism from a faith-based perspective. She is currently the Vice Moderator of the World Council of Churches Commission on International Affairs and is the co-author of Unity in Diversity: interfaith dialogue in the Middle East and Occupying Political Science.
"It's always a pleasure to engage with new communities and groups and to think collectively about resistance and joy," Welty says. "The long history of Mennonite engagement on peace issues is close to my heart and participating in that feels meaningful."
For those unable to attend Welty's lecture in person, CMU will livestream the event at cmu.ca/welty.
About CMU
A Christian university in the Anabaptist tradition, CMU's Shaftesbury campus offers undergraduate degrees in arts, business, humanities, music, sciences, and social sciences, and graduate degrees in Theology and Ministry, Business Administration, Peacebuilding and Collaborative Development. CMU has 1,600 students, including those enrolled in degree programs at its Shaftesbury Campus and Menno Simons College Campus. CMU is a member of Universities Canada.
For information about CMU, visit cmu.ca.
For additional information, please contact:
Kevin Kilbrei, Director of Communications & Marketing
kkilbrei@cmu.ca; 204-487-3300 ext. 621
Canadian Mennonite University
500 Shaftesbury Blvd., Winnipeg, MB R3P 2N2
Print This Article