News Releases
CMU plans for the 2021 winter term: what and why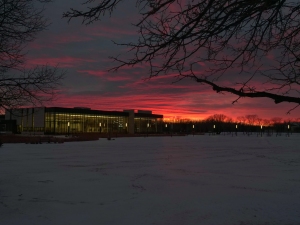 Dear CMU students, staff, faculty, and sessional instructors,
In 2014 the CMU graduating class chose the following verse as a focus of its Convocation Celebration: What are you doing here? (1 Kings 19:13). It's a good question, good in the sense that it means more than one thing. The word "what" really does directly mean "what are you doing"; the question also means "why." Thus, "What are you doing here?" asks both, "what are you doing?" and "why are you here?".
Below please find a "what" response to what we're doing here at CMU, as well as a link to a video on the "why" of studies at CMU.
Adapting the schedule and plans for the 2021 winter term through the global pandemic.
Promoting the safety, health, and well-being of the learning community as best we can.
Sustaining high-quality teaching.
Setting up new ways to connect for students who live on campus, and for commuter students.
Video message on "why."
Details and comments on "what."
1. Winter term classes are delayed by one week, and will begin on Wednesday, January 13. Why this later start?
Wellness and mental health: Following the enormous effort of studying and teaching through the fall while going about life through a pandemic, everyone needs a longer break—students, staff, and faculty.
On-campus self-isolation: A one-week delay allows CMU to provide a place for students to self-isolate on campus for 14 days after returning from Christmas vacation from east of Terrace Bay, ON or other countries. (This as opposed to these students having to live in hotels or make other accommodations.)
Time for decision making: A one-week delay affords CMU just a bit more time in which to make informed decisions about the timing of returning to hybrid learning when it is safe to do so (details below).
Note: Some students may want to begin course readings before classes begin. Reading lists will be available on Wednesday, January 6 for students looking to ease their way into winter term studies during the extended Christmas break.
2. Winter term classes will commence online. CMU will resume in-person, hybrid, classes as soon as we deem it safe to do so, based on established epidemiological data and careful assessment of external conditions.
Winter term classes will begin online only, starting Wednesday, January 13. The earliest possibility for hybrid classes to resume is Monday, January 25.

Note: If CMU classes remain online only beyond January 25, there may be some class elements that will be able to start in person by the end of January. Individual professors would let you know of any such possibilities on campus.

We are investigating additional investments in technology for the sake of air quality and ventilation to make the campus as safe as possible.
3. CMU students have the option of attending all classes online throughout the winter term.
Students who plan to stay online for the entire term are requested to notify the Academic Office using the Request for Online Classes for the Entire Semester form.
4. Some CMU classes will be accessible only online throughout the entire winter term.
A list of these online-only classes will be sent to students by Friday, December 4.
Why some classes only online?

Besides some instructors choosing to hold classes only online for reasons of immune-compromise in their households, students and faculty have indicated that some medium-sized classes (25-60) work well in a hybrid format, and for others better learning happens fully online. We're making this change in response to that feedback in order to take advantage of the opportunities that each modality—hybrid and online—offer for the ideal learning in this context.

To discuss your winter term classes, please book an appointment with either Lisa Richard, Tim Cruickshank, or your faculty advisor.
5. Students living on campus in apartments and dormitories
All on-campus students who do not need to quarantine may move in anytime from January 20-23. This allows students who need to isolate on campus the time and opportunity to do so by arriving earlier in January (see below).
CMU is committed to take the best lessons from the fall term experience of on-campus living, and further refine and extend the ways we build a vibrant community life. Mackenzie Nicolle will connect with students living on campus to discuss ways you are invited to build cohort groups with increased group access to campus during January and February.
All residences are fully operative for students living on campus and all campus buildings are available for you to study and access virtual classes throughout the winter term, beginning on Wednesday, January 13.
6. Students who need to self-isolate
Students who need to quarantine following Christmas break who have traveled to locations east of Terrace Bay, ON or to other countries, are welcome to quarantine on campus prior to other dorm students arriving. To quarantine on campus, students must arrive during January 2-5, 2021. There will be no extra charge to your winter term rent and meal plan fees. Please contact Mackenzie Nicolle (mnicolle

:

@

:

cmu.ca) if you have any questions about living on campus.
7. Commuter students
CMU is developing increased activities for commuter students to engage in groups, including on campus, beginning Monday, January 25, should conditions for safety permit.
Students are welcome to connect with other students on campus for purposes of shared learning activities and class projects beginning Monday, January 25.

Shared work times need happen with a limit of five persons in each space, while keeping physical distance, wearing masks, and keeping a list of all persons with whom you work at a group project.

Commuter students also are welcome to:

Access the CMU Library beginning Wednesday, January 13 with Monday-Friday hours.
Access virtual classes on campus if your home wifi is inadequate, beginning Wednesday, January 13. Please contact Charlie Peronto (cperonto

:

@

:

cmu.ca) to make such arrangements.
Access music practice rooms and other spaces for specific programmatic purposes as needed and following sign-in and other CMU protocols for these spaces, beginning Wednesday, January 13.
8. CommonWord and Textbooks
A full list of all winter term 2021 textbooks will be available online by Wednesday, January 6. Students must order their texts online at www.commonword.ca/go/student.
Some CMU classes have online textbooks this year, and others have hard-copy books. Some texts are available in either form, allowing you to choose your preference.
Note the following as you plan how you will get your textbooks:

Students in self-isolation on the CMU campus:

Select "curbside pick up" and pre-pay online.
Textbooks will be delivered to their rooms beginning on Wednesday, January 6.

Commuter and residential students not self-isolating:

Schedule an appointment to pick up your textbooks at www.commonword.ca/go/student.
Depending on safety protocols in place on Wednesday January 6, please either select "in-store pick up" and pay for textbooks upon arrival (preferred) or select "curbside pick up" and pre-pay online.

Students at a distance (rural or out of province) who need textbooks and are not able to come to campus by January 20:

Select "Ship" and pre-pay for your textbooks and the shipping costs to your home.

From January 13-20, faculty will make all necessary resources available online for students who are not allowed to move onto campus until Wednesday, January 20, or who otherwise cannot come to CMU to pick up textbooks.

Other Items:

Currently CommonWord is open to students, staff, and faculty only for in-person purchase of food and other essentials until further notice.
All other items are available for pick-up on orders you make online or by phone.
Note: CommonWord will special order any book titles you might want to gift at Christmas. You're invited to join the effort to shop local. Email alneufeld

:

@

:

cmu.ca with a list of titles and a request either to "order" or "provide a quote." You'll receive a price quote back quickly. Also, you'll be notified you when your order arrives. Payment can occur when you pick-up your order.
9. Revised Schedule for Winter Term 2021
| | | |
| --- | --- | --- |
| | Original Schedule | Revised Schedule |
| University opens | January 4 | January 6 |
| Self-isolating students move into residence | N/A | January 4-5 |
| First day of classes—online only | January 6 | January 13 |
| Payment due | January 8 | January 15 |
| Non-isolating dormitory students move in | N/A | January 20 |
| Last day for course changes | January 14 | January 21 |
| In-person hybrid classes begin | N/A | January 25 |
| Reading week | February 15-19 | February 15-19 |
| Good Friday | April 2 | April 2 |
| Last day of regular classes | April 6 | April 13 |
| Make up class | April 7 (Friday class) | April 14 (Friday class) |
| Reading days | April 8-9 | April 15-16 |
| Exams | April 10-22 | April 17-29 |
| Convocation | April 25 | Not yet determined |
Print This Article