News Releases
Outtatown looks to the future while celebrating 17 years in South Africa
Revamp to program brings excitement for future program addition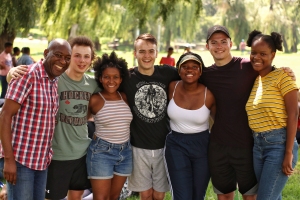 From its start in 1998/99, the Outtatown Discipleship School program (Outtatown) has been shaped by a deep commitment to a cohort-based, cross-cultural, faith forming education through which students would come to 'know themselves, know the world, and know God'. Over the past 21 years, many of the 1,457 students who participated in the Outtatown program speak of it as "a life-changing experience."
While the Outtatown program has adapted and matured over the years, its overall vision and form have proven remarkably stable and CMU remains deeply committed to a vibrant future for Outtatown. However, as a means to strengthen and focus future programming, CMU is discontinuing the South Africa program for the foreseeable future. This measure is being taken to better position Outtatown's capacity for new forms of transformative discipleship and cross-cultural learning.
Since its introduction in 2002/03, the South Africa program grew beyond expectations as many local partners provided students with lessons in conflict resolution and reconciliation, against the backdrop of the country's history of apartheid. The success and impact of Outtatown's South Africa program is due in no small part to the genuine, often personal, energy and investment that these partners made in the program and in the students themselves. Their impact on several generations of Outtatown leaders and students is immeasurable and CMU looks on this rich history in South Africa with deep gratitude.
Outtatown in South Africa: 2018/19 by the numbers
• 9 cities visited
• 9 churches visited
• 11 service projects and organizations served
• 13 museums/historical sites visited
• 29 homestay families in 3 different church communities
• 900 m of elevation climbed in 3 kms of Table Mountain hike
• 4,525+ kms travelled
610 students participated in the South Africa program over its 17-year history
"Saying goodbye to the people we have gotten to know in South Africa is extremely difficult. These are trusted partners who have become such good friends," says Cameron Priebe, Director of Outtatown. "Each year there are well over 100 people if adding up the number of host families, teachers, and guides that were at some point involved as program partners during our time in South Africa. It has truly been an amazing relationship building experience."
Outtatown will continue in Guatemala through the 2019/20 academic year. Once again, this coming September, more than 30 students will set off on a learning journey across western Canada as they explore their faith and encounter life's beauty and brokenness in urban and rural settings.
Over the second term students will travel to and live in Guatemala where an extraordinary opportunity of cultural immersion, travel and service await them. Students will live with local families who will become like their own, fully immersed in local culture and language. They will adventure across the country; surfing the black sand beaches of the Pacific coast, hiking some of the tallest volcanos in Central America, zip-lining through the jungle, and exploring the Ancient Mayan city of Tikal. All the while, they will serve alongside their Outtatown community as they continue to discover more fully what a life of discipleship looks like.
A second Outtatown program is being imagined for 2020/21 to augment the Guatemala site—possibly as a short-term, international learning opportunity for upper level CMU students.
CMU President Dr. Cheryl Pauls says, "CMU's educational vision as a whole is inspired by how Outtatown goes about experientially-rooted, cohort and service-based, cross-cultural, faith forming education. We look forward to how Outtatown will continue to nurture the faith and life of students in ways that extend their witness to God's grace in Canada and globally."
Coinciding with the 2019/20 academic year, the Outtatown office will see staffing changes with the scheduled departure of Cameron Priebe as the program's Director. After eight years with Outtatown, Priebe will transition in June 2019 to serve as the Director of Mennonite Brethren Church of Manitoba.
Tim Cruickshank and Renee Willms, both of whom have worked as Outtatown Site Leaders and who currently serve as Program Managers for the South Africa and Guatemala programs respectively, will become Co-Directors of Outtatown. Together, they will play key roles in shaping Outtatown's ongoing and future programming. Cruickshank and Willms bring hands-on knowledge of site operations and office administration, along with a passion for engaging with students and partners in faith-infused, life-changing experiences.
"Outtatown's mission is to inspire and nurture disciples of Jesus Christ, and this will continue to be the focus of this amazing experience," states Priebe. We have fantastic leaders in Tim and Renee, who really understand the program—both were site leaders with the Guatemala program in the past and are now experienced Program Managers. They are well-equipped and very capable to provide the leadership needed for this unique faith formation program, inviting people to experience the love and grace of Christ together in community.
"The educational vision entrusted to CMU as a whole is inspired by Outtatown's expression of experientially-rooted, cohort and service-based, cross-cultural, faith forming education," said Cruickshank. "We look forward to the good that will continue to happen over the coming decades through Outtatown in the lives of students, in the church, and in both Canadian and global society."
Commenting further on Outtatown's future and the transition to becoming Co-Director, Willms says, "Outtatown is a program very dear to my heart, having seen first-hand the ways it shapes and transforms students. I believe deeply that the vision of Outtatown, to nurture and inspire students in their life of faith in Jesus, and the call to be counter-cultural communities of reconciliation, matter now more than ever. I am thrilled to get to continue this work in a new capacity alongside Tim, and excited for the new adventures ahead!"
The educational vision entrusted to CMU as a whole is inspired by Outtatown's expression of experientially-rooted, cohort, and service-based, cross-cultural, faith forming education. When Outtatown began such commitments were an oddity amongst Canadian universities. Today, such learning is celebrated and called for by many business executives, the Canadian government, and many universities and colleges. CMU will continue building on Outtatown's 21-year history and looks ahead to newly vibrant faith and life-forming opportunities through this important program.
For more information about Outtatown, visit outtatown.ca.
Some of the significant partners and friends of Outtatown South Africa
Rodney and Joyce Dreyer (Rodney passed away a couple of years ago) spent time with Wally Schmidt (original/founder/creator Director) dreaming up what the program could look like, places to go, etc.
Geoff and Sarah-Beth Gould created adventure and exploration opportunities.
Johan Horn provided long-standing stability and mentorship to our leaders. The Thando Trust organization he leads provided much of the logistical and organizational support needed to operate the program.
A few years into the program Mpho Putu became one of the program key partners in helping our students understand the diversity and beauty of such a diverse country and peoples.
Host families in Pretoria, and Strandfontein, and Durban that provided our students with a true home away from home experience.
On several different occasions, the group had the opportunity to meet and spend time with Archbishop Desmond Tutu.
Piet Meiring (a colleague of Nelson Mandela and Desmond Tutu) has been an instructor with our students for many years. He shared stories of truth and reconciliation that he helped facilitate in post-apartheid South Africa.
Elwierda Bus Company provided us with a bus to travel almost 5,000 kms to explore the country. Stefans, known to our students and leaders as Baba – a term of uncle/or father figure, was our bus driver for most of the 18 years in South Africa. He was literally with the group for the entire three-month experience, he delivered safe travels, warmth of relationship, a huge smile, and a loving presence that students were quick to love and trust.
Print This Article