News Releases
Details of the January 25 Return to Campus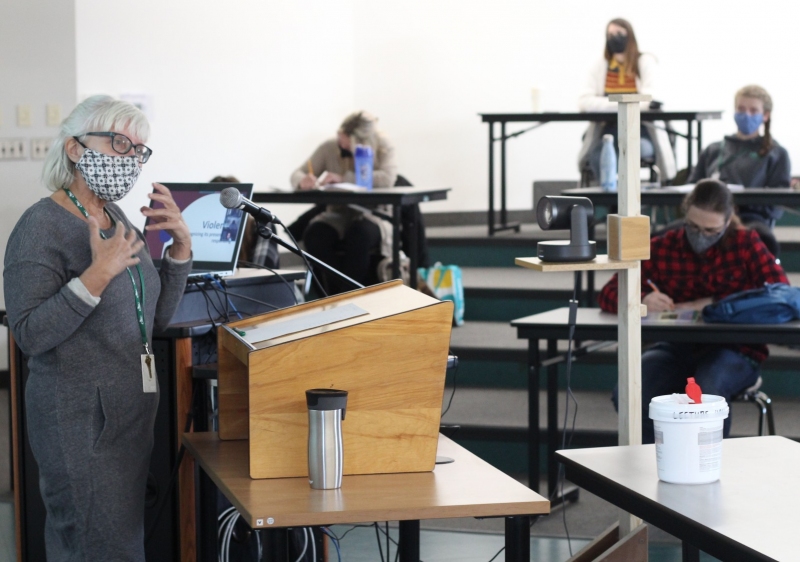 CMU is excited to welcome students back to hybrid classes beginning on January 25, 2021. Below is important information about the initial phase of return to hybrid classes. Following provincial guidelines, these directions will be in place for the foreseeable future.
Hybrid and Online Classes
Some CMU classes will be offered as online classes. Most classes will be offered as hybrid classes.
All activities for an online class will be completed using CMU's online learning tools. See the Winter 2021 course listings on the CMU website at www.cmu.ca/timetable, and continue to attend these classes online.
A hybrid class is a class in which in-person and online participation are both offered. Traditionally in-person elements (class meetings, lectures, discussions) are delivered both online and in-person while out-of-class work (assignments, group work, readings, etc.) are currently offered online only.
CMU students are responsible to be present in class throughout the year but may CHOOSE to attend by either hybrid online extension or in-person. CMU recognizes that each student's comfort level will be different for attending classes in-person.
You may choose to attend any given class period online, but due to pandemic-related space limits, see your class syllabus or speak to your professor for which days you may attend in person.
Should you plan to attend in-person, but cannot due to COVID-19 symptoms, please complete the online temporary absence notification form found at www.cmu.ca/notificationform. This allows us to communicate with your instructors and is used for the university's contact tracing.
Students who wish to ONLY attend classes online for the entire term are asked to complete the online studies form available at www.cmu.ca/onlinestudiesform.
Student Life-related inquiries: cperonto:@:cmu.ca
Classroom-related inquiries: contact your instructor
Co-Curricular Programing
Until at least February 12, most of CMU's co-curricular programing will be occurring online. See 'The CMU Daily' for further information about chapel, forum recreational activities, and other ways to participate in student activities.
On-Campus Study Spaces
Students who have both in-person and online classes on the same day are welcome to use vacant classrooms (see schedule on door for availability), Library, Marpeck Mezzanine, Great Hall, and the Student Centre. Please remember to wear a mask and practice physically distancing.
Gatherings
All gatherings, both indoor and outside must follow provincial guidelines. This means gatherings outside must be limited to groups of five and indoor gatherings are prohibited at this time. For clarity this includes study groups, group projects, and all other types of meetings should be held online as much as possible.
Marpeck Commons
Access to Marpeck Commons will remain restricted to those with prox cards only. CommonWord is open to students, faculty, and staff from 9:00 AM to 5:00 PM, with a reduced capacity of 25%. The public may also access CommonWord by calling the store to be let in.
Folio café remains closed for the foreseeable future.
General Health and Safety Protocols
Please watch this short video!
If you're feeling unwell, stay home. If you were expected to be on campus, complete the online temporary absence notification form found at www.cmu.ca/notificationform.
Wear a mask at all times!
Practice physical distancing! Stay 6 feet (2 metres) away from others.
Use hand sanitizer every time you enter a building or classroom!
Eat quickly only in designated areas—Great Hall Marpeck Mezzanine, Student Centre, and staff and commuter lounge.
Always swipe your prox card when you enter a new building...and don't hold doors for others.
Print This Article